A cold front sweeping across southern Manitoba will bring showers to the Red River Valley today, followed by seasonal temperatures and more settled conditions.
Today will be a wet day over the Red River Valley. An upper level disturbance moving northwards along a cold front swinging across the province will support an area of rain that will spread into the Red River Valley this morning. The showers will remain in the region for much of the day, finally clearing out in the late afternoon or early evening.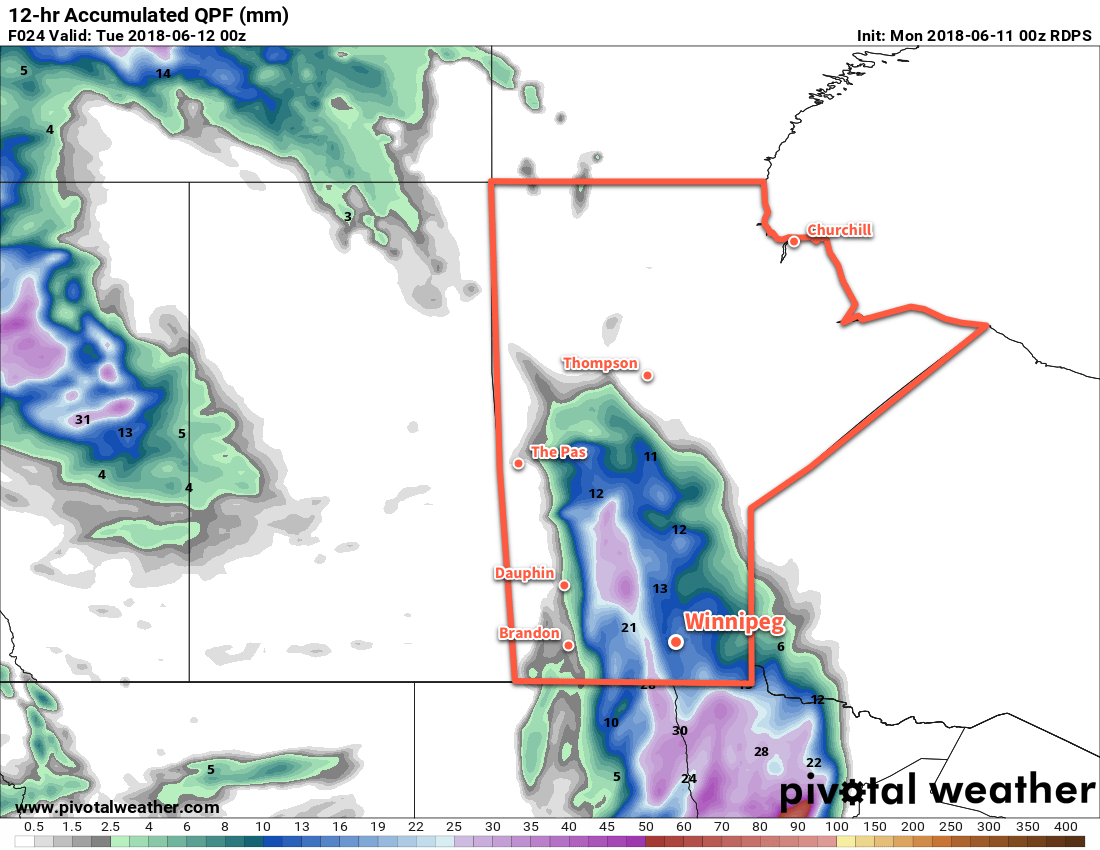 Temperatures will reach a high near 21°C early in the day, then cool to around 14°C through the afternoon. Southerly winds near 30 km/h will shift to westerly 30 gusting 50 km/h as the cold front swings through midday, then ease to light by the end of the afternoon. Winds will be light overnight as a ridge of high pressure moves through the region. Winnipeg should see a low near 9°C.
Tuesday will be a slightly warmer day in Winnipeg with temperatures reaching a high near 23°C under partly cloudy skies. The ridge of high pressure will slump to the southeast, replaced by breezy west-southwesterly winds near 30 gusting 50 km/h. It should remain dry over the region, however there is just the slightest chance of an isolated pop-up shower or thundershower late in the afternoon. Winnipeg will see a few clouds on Tuesday night as temperatures dip to a low near 11°C.
Wednesday will bring mixed skies to the region with southwesterly winds near 20 km/h. Winnipeg should see a high near 25°C and that's about all there is to say! Expect a low near 14°C on Wednesday night.
Long Range Outlook
The warmer conditions will continue through the remainder of the week, however it looks like Friday may bring another batch of showers/thunderstorms through the region. The weekend will bring variable cloudiness with low chances for any precipitation.
Winnipeg's seasonal daytime high is currently 23°C while the seasonal overnight low is 10°C.