Cloudy skies with a chance of showers or thunderstorms will mark the transition into warmer weather that will arrive in Winnipeg on Sunday.
Winnipeg will see mixed to cloudy today as another disturbance tracks towards Manitoba. A chance of showers or thunderstorms will develop late in the morning for a few hours as a band of instability moves through the region. Once that moves through, temperatures will continue to a high near 25°C with some sunshine poking out for the afternoon. Winds won't be too bad, either. Beginning light in the morning, winds in Winnipeg will pick up into the 20 to 30 km/h range out of the southeast for the afternoon.
Skies will cloud up again on Friday evening with a chance for showers or thunderstorms redeveloping overnight. The persistent southeasterlies will begin drawing more humid air into Manitoba tonight, raising dew point values into the mid-teens. Winnipeg should see a low near 16°C.
Any remaining showers should clear out early Saturday, leaving Winnipeg with mostly cloudy skies and just a very small chance of an isolated shower. Temperatures will be near-seasonal in Winnipeg with a high near 23°C. Winds will continue out fo the southeast, but only at 10 to 20 km/h. The cloud cover will begin to break up Saturday night as temperatures drop to a low near 17°C.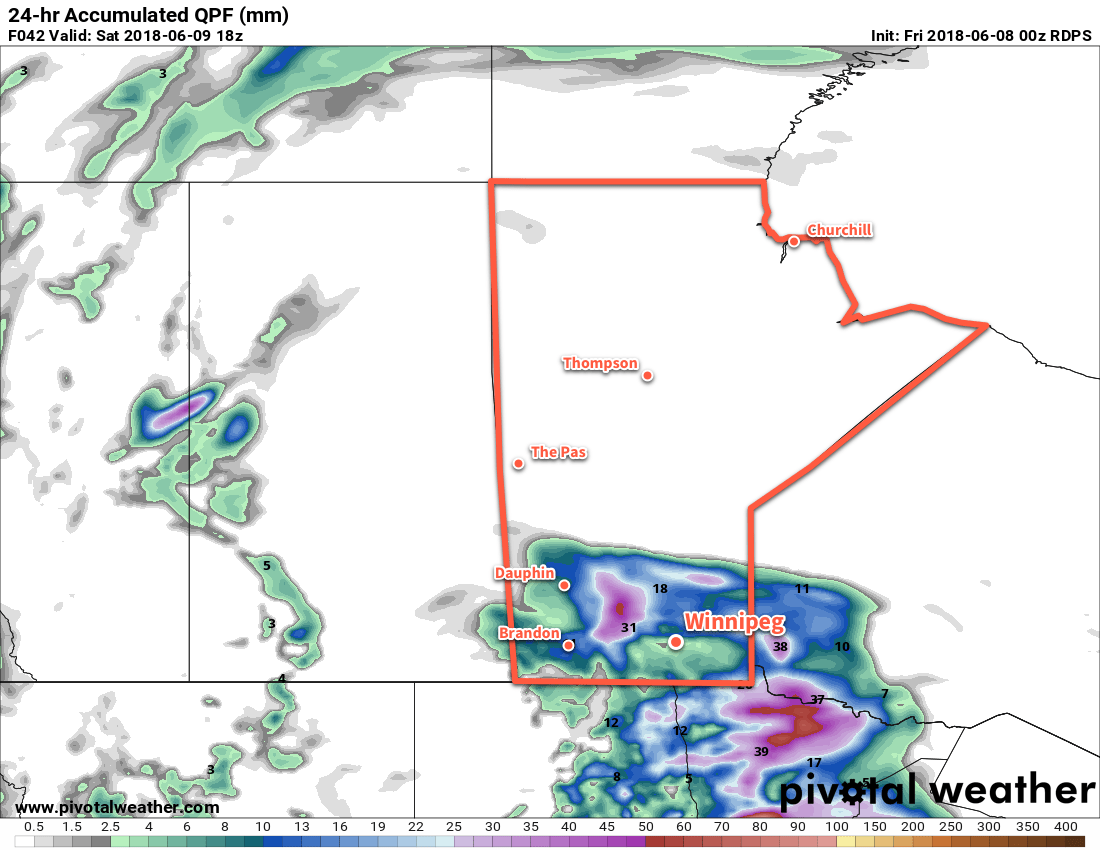 Sunday will be a scorcher in Winnipeg with the clouds giving way to mixed skies and temperatures soaring to a high near 30°C. Winds will be windy out of the southeast at 30 to 40 km/h, though, which will make spending time outside a little less pleasant.
Sunday night will bring more cloud back into the Red River Valley as a cold front pushes eastwards into the province. While western Manitoba will almost certainly see a high chance for thunderstorms, it's less certain in Winnipeg and other areas further east. It will depend on how quickly the front moves east, which in turn depends on how much and what sort of thunderstorm activity develops. That said, Winnipeg will see increasing chances for thunderstorms overnight Sunday into Monday morning. Temperatures will dip to a low near 18°C.
Long Range Outlook
Once the cold front passes on Monday, it looks like Winnipeg will remain in a much cooler pattern. Daytime highs look to move to seasonal to seasonably cool values with highs in the low 20's for the remainder of next week. Winnipeg will see variable cloudiness and generally dry conditions.
Winnipeg's seasonal daytime high is currently 23°C while the seasonal overnight low is 10°C.