Winnipeg will see a prolonged stretch of very warm temperatures move into the region this week, bringing highs in the 30s for the better part of a week.
Winnipeg will see one more cool day today as a high pressure system moves through. The city should see a below-seasonal high near 23°C under mainly sunny skies. Winds will be light. The high will depart to the southeast tonight, bringing southerly winds of 10 to 20 km/h and a low near 13°C.
On Tuesday, a warm front will push through the region, bringing south-southwest winds in the 20-30 km/h range. Temperatures will soar to a high near 31°C with a few afternoon clouds. There will be a slight chance of a few isolated thunderstorms as the system moves through the region, but it looks like much of that activity should remain north of the Red River Valley in the Interlake. Winds will ease into the 10 to 20 km/h range on Tuesday night as temperatures fall to a low near 17°C with just a few clouds sticking around.
A strong upper-level ridge building into the region will dominate the weather for the remainder of the week. This will bring sunny skies to Winnipeg on Wednesday with west-northwest winds increasing into the 20-30 km/h range. Winnipeg will see a high near 30°C, then see temperatures dip to a low near 16°C on Wednesday night.
Long Range Outlook
The remainder of the week looks hot with daytime highs in the in the low to mid-thirties. The hottest weather looks to arrive Friday-Saturday with daytime highs potentially reaching as high as 35°C.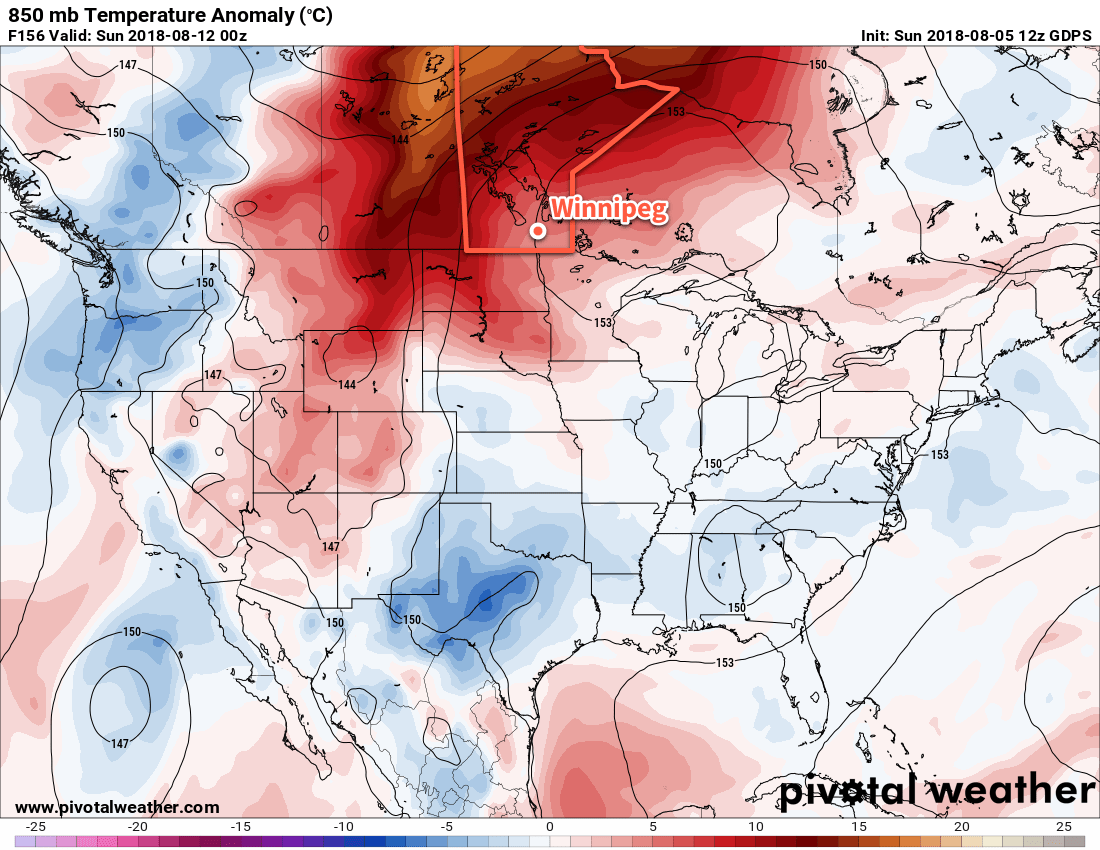 Humidity levels will remain average, which will help things feel slightly more comfortable. There's a low chance of an isolated shower or thunderstorm over the coming days, but no real organized rain or thunderstorm threat exists until a low pressure system moves through on Sunday, bringing instability followed by more seasonal temperatures.
Winnipeg's seasonal daytime high is currently 26°C while the seasonal overnight low is 13°C.