Temperatures will climb well above-seasonal in Winnipeg today, but a cold front moving through tonight will bring a chance of thunderstorms to the region.
An approaching low pressure system will bring seasonably warm temperatures and breezy conditions to Winnipeg today. Under mainly sunny skies, temperatures will climb to a high near 27°C as winds pick up out of the south to 30-40 km/h. Those breezy winds will persist into the evening as the low continues to advance into the province. In the latter half of the night, the chance for showers or thunderstorms will increase as a cold front pushes into the Red River Valley. With the cold front not arriving until early Tuesday morning and the southerly winds continuing for much of the night, temperatures will remain mild in the Red River Valley. Winnipeg will see a low near 17°C.
The best chance for showers or thunderstorms will occur early Tuesday morning as the cold front pushes through the Red River Valley. There's a chance that some of these thunderstorms will be strong, although severe looks unlikely at this point. This system will bring the potential for severe thunderstorms, but the most likely areas will be southwestern Manitoba earlier in the night, then shifting southwards into North Dakota.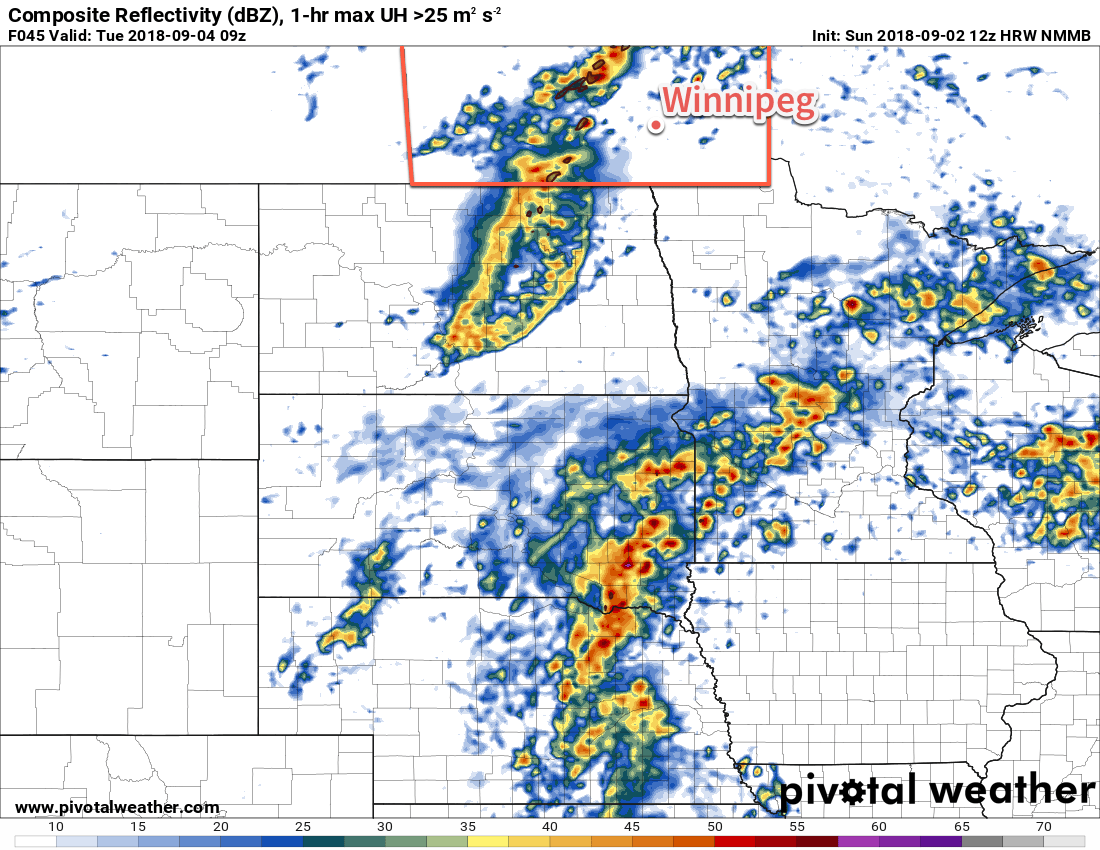 After the cold front passes mid-morning, northwesterly winds near 30 gusting 50 km/h will move into the Red River Valley. These winds will usher in a much cooler air mass; Winnipeg will see a near-seasonal high near 21°C. On the bright side, though, the cloud cover will clear out of the region, leaving Winnipeg with mainly sunny skies for much of the day.
A ridge of high pressure will push into the province on Tuesday night, easing the winds but bringing very cool overnight lows. Winnipeg will likely see a low near 4°C, but southwestern Manitoba will likely see a widespread area of lows in the -1 to +2°C range. The chance for patchy frost can't be dismissed for the Red River Valley, particularly in the southeastern portions.
Wednesday will bring near-seasonal conditions with a high near 20°C in Winnipeg. Winds will remain light and the region will see plenty of sunshine. The coldest air will shift off to the east through the day which will allow overnight lows to remain a bit higher on Wednesday night. Winnipeg should see a low near 5 or 6°C.
Long Range Outlook
The remainder of the week looks quite pleasant with daytime highs returning to the low to mid-twenties and overnight lows climbing back into the low teens. Winnipeg will see a fair amount of sunshine right through to the weekend with dry conditions continuing.
Winnipeg's seasonal daytime high is currently 21°C while the seasonal overnight low is 8°C.