After a warm and dry Monday, humid and unsettled conditions will redevelop for Tuesday.
The week will start off with pleasant weather as a ridge of high pressure moves through the region. Temperatures will climb to a high near 24°C under sunny skies with westerly winds of 15 to 25 km/h. Winds will diminish to light this evening. Temperatures in Winnipeg will head towards a low near 14°C tonight with increasing cloud cover. Winds will increase out of the south to 20-30 km/h after midnight.
A low pressure system pushing across the province will be the driving force for the weather on Tuesday. A warm front pushing through the region will spread a chance for showers or thunderstorms into the region in the morning. After this initial wave of instability, skies will remain mostly cloudy as temperatures climb to a high near 24°C. Humidity will be noticeable by midday as a southerly wind of 30 gusting 50 km/h spreads Gulf of Mexico moisture back into the region.
The chance for thunderstorms will redevelop in the afternoon as a cold front pushes southeastwards through the Red River Valley. These thunderstorms will be strong to severe with threats of large hail and damaging winds. There's some uncertainty at this point on the exact positioning of the front, so there is a chance that the thunderstorm activity doesn't trigger until the front is southeast of Winnipeg. We'll be keeping an eye on it and post an update if needed on Tuesday.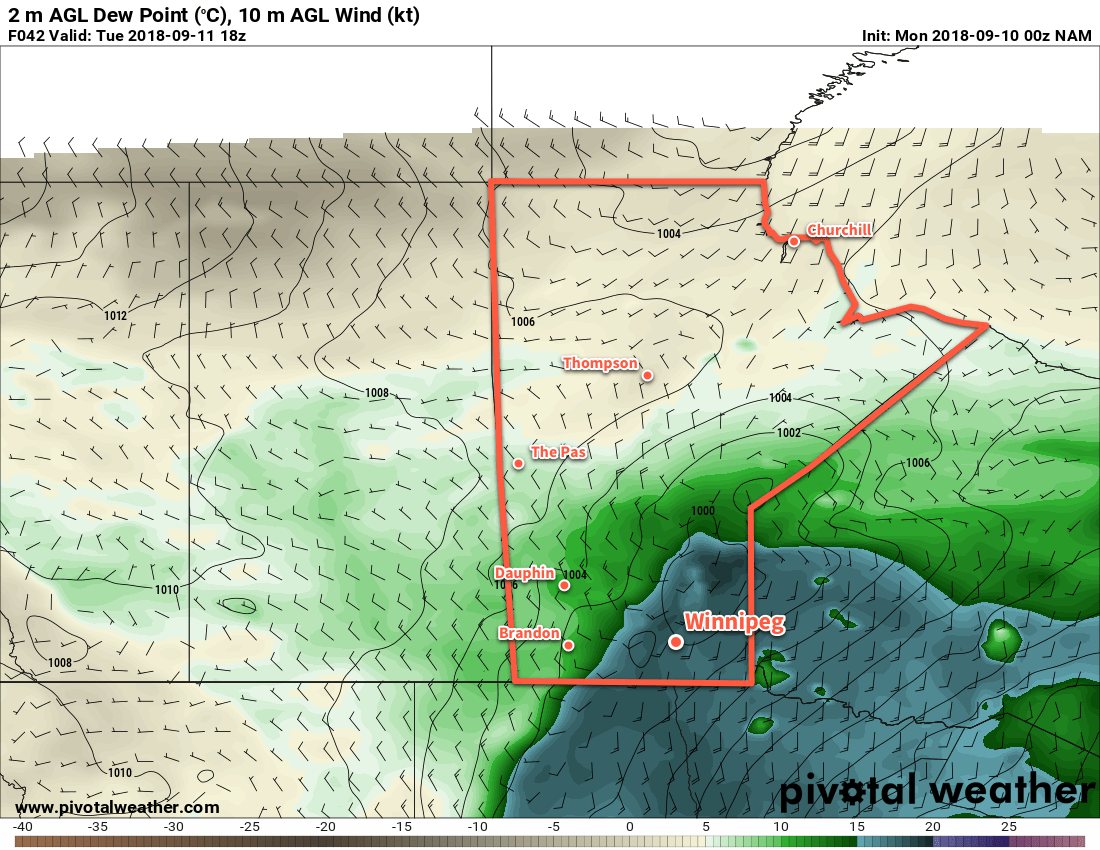 After the cold front moves through, skies will clear with winds shifting to northwesterly and gradually diminishing. Winnipeg should see a low near 8°C on Tuesday night.
Wednesday will be a much cooler day with northeasterly winds near 20 km/h and a high near 18°C. After a sunny start, Winnipeg will see increasing cloud as it spreads northwards from a disturbance organizing in the Northern Plains of the US. Skies will remain cloudy for Wednesday night with a chance of showers as temperatures head to a low near 14°C.
Long Range Outlook
There seems to be some uncertainty with exactly what will develop south of the border and how it will evolve over time. It seems likely that through the latter half of the week, the Red River Valley will see variable cloudiness with near-seasonal temperatures and light winds. The odd chance for some rain seems likely, although much of the activity could remain east of the Red River Valley.
Winnipeg's seasonal daytime high is currently 19°C while the seasonal overnight low is 7°C.