Another low pressure system will pass through the province today, spreading more cloud and wet weather into the Red River Valley.
For much of the day today, Winnipeg will just see cloudy conditions as temperatures climb to a high near 5°C. Winds will gradually pick up out of the southeast to around 20 to 30 km/h through the day. By late in the afternoon, however, rain will begin spreading across the city. The rain will persist through the evening and taper off overnight. 5 to 10 mm is likely to fall through the Red River Valley, although there may be some localized pockets that see a bit more than that. That southeasterly wind will diminish in the evening and temperatures will dip to a low near +1°C.
On Tuesday, Winnipeg will see winds pick up out of the west up to 30 km/h through the day. Skies will be variable with cloudiness giving away to some sunshine before more cloud returns later in the day. That sunshine will help boost temperatures up to a high near 7°C. The winds will persist through much of the night, gradually shifting northwesterly. As the overcast skies return as clouds slump southwards, there will be just a slight chance of some light rain, drizzle, or even a rogue flurry. Temperatures will dip to a low near +1°C again.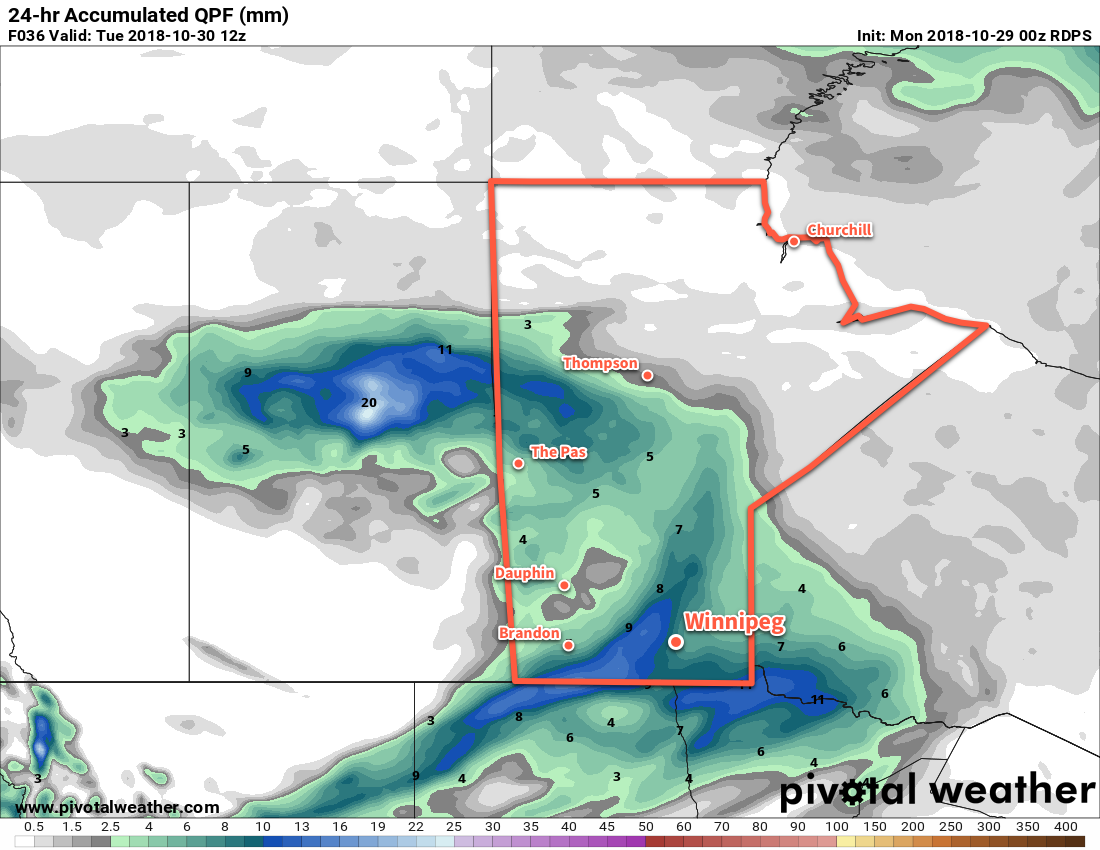 Cloudy skies will persist in Winnipeg on Wednesday, but a cold front pushing southwards will bring cooler temperatures. Northwesterly winds of 20 to 30 km/h will gradually taper off through the afternoon as a cooler air mass moves into the region. Winnipeg should see a high of just +3°C or so. There will be a small chance for a rain shower or flurry in the morning, but by the afternoon the city should be left with just cloudy skies. Temperatures will dip to a low near -2°C under mostly cloudy skies on Wednesday night.
Long Range Outlook
The remainder of the week looks cool with daytime highs in the low single digits and overnight lows dipping just below freezing. Little more precipitation is forecast for Winnipeg, but there will be a chance for some more rain on Thursday depending on the exact track the next low pressure system takes through province.
The cool and unsettled conditions will remain through the weekend, with a chance of seeing some rain showers or light snow on and off through the weekend.
Winnipeg's seasonal daytime high is currently 5°C while the seasonal overnight low is -4°C.