Winnipeg will continue to see near-seasonal temperatures with mostly cloudy skies right through the remainder of the week.
Cooler conditions return to Winnipeg today in the wake of a cold front that moved through the region overnight. Northwesterly winds will begin the day near 30 km/h then gradually taper off through the afternoon, bringing a cooler air mass into the region that will limit daytime highs to around +3°C. Skies will remain cloudy through the day with just a slight chance of some rain showers or light flurries. Conditions should be relatively pleasant this evening for any kids out for Halloween with cloudy skies and temperatures near 2 or 3°C. Overnight, temperatures will head to a low near -2°C under mainly cloudy skies.
Another low pressure system will slide across southwestern Manitoba on Thursday. Any organized precipitation with this system should remain west of the Red River Valley, leaving Winnipeg with mostly cloudy skies and a high near +4°C. Winds will remain light and easterly through the day. More cloud is on the way for Thursday night with a low near -2°C.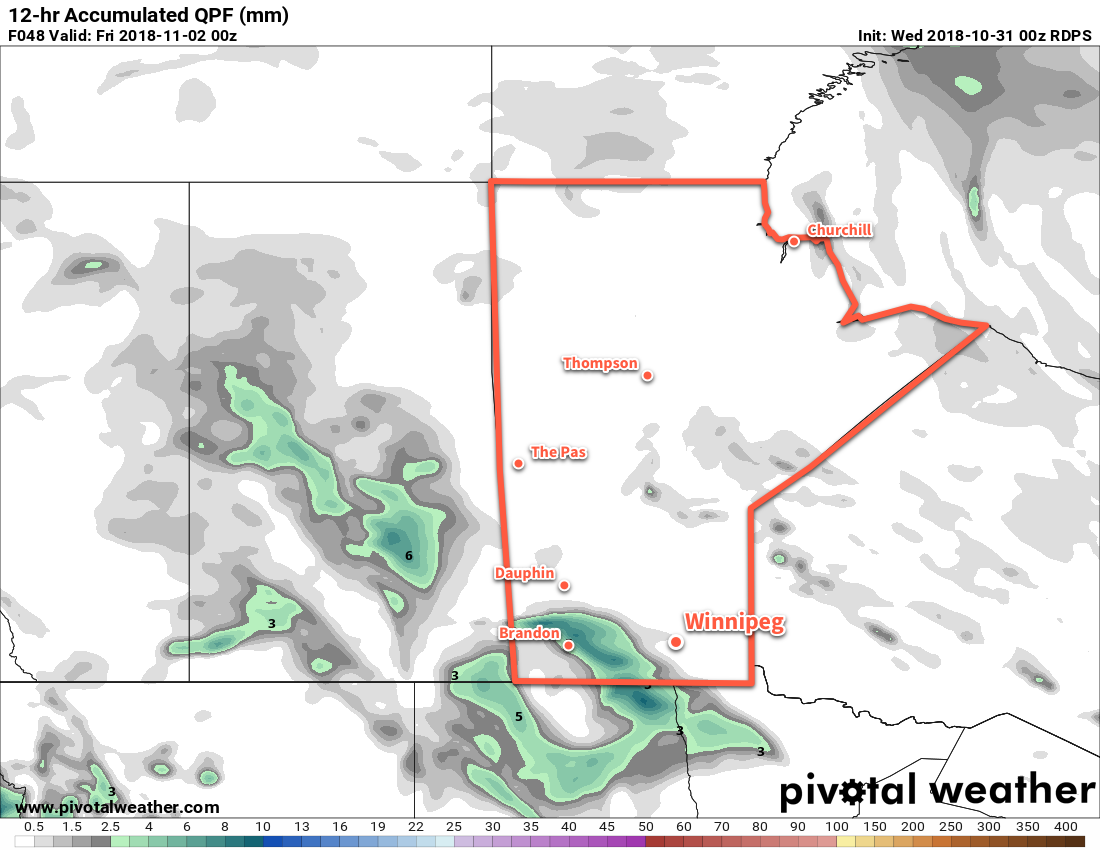 Would you believe that Friday will bring…more cloud? The stagnant flow over the region will ensure that mostly cloudy skies remain in place over Winnipeg for yet another day. Temperatures will continue in line with the days before: a high near +3°C and a low on Friday night near -2°C.
Long Range Outlook
The weekend looks to remain fairly cloudy in Winnipeg. No organized precipitation is in the forecast and near-seasonal temperatures are expected both Saturday and Sunday. Cloudy weather continues into next week, with an increasing chance of rain or snow on Tuesday into Wednesday.
Winnipeg's seasonal daytime high is currently +4°C while the seasonal overnight low is -5°C.