Winnipeg will see temperatures swing from the deep freeze back to seasonably mild by the end of the weekend as an Alberta clipper pushes out an Arctic high.
Temperatures will be cold in Winnipeg today as an Arctic high settles over the region. Temperatures today will be seasonably cold in the Red River Valley at around -20°C. Breezy northerly winds this morning of 20 to 30 km/h will ease through the day. Then, attention turns to a potent Pacific system making landfall. As it moves onshore, it will push a warm front eastwards across the Prairies. That surge of warm air pushing across the Prairies will keep temperatures from dropping too much tonight. Winnipeg should see a low near -24 or -25°C before temperatures begin to moderate early Saturday morning. Skies will start the night clear, but should see cloudiness increase early Saturday morning.
Saturday will bring mainly cloudy skies to Winnipeg. Snow isn't too likely, but a few flakes may fall through the day. Temperatures will return to seasonal values with a high near -11°C. Winds will become an issue in the afternoon, though, increasing out of the south to into the 30 to 40 km/h range. This will result in some blowing snow through the Red River Valley. Expect locally poor travel conditions on west-east highways in the area. Those breezy winds will continue into the night and keep temperatures mild. Winnipeg will see temperatures remain steady near -11°C under cloudy skies with a chance of light snow.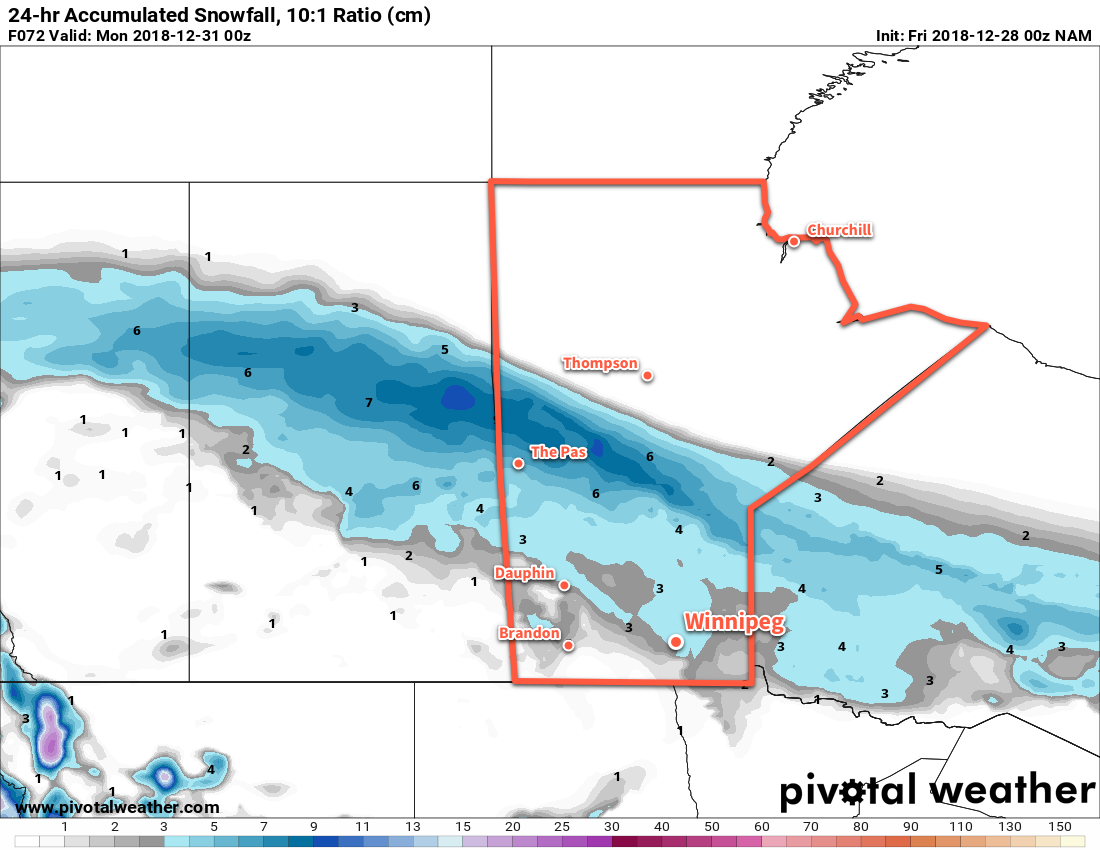 By Sunday, that Pacific system will have developed into a punchy Alberta Clipper. It will move from central Saskatchewan into southwestern Manitoba on Sunday morning, dragging an area of snow southwards from the central Prairies. Winnipeg will see periods of snow through Sunday with light winds. While it will snow all day, accumulations should remain relatively low in the Red River Valley. Winnipeg may see 2 to 4 cm with decreasing amounts south of the city. Temperatures will be mild with a high near -7°C, but things will take a turn on Sunday night as a cold front surges southwards behind the clipper system. Winnipeg will see a low near -19°C with even colder temperatures on the way to start next week.
Long Range Outlook
Some snow may linger into Monday morning, but by the end of the day things should clear out. Then, another outbreak of Arctic air will move into the region. Daytime highs will plummet back into the low minus teens or minus twenties to start the week. Tuesday morning may even bring the first -30°C overnight low of the season!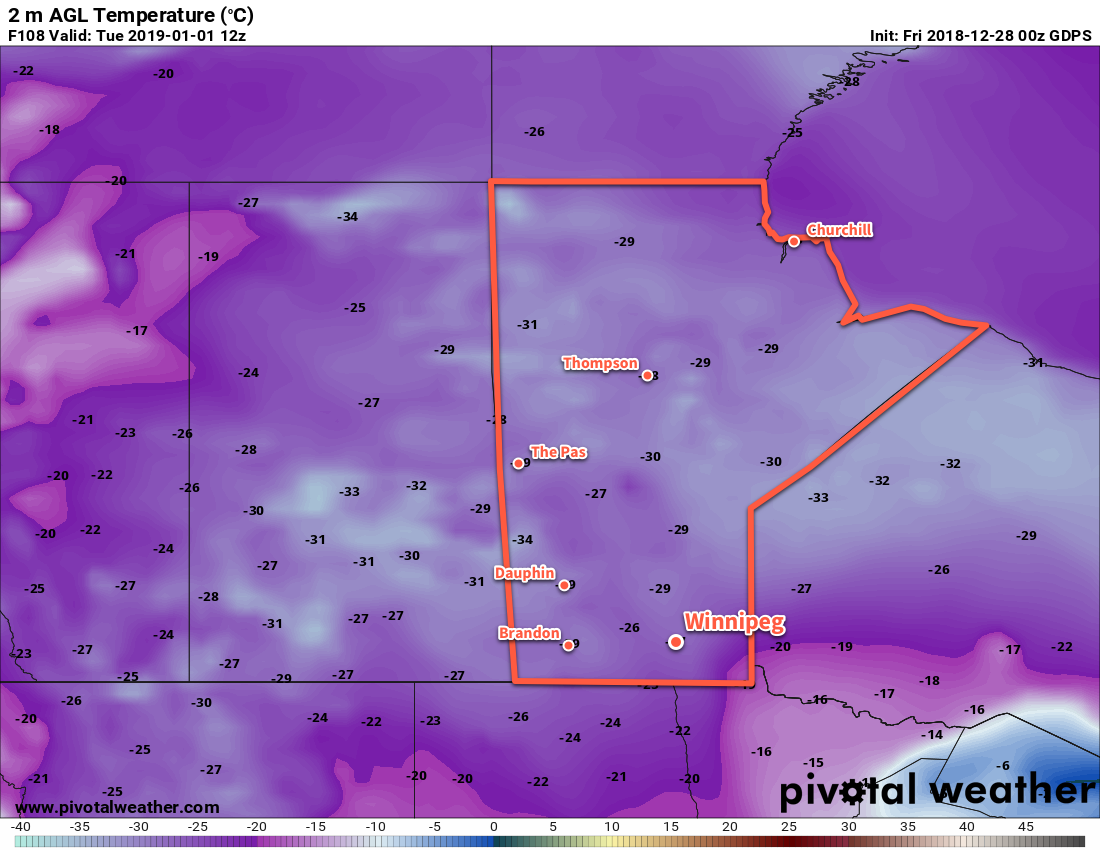 The cold outbreak will be short-lived with seasonal temperatures returning mid-week. The end of next week should bring seasonably mild conditions with little to no chance for any accumulating snowfall.
Winnipeg's seasonal daytime high is currently -12°C while the seasonal overnight low is -22°C.