Temperatures will remain well below normal in Winnipeg right through the weekend. Following that…it's going to get even colder.
Winnipeg will remain entrenched in a very cold Arctic air mass over the next several days. The city will see sunny skies today, but some cloud will push into the region on Saturday afternoon as a warm front pushes eastwards through Saskatchewan. This warm front will produce a very strong temperature gradient over the eastern Prairies. By Sunday morning, temperatures will range from just above 0°C in Regina, SK to the low -20s in Winnipeg.
This extremely strong temperature gradient will provide plenty of energy for an Alberta clipper that will slide southeastwards along the front. As it moves through Saskatchewan on Sunday, it will spread an area of snow through western Manitoba into North Dakota as it drops southwards into the United States. It will be a cloudy day in Winnipeg with just a small chance of flurries. The snow should largely remain to the west of the Red River Valley. The heaviest snow will occur over southeastern Saskatchewan and southwestern Manitoba with up to 10 cm forecast by Sunday evening. It's worth noting that if this system collapses southwards even a little, the heaviest snow could end up just from southeastern Saskatchewan into North Dakota.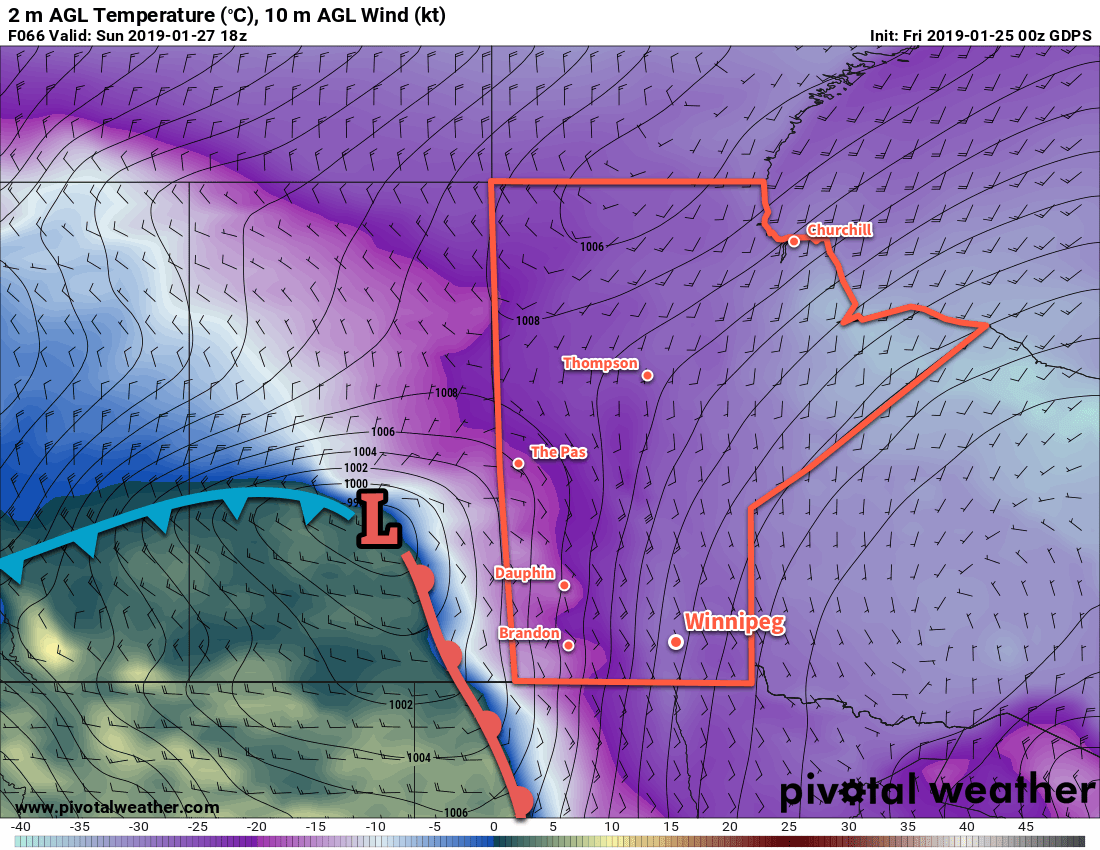 Winds will be relatively light today and tomorrow across the Red River Valley, but Sunday should bring eastern winds near 20 to 30 km/h as the low passes by.
Long Range Outlook
Next week looks bitterly cold. In the wake of the Alberta clipper, another surge of even colder Arctic air will flow southwards through the Prairies. Winnipeg will see daytime highs drop into the mid-minus 20s with overnight lows likely in the mid-minus 30s.
Winnipeg's seasonal daytime high is currently -12°C while the seasonal overnight low is -23°C.