After a break that seems all too short, Winnipeg will plunge into the deep freeze tonight. A reinforced surge of Arctic air will spread back into southern Manitoba in the wake of an Alberta clipper moving through the province today.
Winnipeg will see cloudy skies with a mild high near -9°C today. By mid-afternoon, the city will likely see some light snow push into the region with 1-2 cm accumulation possible. The big change in the weather will come this evening as a cold front surges southwards through the Red River Valley behind this clipper system. Winds will pick up out of the northwest to 40 gusting 60 km/h and begin ushering in a much colder air mass. These winds will produce areas of blowing snow, however the worst conditions will occur in the lee of Lake Manitoba. In this area, roughly along a line from Lake Manitoba SSE to Emerson, white-out conditions in blowing snow will be possible. Skies will gradually clear overnight as temperatures plummet to a low near -28°C. The wind will ease overnight to 30 gusting 50 km/h by Thursday morning.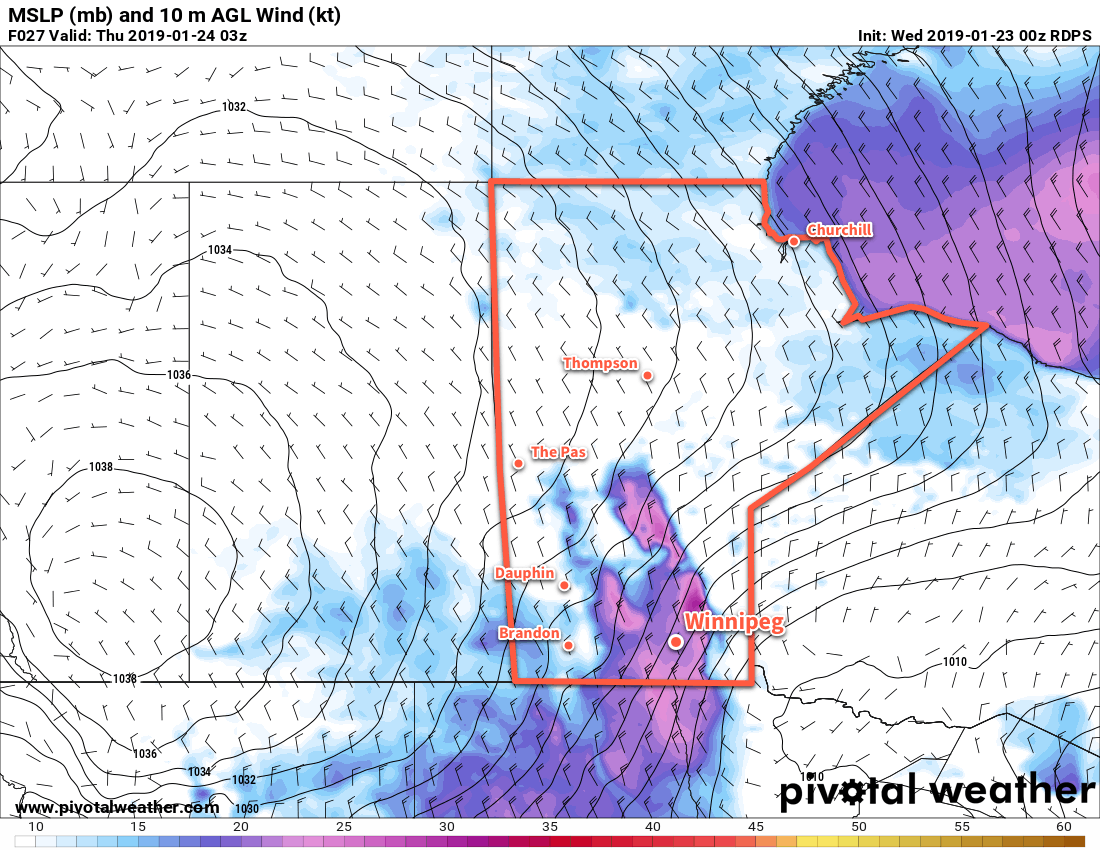 The rest of the week? Cold. A potent Arctic ridge will settle over the province for the next couple days, bringing temperatures well below seasonal back to the region. Winnipeg will see a high of just -24°C today with partly cloudy skies. Temperatures will drop to a low near -33°C tonight with light winds. Friday will see temperatures climb to -24°C again under clear skies. Temperatures will dip to a low near -28°C on Friday night.
Long Range Outlook
Temperatures will moderate just slightly this weekend with daytime highs reaching just above -20°C. A low pressure system may bring some snow to the city on Sunday, then will usher in another shot of potent Arctic air. Next week will bring a prolonged period of cold with daytime highs below -20°C expected through the week.
Looks like "Winterpeg" wants to end January by living up to its name!
Winnipeg's seasonal daytime high is currently -12°C while the seasonal overnight low is -23°C.