Winnipeg will see near seasonal temperatures through the weekend with snow developing Saturday and tapering off Sunday.
The main weather system impacting Winnipeg over the next few days will be a large Colorado Low system moving through the Northern Plains. It will spread warmer air northwards into southern Manitoba today, finally bringing a near-seasonal high to Winnipeg. That warmer air moving into the region will also produce mixed skies today as cloud cover builds northwards. Temperatures will stay mild tonight with a low near -10°C and mostly cloudy skies.
Winnipeg will see snow build into the region on Saturday. Snow will spread northeastwards out of North Dakota into the Red River Valley midday. The city will see a near-seasonal high of -3°C and light winds. The snow will ease on Saturday night, leaving around 3-5 cm in Winnipeg with amounts of 5-10 cm to the south and east. Breezy northwesterly winds near up to 30 km/h will move into the region in the evening. Temperatures will dip to a low near -10°C.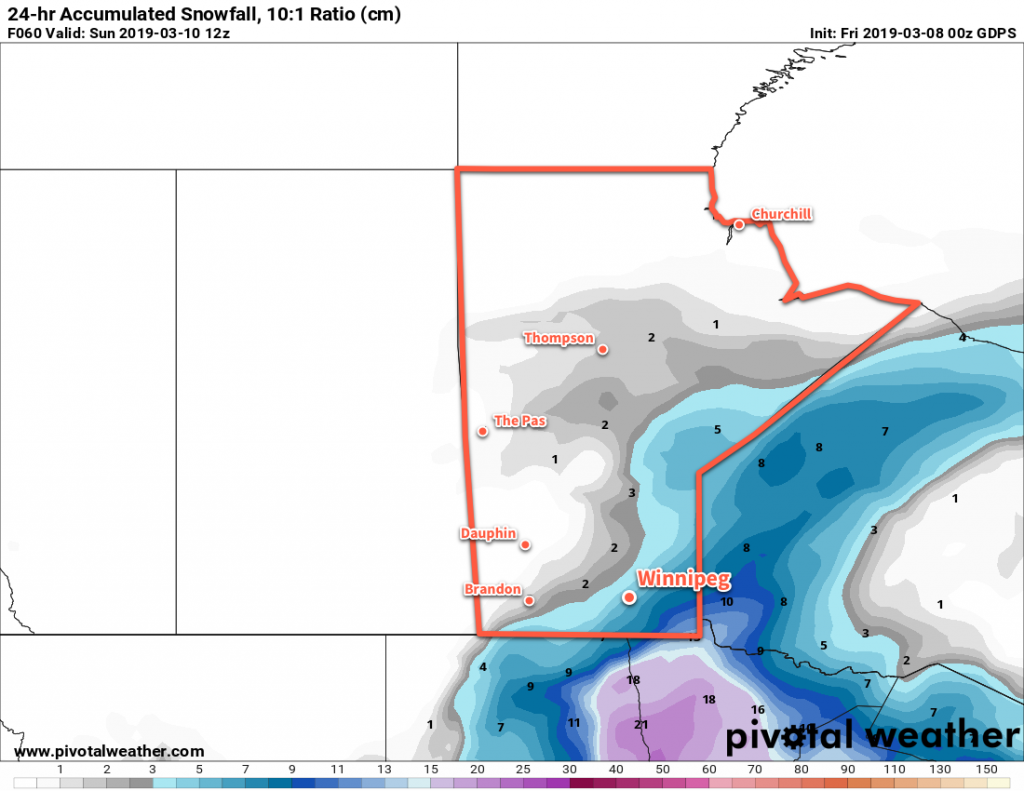 The cloud cover will stick around for Sunday with a continued chance for some light snow. Northwesterly winds near 30 km/h will keep temperatures cooler than Saturday with a high near -5°C. Skies will clear out on Sunday night with temperatures dipping back into the low minus teens.
Long Range Outlook
Winnipeg will see a sunny day on Monday with near-seasonal temperatures, but the reprieve will be short-lived. Most guidance continues to forecast another major Colorado Low developing early in the week. Winnipeg would be under the influence of this system form Tuesday through Thursday, and it would bring the potential for a wintery mix of precipitation across the province. Snowfall may end up being a significant concern with this system; some models show the potential for a band of 20-30 cm of snow slicing across the Red River Valley. With flooding concerns mounting, a foot of heavy, wet March snow certainly wouldn't help the situation.
Today's seasonal daytime high in Winnipeg is -3°C while the seasonal overnight low is -13°C.