Below-seasonal temperatures will continue through much of the rest of the week, but a warm-up is on the way this weekend!
Today's main weather feature will be a weak cold front will slumping south through the Red River Valley. It will bring some cloud to the region, but the sun should reappear after it moves through. Behind the front, winds will pick up out of the north to around 30 gusting 50 km/h and temperatures will top out around 12°C. Tonight should bring clearing skies with a low near the freezing mark. Winds will keep up around 20 km/h through the night.
On Thursday, the region will see sunny skies and a ridge of high pressure moves in. Winds will continue out of the north at 20 to 30 km/h and temperatures will be cool with highs near 10°C. Winds will ease in the evening as temperatures head to a low near +1°C under clear skies.
On Friday, Winnipeg will have a sunny start to the day that gives way to increasing cloudiness in the afternoon. An approaching low pressure system will strengthen southerly winds to around 30 gusting 50 km/h for the afternoon. This disturbance will spread showers through western Manitoba in the morning; these showers will likely continue to spread south-eastwards into the Red River Valley through the afternoon. Winnipeg will see the best chance for showers late in the afternoon and through the night.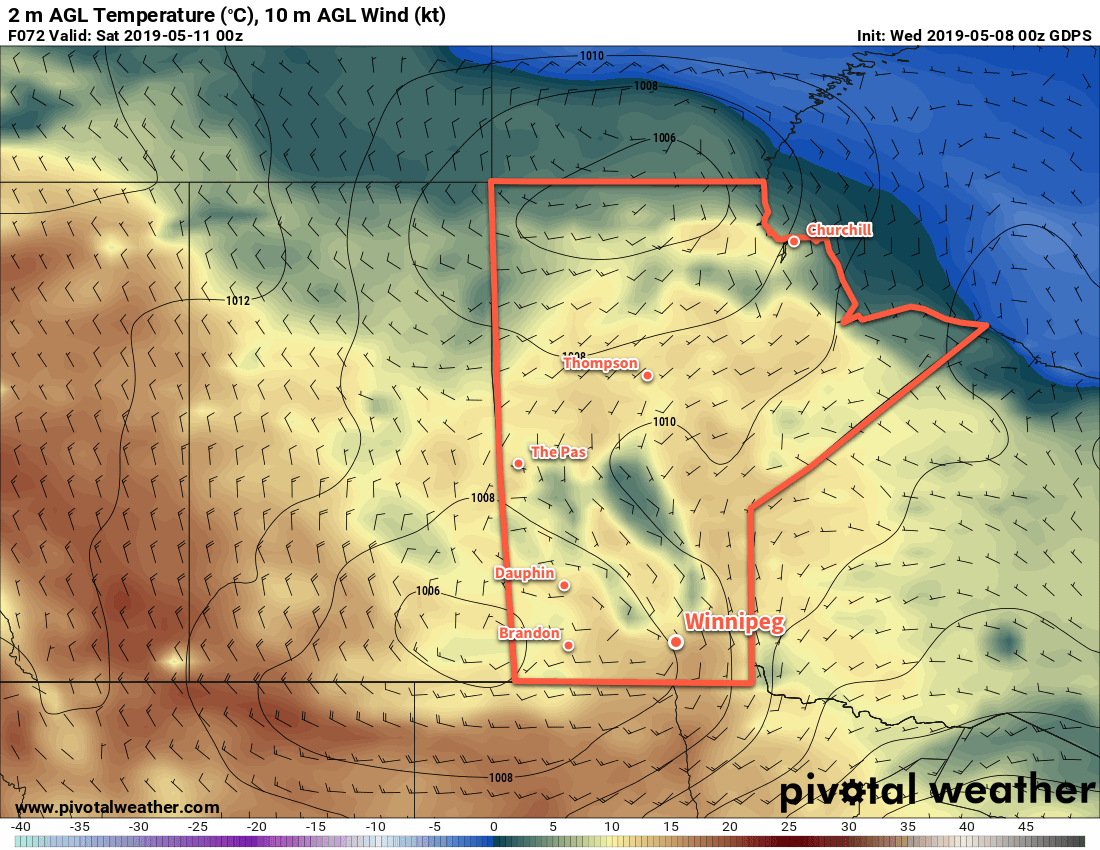 Fortunately, this system will also bring a return of closer to seasonal temperatures. Winnipeg should see a high near 16°C which is only a couple degrees below seasonal values! Skies will stay cloudy on Friday night with a chance of showers. Temperatures will dip to a low around 6°C.
Long Range Outlook
Winnipeg will finally see some warmth return this weekend. On Saturday, a slight chance of morning showers will give way to clearing and a high near 15°C. Sunnier skies are forecast for Sunday with a high near 19°C. Much of next week looks to bring near-seasonal highs in the mid- to upper-teens with variable cloudiness.
Today's seasonal daytime high in Winnipeg is 18°C while the seasonal overnight low is +4°C.