Today will be a scorcher over southern Manitoba as strong southerly wind pump hot and increasingly humid air northwards. With that heat, though, will come a fair amount of instability and one of the first widespread severe thunderstorm threats of the season.
To start the day, some elevated convection will move across the region, most likely through the Interlake. These thunderstorms may be strong to severe, but should remain north of the Red River Valley. Although the storms should pass north of Winnipeg, the city will still see some passing cloud as they move by. These storms and their cloud cover should clear out by midday. As the sun comes out, the wind will pick up. A tight pressure gradient over the region1 will produce southerly winds up to 50 gusting 70 km/h today, helping heat and moisture surge northwards out of the United States. With those strong winds in place, Winnipeg will see temperatures climb to a high near 33°C. It will also get a tad more humid as the day goes on as dew points rise into the mid-teens.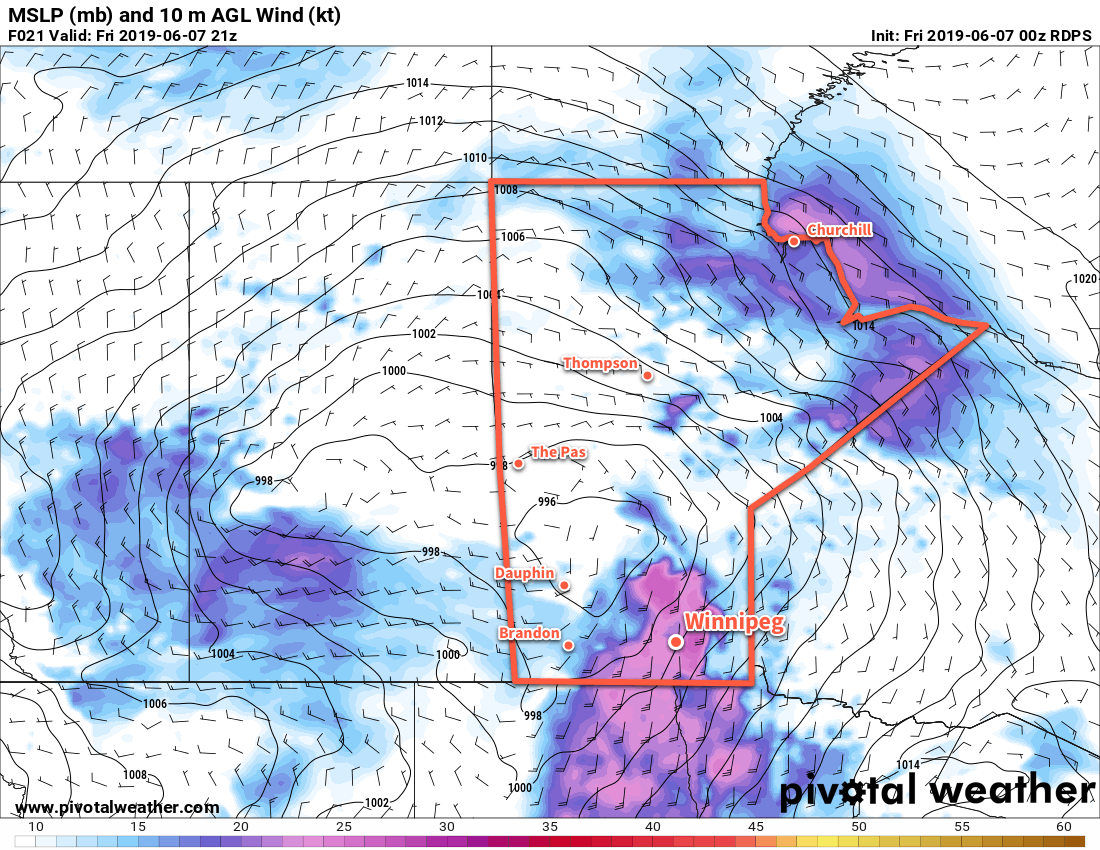 By late in the afternoon, the thunderstorm threat will begin to build. A trough of low pressure over southwestern Manitoba into the Interlake may trigger the development of thunderstorms. If they develop, they'll likely be strong to severe with primary threats of large hail and strong winds. Any of these thunderstorms that develop will move eastwards towards the Red River Valley through the evening. The focus then turns southwards to the Dakotas. A shortwave lifting northeastwards through the state will trigger convection late in the day. These thunderstorms will grow upscale and expand in coverage overnight. As the evening progresses, this blossoming area of thunderstorms will gradually spread across southern Manitoba. The potential for strong to severe thunderstorms exists tonight, with large hail and damaging wind gusts the primary threats. The thunderstorms should be through the Red River Valley by Saturday morning.
Temperatures will remain mild on Friday night with a low near 19°C. Those strong southerly winds will ease into the 20 to 30 km/h range this evening and then diminish to light overnight.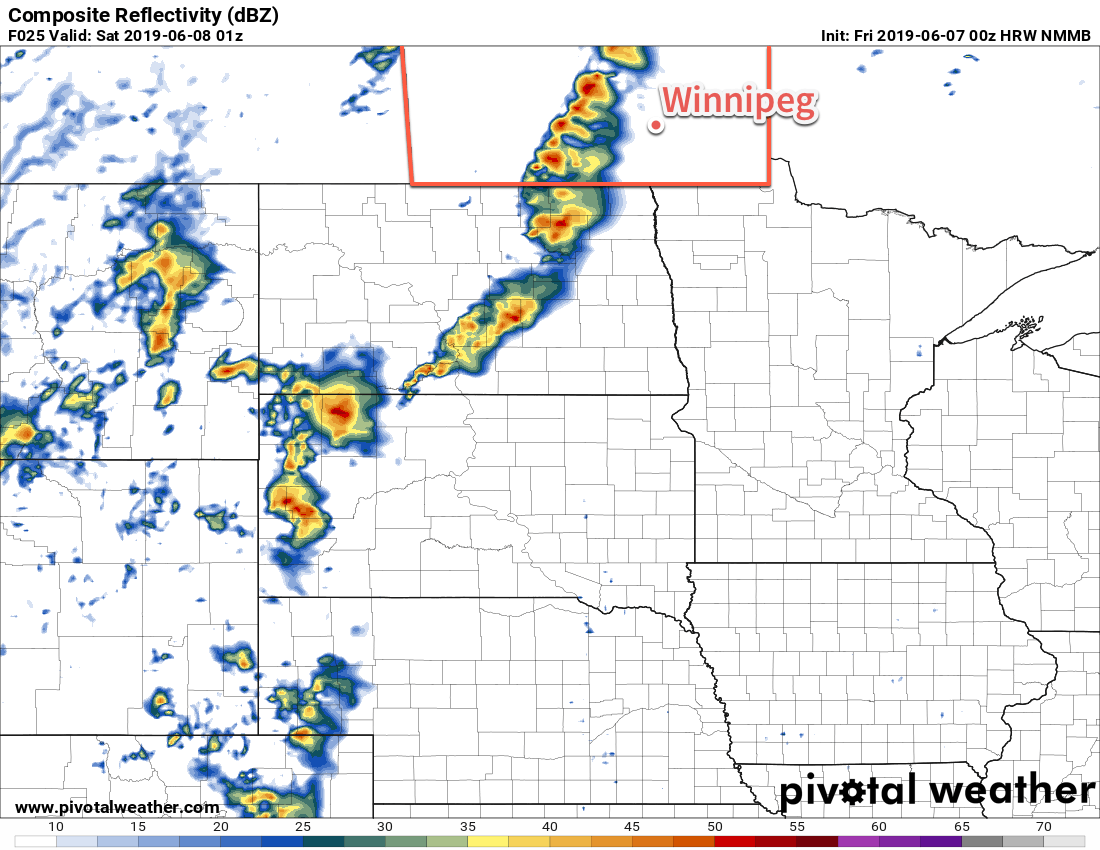 Saturday will bring plenty of cloud to Winnipeg as the low pressure system responsible for all this heat and instability moves through. Temperatures will be much cooler with morning temperatures near 18°C dropping to 14°C through the day. Winds will gradually pick up out of west into the 20 to 30 km/h range. More showers with the risk of thunderstorms are likely to develop later in the morning and persist through much of the afternoon. Conditions will calm down on Saturday night with some clear breaks developing towards Sunday morning. Winnipeg should see a low temperature near 9°C.
Sunday will bring seasonably cool conditions to Winnipeg, but things will get a chance to dry out. The city should see a high near 19°C under partly cloudy skies. Westerly winds near 30 km/h will be in place for much of the afternoon before diminishing in the evening. Winnipeg will see a low near 8°C with just a few clouds on Sunday night.
Long Range Outlook
Next week will bring seasonably cool temperatures with daytime highs around 20°C and overnight lows close to 10°C. The city will see variable cloudiness through the week, and a couple of passing disturbances may bring a chance or two of showers through the week. Temperatures should begin to warm up near the end of the week, but that may bring a return to unsettled conditions.
Today's seasonal daytime high in Winnipeg is 23°C while the seasonal overnight low is 10°C.
The tight pressure gradient is a result of a 996 mb low over western Manitoba squishing against a ridge of high pressure extending through SE Minnesota into Iowa.