Seasonal warmth returns for a beautiful Friday before cloudier conditions arrive this weekend.
Temperatures will return to seasonal values today in Winnipeg as the cooler weather of the last couple days shifts off to the east. A warm front will work its way across the region today, sending temperatures towards a high near 27° in Winnipeg. Winds will stay light out of the south with mainly sunny skies, making for a beautiful summer day.
Skies will become more mixed this evening with a light southerly wind. Temperatures will be much warmer that the last couple nights with a low near 15°C.
On Saturday, a cold front slowly slumping southeastwards will thicken up the cloud cover over the city. Temperatures should still be fairly warm with a high near 25°C. As the front passes through midday, it will bring a chance of showers to the region that will persist into the evening hours. Winds will be light before the front passes, then pick up out of the north into the 20 to 30 km/h range midday. The chance of thunderstorms looks low and it's unlikely that there will be any widespread rain accumulations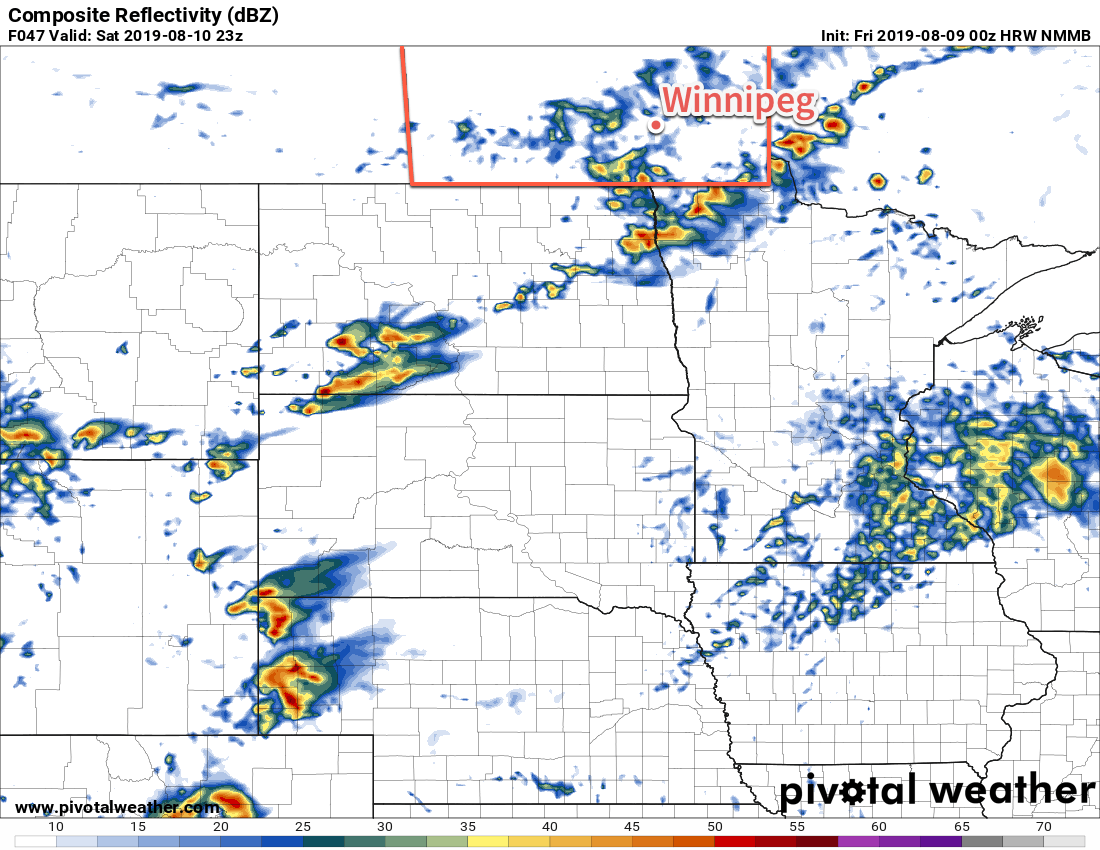 The wind will ease in the evening with mixed to mostly cloudy skies continuing through the night. Winnipeg will see a low near 13°C.
There's a bit of forecast divergence for Sunday, particularly with how much sun the region will have. It looks most likely that Winnipeg will see mainly cloudy skies for much of the day, however if things end up a tad south the city could see more along the lines of mixed skies. A light northerly wind will keep temperatures on the cooler side again with a high near 23°C.
More cloud will move in on Sunday night with a low near 13°C again.
Long Range Outlook
Early indications are that next week will kick off with rather unsettled conditions as a low pressure system moves across North Dakota. Rain with the risk of thunderstorms will be possible Monday into Monday night for much of southern Manitoba. After that system passes, the region will likely see another couple days of cooler weather before seasonal conditions return.
Today's seasonal daytime high in Winnipeg is 26°C while the seasonal overnight low is 13°C.