More rain is on the way for Winnipeg tonight, then the sun returns mid-week for several pleasant days.
A low pressure system pushing eastwards across the Prairies will bring more rain to Winnipeg later today. After a sunny start to the day, clouds will push back into the region this afternoon. Temperatures should reach a high near 19°C, but southeasterly winds of 20 to 30 km/h will make it feel cooler than that. Showers will spread into the region for the evening hours and persist for much of the night. There may even be a chance for a few embedded thunderstorms through the evening hours.1 The showers will gradually taper off overnight behind the low. The wind will ease in the evening, then pick up out of the northwest to around 30 km/h late overnight. Temperatures will dip to a low near 11°C.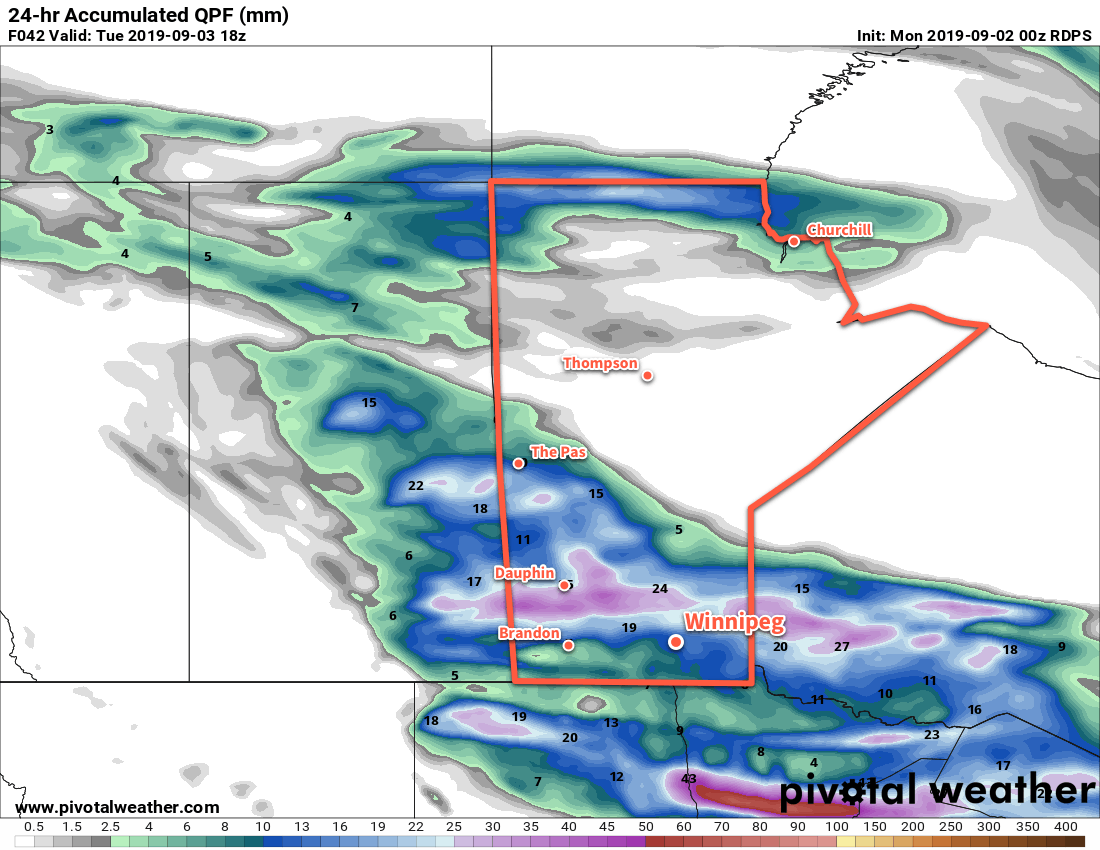 Tuesday will start off with cloudy skies and a chance of some lake-effect showers drifting southeastwards of both Lake Manitoba and Lake Winnipeg. Skies will stay mostly cloudy for much of the day, but a few sunny breaks may develop late in the afternoon. The cloud cover and northwest winds will keep things cool; Winnipeg will see a high only near 15°C. The winds will ease in the evening with clearing skies; Winnipeg should see a low near 6 or 7°C.
On Wednesday, a southerly return flow combined with sunshine will help temperatures recover back to seasonal values. The city will see a high near 22°C with southwest winds around 15 km/h. The next disturbance crossing the Prairies will push more cloud back into the region through the afternoon. Skies should clear back out overnight with a light south wind continuing. Temperatures will dip to a low near 11°C.
Long Range Outlook
The remainder of the work week is looking nice with highs in the low 20s or upper teens and variable cloudiness. Cooler temperatures will return for the weekend, but the region should still see a fair amount of sunshine. Unsettled conditions are forecast to return to start off next week.
Today's seasonal daytime high in Winnipeg is 21°C while the seasonal overnight low is 9°C.
No severe weather is expected. ↩