Winnipeg will see more rain in the second half of the week, but all signs point towards a return to summer temperatures by the end of the weekend!
Tucked between two lows, Winnipeg will see a brief reprieve from wet weather today. Although there may be the odd break of sunshine, skies should stay mostly cloudy. Winds out of the northeast at 20 to 30 km/h will keep the daytime high to a seasonably cool 16°C. The winds will persist tonight as temperatures head to a low near 9°C.
A large low pressure system moving towards Lake of the Woods on Thursday will spread more rain into southern Manitoba. Rain should spread northwards into Winnipeg through the morning, then persist through the afternoon into Thursday night. Winds will strengthen to 30 gusting 50 km/h out of the northeast in the morning. The wind and wet weather will keep things cool; Winnipeg should see a high near 12°C.
The wind will shift to the north-northwest on Thursday night with a low near 9°C.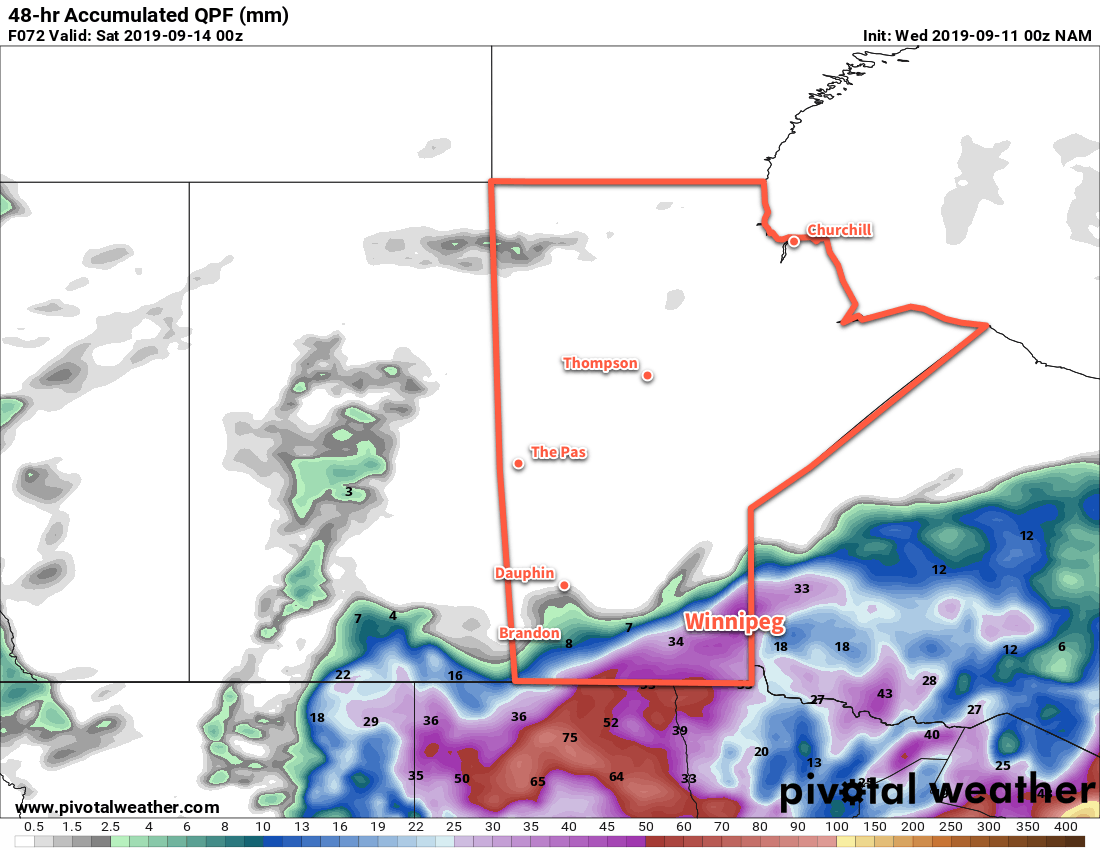 Showers will taper off through the day on Friday with breezy northwest winds near 30 gusting 50 km/h. Winnipeg will likely see at least 20 to 30 mm by the time the rain tapers off, but there's potential for amounts in the 30 to 40 mm range.1
Temperatures will be marginally warmer with a high near 14°C. Skies should finally clear out on Friday evening as a ridge of high pressure moves into the region. The winds will taper off quickly on Friday evening then Winnipeg will head to a low temperature near 5°C.
Long Range Outlook
After a cool and wet week, conditions will change significantly this weekend as a large upper level ridge builds over central and eastern North America. Temperatures are forecast to climb into the mid-20s by the end of the weekend, then into the mid- to upper-20s to start next week. A deep southerly flow will advect Gulf moisture northwards, and the region could see humid conditions return to start next week with overnight lows climbing back into the upper teens.
The upper ridge is forecast to shift eastwards mid-week, allowing a large upper trough to push into the region, likely bringing unsettled conditions mid-week and a return to more seasonal conditions by the end of the week.
Today's seasonal daytime high in Winnipeg is 19°C while the seasonal overnight low is 7°C.
Final amounts will depend on exactly where embedded convective bands of rain develop in this system. ↩