An outbreak of Arctic air across the Prairies will bring seasonably cold temperatures and scattered flurries to Winnipeg.
Winter weather has arrived in Winnipeg, courtesy a potent upper low over the eastern Prairies. This low has altered the upper-level air patterns, sending the jet stream diving into the southern United States. This has allowed colder Arctic air to spread southwards through the Prairies and into the northern United States. The result: a prolonged period of seasonably cold weather for Winnipeg.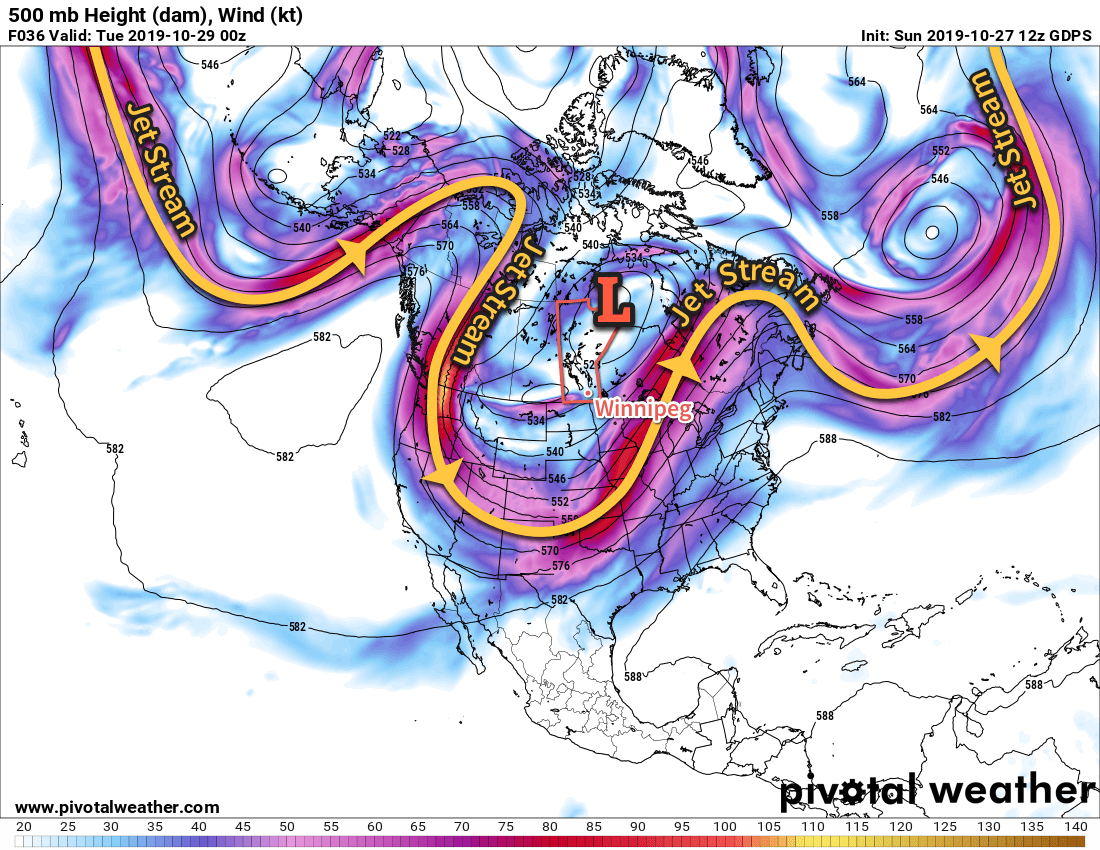 Winnipeg won't be dealing with record-breaking cold by any stretch, but it will be the first sustained period of chillier winter conditions this season. Temperatures will struggle to reach the freezing mark through the first half of the week with highs generally in the -2 to 0°C range. Overnight lows will largely depend on how much cloud lingers through the overnight periods, but will generally sit near -5°C to star the week and fall close to -10°C mid-week.
Winds will start the day out of the west near 20 km/h and gradually ease to light in the afternoon as a weak low moves into the region. Winds will pick up out of the west-northwest on Tuesday into the 20 to 30 km/h range as the low exits the region. The winds should keep up through the night, then ease to around 15 km/h on Wednesday.
The city will see variable cloudiness over the next few days, although generally speaking skies will be mixed to cloudy with a few sunny periods possible here and there. Today, the clouds should thicken up through the afternoon as the low moves into the region. There will be a good chance of flurries with the cloud cover later today, persisting into the night. Temperature profiles through the night may end up supporting light snow that lasts right through the night. Accumulations would still be low, but there could be a greater impact on visibilities and road conditions.
Skies will stay mostly cloudy on Tuesday with a good chance of flurries through the day. The cloud cover will likely begin to break up a bit on Tuesday night. Winnipeg will see mixed skies on Wednesday, clearing later in the day into the overnight period. The clear skies overnight will lead to the cooler low expected mid-week.
Long Range Outlook
The upper low over the region will weaken and shift northeastwards in the second half of the week. A huge swell of warmth won't return though; most models continue to keep the region in a strong northwest flow.
This likely means a slight warming trend, although below-seasonal temperatures likely persisting right through the weekend into next week. The northwest flow will also likely bring more disturbances through the region, meaning more cloud cover and chances for snow.
Today's seasonal daytime high in Winnipeg is 6°C while the seasonal overnight low is -4°C.