A disturbance tracking through Manitoba will bring accumulating snow tonight followed by much colder temperatures.
It will be a seasonably cool day in Winnipeg today with a high near -16°C as clouds spread into the region ahead of the approaching disturbance. Winds will pick up out of the southeast this afternoon to 30 gusting 50 km/h, producing uncomfortable wind chills in the -25 to -30 range. Snow will spread across the Red River Valley later this afternoon, but will stay light until the evening. Temperatures will continue to rise through the night as the wind gradually eases.
Skies will stay cloudy on Thursday as the snow tapers off through the day. Winnipeg will likely end up with a total of 10 to 15 cm of fresh snow from this system. Temperatures will climb a bit to a high near -11°C. The cloud cover will begin to break up on Thursday night with winds picking up out of the west to around 20 km/h. Temperatures will head to a low near -22°C.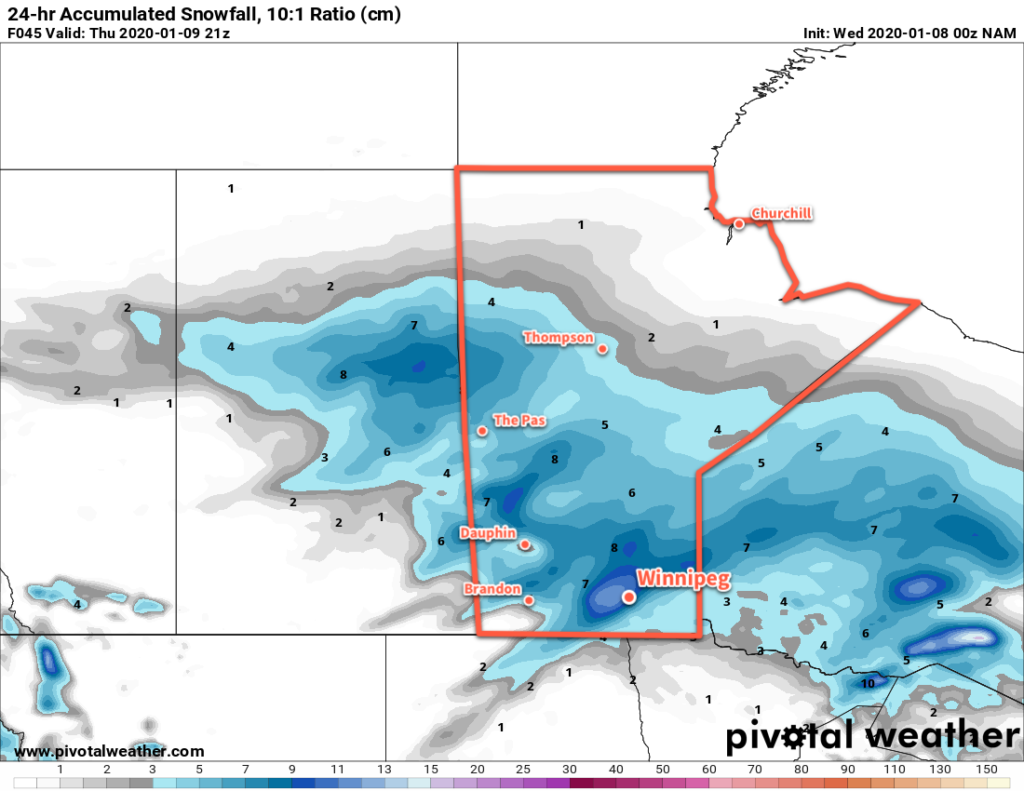 The sun will return on Friday, but unfortunately it's because of a large Arctic ridge moving into the province. As a result, Winnipeg will see seasonably cold temperatures with a high of only -18°C. Those westerly winds will continue for much of the day, gradually diminishing through the latter half of the afternoon. Skies will be partly cloudy over the region for much of the day, but will clear completely for Friday night. With calm winds, temperatures will head to a low near -30°C.
Long Range Outlook
The cold weather will be sticking around for a while. Highs will generally be well below seasonal averages through the next week, except for Sunday when a passing low brings near-seasonal temperatures for a day. The sun should be around for Saturday, but it looks like mixed to cloudy conditions will develop for the end of the weekend through the first half of next week.
Today's seasonal daytime high in Winnipeg is -13°C while the seasonal overnight low is -24°C.