A series of low pressure systems moving through Manitoba will bring mild temperatures back to the region for the weekend.
Winnipeg will see temperatures climb back towards the freezing mark this weekend as milder Pacific air builds into the region. This warmth will come in two waves, each tied to a low pressure system moving through the province. The first low will move into northern Manitoba today and spread seasonal temperatures back into southern Manitoba. With skies becoming mixed today, Winnipeg will see a high near -6°C today. Winds will be light through the morning hours, then pick up into the 20 to 30 km/h range for the afternoon and evening.
Skies will cloud over for the night with temperatures hovering around -5°C. Winds will gradually ease through the night.
On Saturday, a second low pressure system will begin to move towards the province from Saskatchewan, pushing warmer conditions towards the region. The city will see mostly cloudy skies, but temperatures will climb to a high near 0°C with light southerly winds. It will cool only a bit on Saturday night with a low near -3°C.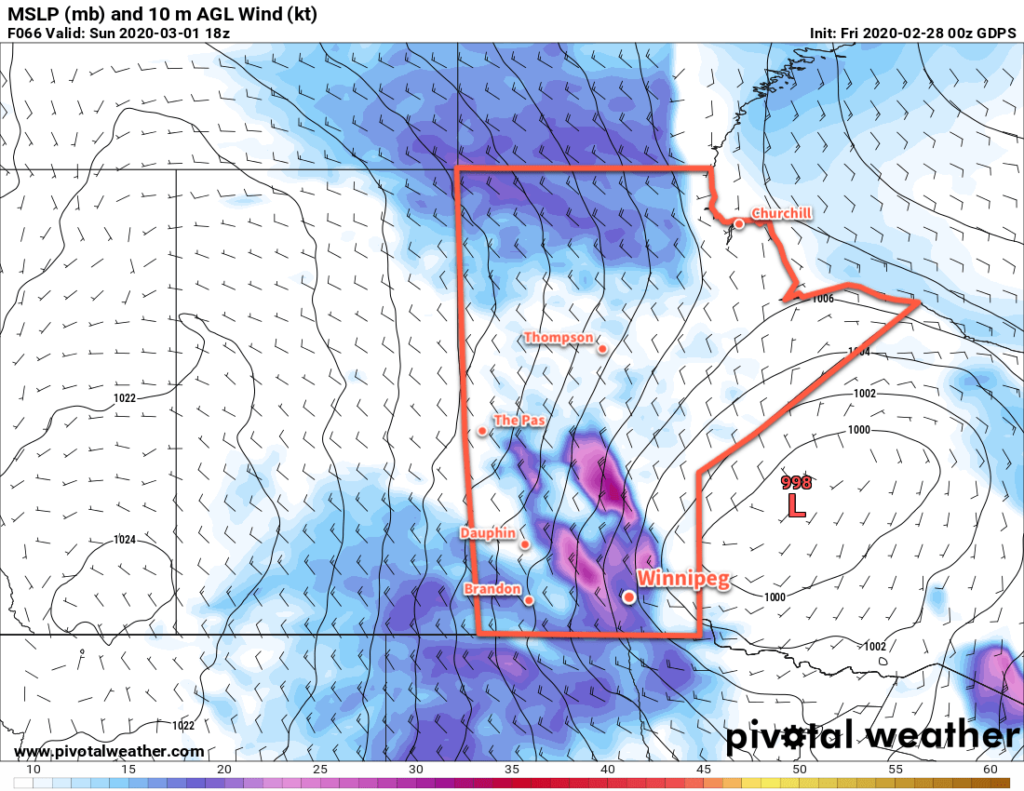 The low will move across Manitoba on Sunday, sweeping a cold front across the region through the morning. Temperatures will stay seasonably mild with a high near -1°C, but moderate west-northwest winds of 40 to 50 km/h will develop behind the front. Skies will continue to be mostly cloudy and there will be a chance for some flurries as front moves through and cooler air pushes into the region. Temperatures will begin to head back towards seasonal values on Sunday night with a low near -12°C under clearing skies. The winds will taper off through the evening hours.
Long Range Outlook
Warm weather looks to continue into the beginning of next week as Pacific air continues to flow over the Prairies. There will be a couple stronger low pressure systems moving through the province in the first half of the week. The first will likely keep well to the north of Winnipeg and mainly impact central and northern Manitoba. The second, however, may swing through further south and bring a notable snowfall to southern Manitoba Tuesday night into Wednesday.
That said, there is still significant disagreement among the forecast models as to how this next series of lows will evolve, so for now we'll sit tight, enjoy the warm weather, and take another look at things at the start of the new week!
Today's seasonal daytime high in Winnipeg is -6°C while the seasonal overnight low is -16°C.