Winnipeg will see plenty of cloud over the coming days as a weak Arctic high slides through the province. Temperatures will return to seasonal values by the end of the week, followed by a return to mild temperatures for the weekend!
Winnipeg should see ample low cloud today trapped under an Arctic ridge moving across the province. The city should see a high near -12°C, which is favourable for the chance of a few non-accumulating flurries. Winds will be light through the day. The region may see some sunny breaks, particularly through the afternoon hours. Temperatures will dip back down to a low near -18°C tonight with mixed to cloudy skies.
On Thursday, winds will be light out of the southeast as the ridge slowly exits the province. Temperatures will be a bit warmer with a high near -9°C as the region sees cloudy skies with periods of light snow. The snow won't pile up to anything too significant, but 1 to 2 cm by the end of the day may be enough to get the roads nice and slick again. The city will see mixed to cloudy skies on Thursday night with a low near -15°C.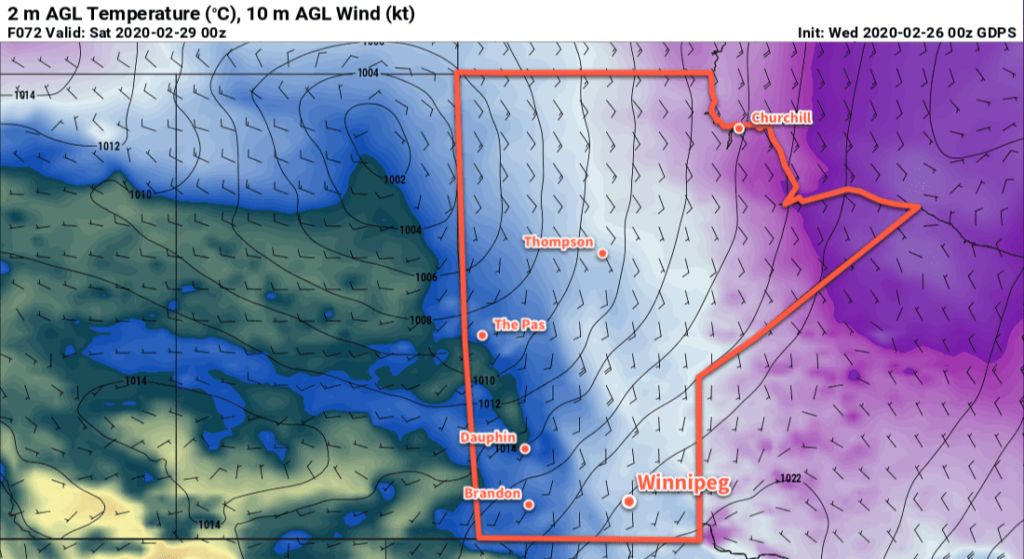 Temperatures will climb a tad more on Friday to a high near -8°C in Winnipeg with mostly cloudy skies. Winds will be light through the morning, then pick up into the 20 to 30 km/h range by the end of the afternoon. There's a chance for some more light snow on Friday evening as a warm front pushes through, but most of the snow should stay north of the city. Winds will shift to the west overnight with mixed skies. Temperatures will rise to around -5°C by Saturday morning.
Long Range Outlook
Warm weather returns to Winnipeg for the weekend with highs near 0°C and variable cloudiness. Breezy conditions will develop on Sunday into Monday with a chance for some light snow later in the day on Sunday through the night as a low crosses the province.
Mild temperatures are forecast to continue through the first half of next week before returning to seasonal values.
Today's seasonal daytime high in Winnipeg is -6°C while the seasonal overnight low is -16°C.