Mild temperatures continue across the Red River Valley, but Winnipeg will see accumulating snow Wednesday evening.
Winnipeg will see temperatures climb to a high near 0°C again today with southeasterly winds increasing to 30 gusting 50 km/h. The city will see variable cloudiness through the morning, then skies will cloud over through the afternoon hours as a low pressure system arrives. Snow will spread into Winnipeg and the northern Red River Valley later this afternoon. Winds will ease in the evening as the low centre moves through, then pick up out of the northwest overnight. By Thursday morning, Winnipeg will see 5 to 10 cm of new snow with northwest winds up to 30 km/h. Temperatures will dip to a low near -5°C tonight. The accumulating snow will taper off overnight.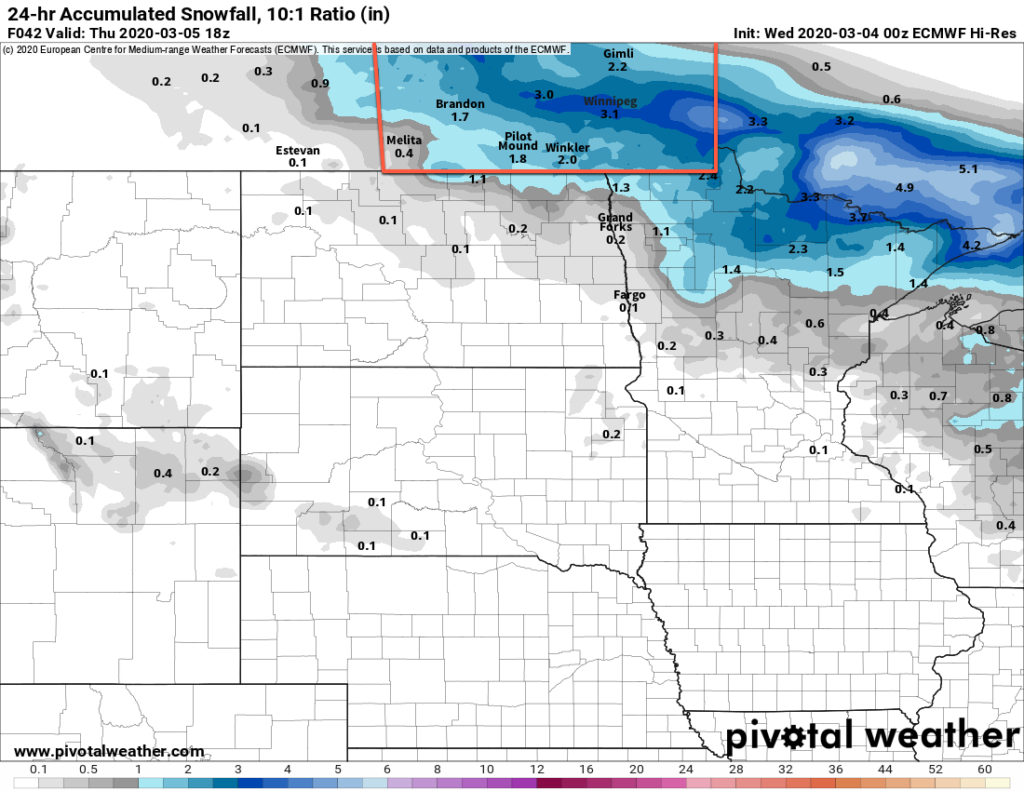 On Thursday, skies will clear out through the day as the low exits the province. Moderate northwesterly winds in the 30 to 40 km/h range will stick around for the day, then ease in the evening. Winnipeg will see a near-seasonal high of -3°C. Mixed skies will develop overnight as winds shift to the south at 10 to 20 km/h. Lows should dip to about -12°C.
On Friday, another low pushing towards the region will generate strong southerly winds in the Red River Valley. Winds will strengthen into the 40 to 50 km/h range by midday as temperatures climb to a high near 0°C.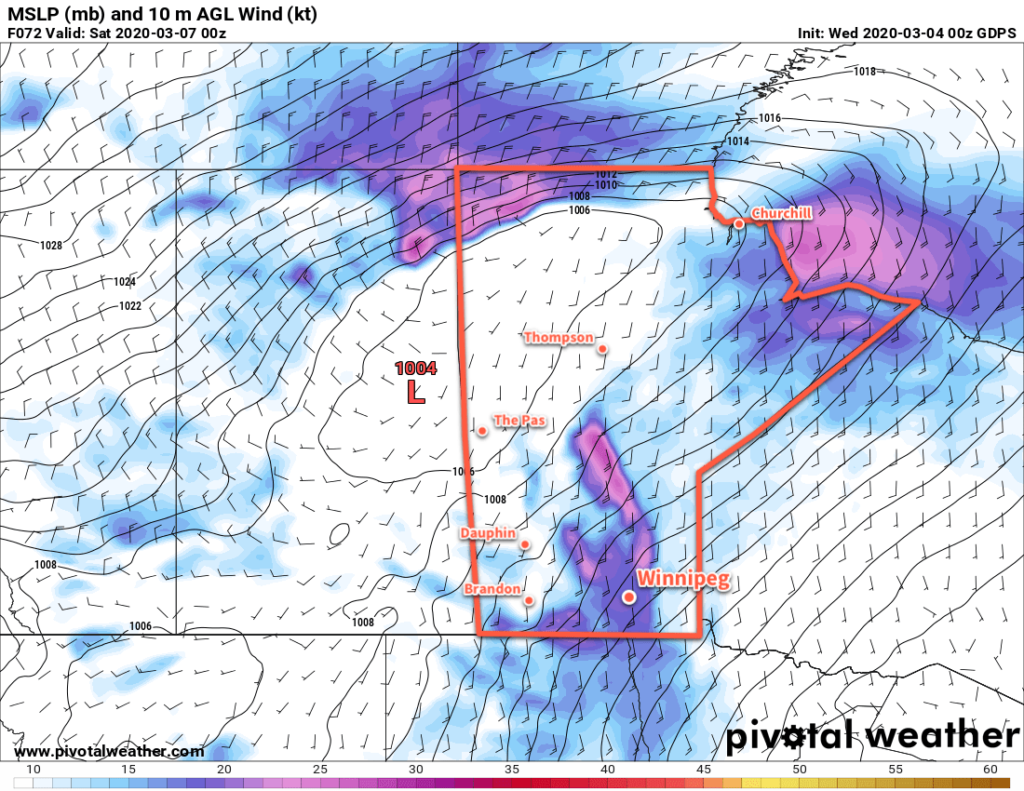 It looks like Winnipeg will see a fair amount of cloud, but some sunny breaks are likely. The wind will gradually ease on Friday night as temperatures head to a low near -3°C. Skies will stay mostly cloudy through the night.
Long Range Outlook
Mild weather will continue into the weekend with highs at or above freezing on Saturday. A fairly expansive low pressure system will spread snow across the southern Prairies on Saturday, pushing into Manitoba on Saturday night through Sunday. Winnipeg will likely see some snow from this system, but it's unclear right now exactly how much the city will receive.
Model forecasts suggest that the heaviest snow will be well north of the city, falling from WestMan eastwards across the Interlake and onwards to the Ontario border. If this were the case, Winnipeg would see somewhere around 2 to 5 cm of snow from this system. That said, small changes in the track of this system, north or south, could significantly change the amount of snow the city receives. We'll take a closer look at this system's snowfall potential in Friday's forecast!
Today's seasonal daytime high in Winnipeg is -4°C while the seasonal overnight low is -15°C.