A cold front moving through southern Manitoba today will usher in windy and cooler conditions for the rest of the work week.
Today will be a comparatively pleasant day in Winnipeg with plenty of sunshine. Temperatures should reach a high near 24°C with gusty winds picking up out of the west into the 30 to 40 km/h range. The winds will ease up tonight as temperatures head to a low near 11°C under mainly clear skies.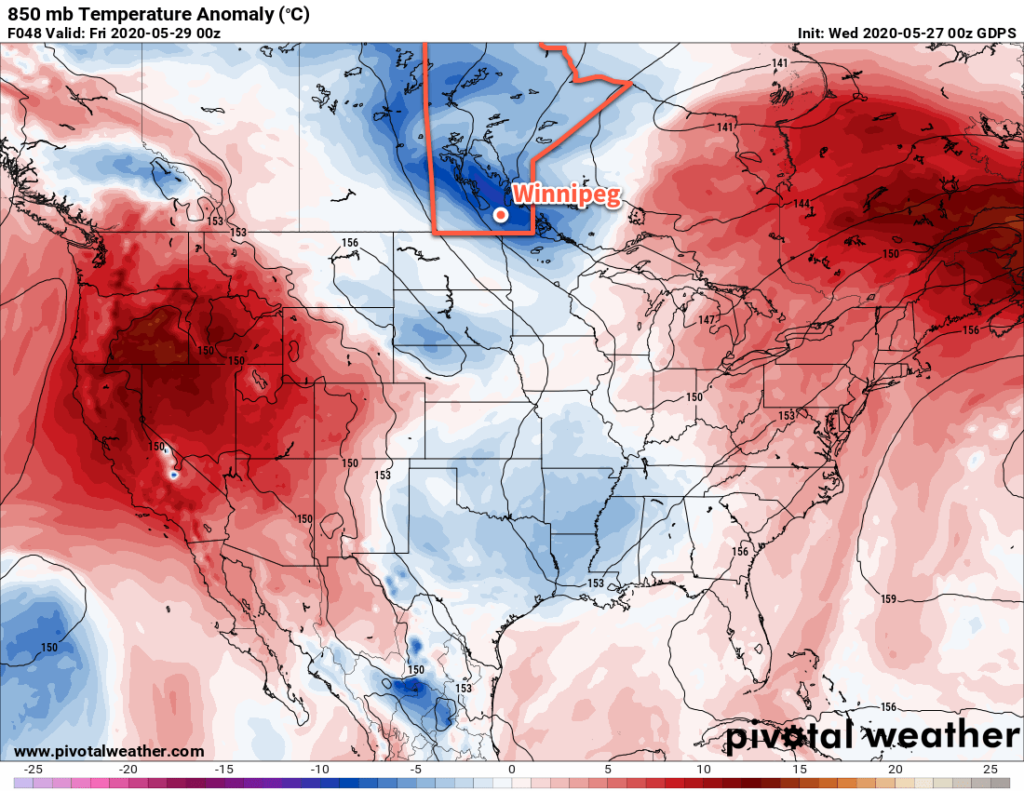 For Thursday and Friday, an upper trough moving across southern Manitoba will usher in much cooler weather. Skies will cloud over with a slight chance of showers on Thursday morning, leaving the city with mostly cloudy skies until Saturday. Northwest winds of 30 gusting 50 km/h will usher in much cooler temperatures, limiting Winnipeg's high to the lower teens both Thursday and Friday. The winds will ease on Thursday night, then return into the 20 to 30 km/h range on Friday. Overnight lows both Thursday and Friday nights will be near 5°C.
Long Range Outlook
Temperatures will return to seasonal values through the weekend with plenty of sunshine. Warmer air will push into the province Sunday night, bringing with it the potential for some unsettled conditions. Heading into next week, hot weather returns to Winnipeg with highs in the upper 20s and overnight lows in the mid-teens.
Today's seasonal daytime high in Winnipeg is 22°C while the seasonal overnight low is 8°C.