Winnipeg will see below-seasonal temperatures for one more day before a gradual return to summer heat.
A ridge of high pressure moving into the region will continue to keep things cool and breezy in Winnipeg today. With mixed skies, the city should see temperatures climb to a high near 15°C with north-northwest winds of 20 to 30 km/h. The winds will ease this evening with clearing skies. Temperatures will be quite cool with the low dipping to around 1°C at the airport and closer to 3 or 4°C downtown.
The high pressure centre will drift south of the region on Saturday, leaving behind sunny skies and light west-northwest winds. With all-day sunshine, temperatures will be a bit warmer with a high near 20°C. Skies will stay clear on Saturday night with a low near 6°C.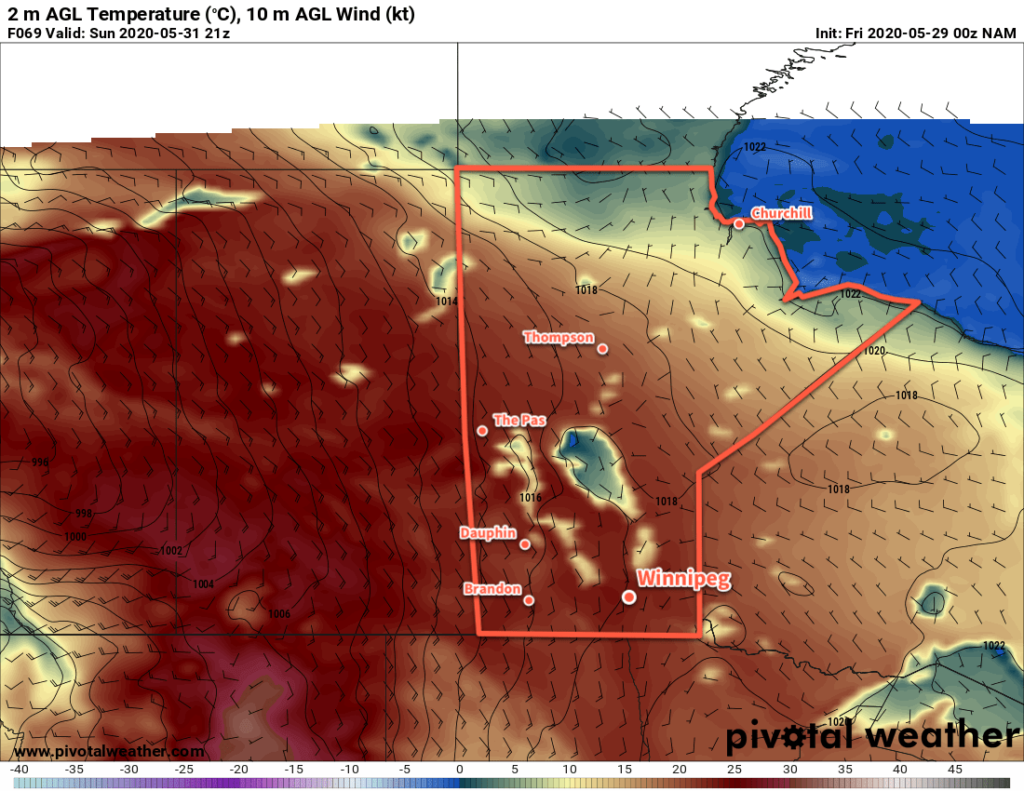 Warmer weather will continue to edge eastwards across the Prairies on Sunday. Winnipeg will see temperatures return to a seasonal high of 23°C under partly cloudy skies. Winds will be light for much of the day before picking up late in the afternoon into the 20 to 30 km/h range. Temperatures will stay mild on Sunday night with a low near 13°C with the southerly winds continuing. There will be a chance of showers or thunderstorms overnight as a warm front pushes across southern Manitoba.
Long Range Outlook
Next week will bring hot summer weather back to Winnipeg with highs in the 25 to 30°C range. There may be several chances for showers or thunderstorms through the first half of the week, then quieter conditions are forecast until a low moves through next Saturday.
Today's seasonal daytime high in Winnipeg is 22°C while the seasonal overnight low is 8°C.