Winnipeg will see mild temperatures through the first half of the week, but also several chances for showers or thunderstorms.
Today will start off with a few showers as a trough of low pressure moves through the region. The rain should clear out early in the morning, leaving increasingly humid conditions as temperatures climb into the mid-20s. A cold front will push through midday, bringing breezy westerly winds of 30 gusting 50 km/h that usher in drier air and clear out any remaining clouds. Temperatures will continue to climb to about 31°C this afternoon under mainly sunny skies. The winds will ease tonight as temperatures head to a low near 16°C with increasing clouds towards morning.
Tuesday will start with a disturbance tracking along the U.S. border that will likely spread showers across southern Manitoba. There will be a chance for these showers to have a few embedded thunderstorms as well. That activity will move out through the morning, followed by mixed skies with temperatures climbing to a high near 27°C. A cool trough pushing in from the northwest through the afternoon hours will bring another risk of thunderstorms to the region late in the day. Skies should clear out overnight as temperatures dip to a low near 12°C.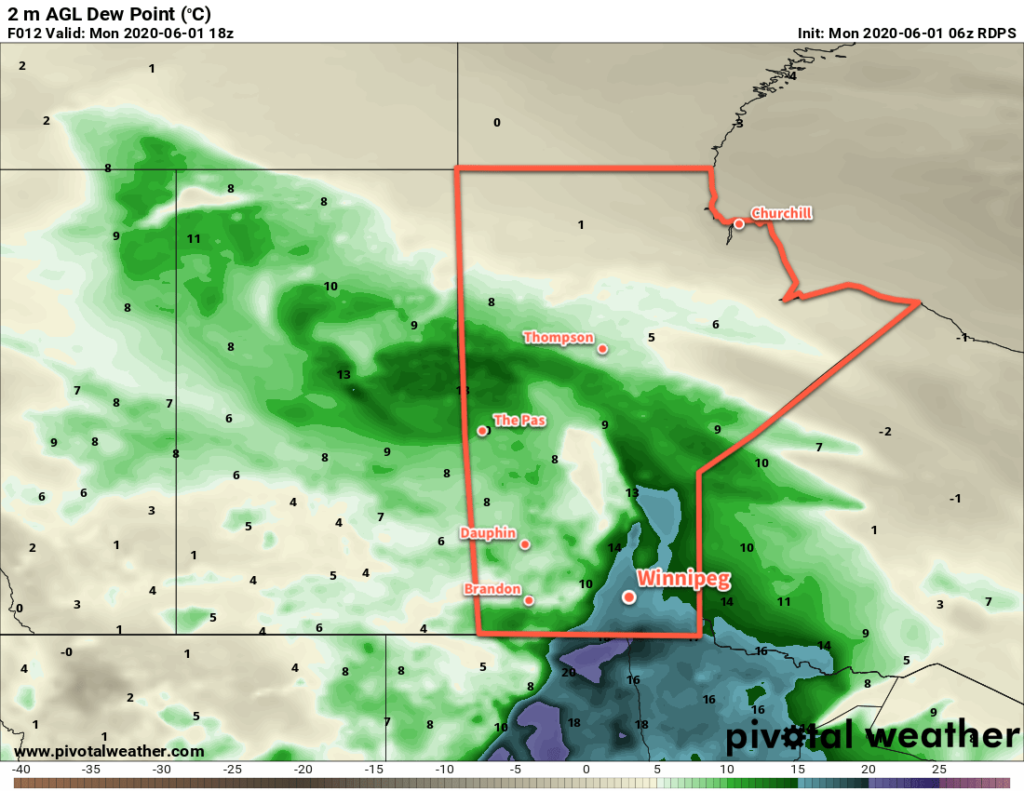 Wednesday will start off sunny, but then see late day clouds increase as another low pressure system moves into the province from Saskatchewan. Temperatures will climb to a high near 28°C with southerly winds in the 20 to 30 km/h range. A few showers or thunderstorms will be possible later in the day through the evening hours as well. Skies will clear out overnight with temperatures dipping to a low near 14°C.
Long Range Outlook
The weather will become more settled through the second half of the week with a return to seasonal temperatures. Heading through the weekend, however, it looks like conditions will turn significantly more unsettled as numerous low pressure systems begin to track across the region.
Today's seasonal daytime high in Winnipeg is 22°C while the seasonal overnight low is 9°C.