Several days of hot and humid weather lie ahead for Winnipeg with increasingly unsettled conditions.
Winnipeg will see temperatures climb to 30°C today with mixed skies in an increasingly humid air mass. With dew points reaching the upper teens later today, it will feel more like the mid-30's outside. A cool front will nudge eastwards this afternoon, bringing a chance of showers or thunderstorms followed by some drier air. Winds will be south at 30 to 40 km/h through the morning, then ease and shift westerly behind the cold front. Temperatures will dip to a low near 16°C tonight with mixed skies.
Heat and humidity will return on Tuesday as a warm front lifts northwards out of the Dakotas. There will be a chance of a passing shower or thunderstorm in the morning if some elevated convection manages to develop and slide eastwards across the Red River Valley ahead of the warm front. Temperatures will climb to a high near 32°C in the afternoon with humid conditions developing. Dew point temperatures should climb into the 20 to 22°C range, producing humidex values in the 35 to 40 range. Winds will pick back up into the 30 to 40 km/h range and keep most of their strength through the night. The humid and windy conditions will keep temperatures very warm on Tuesday night with a low of just 22°C.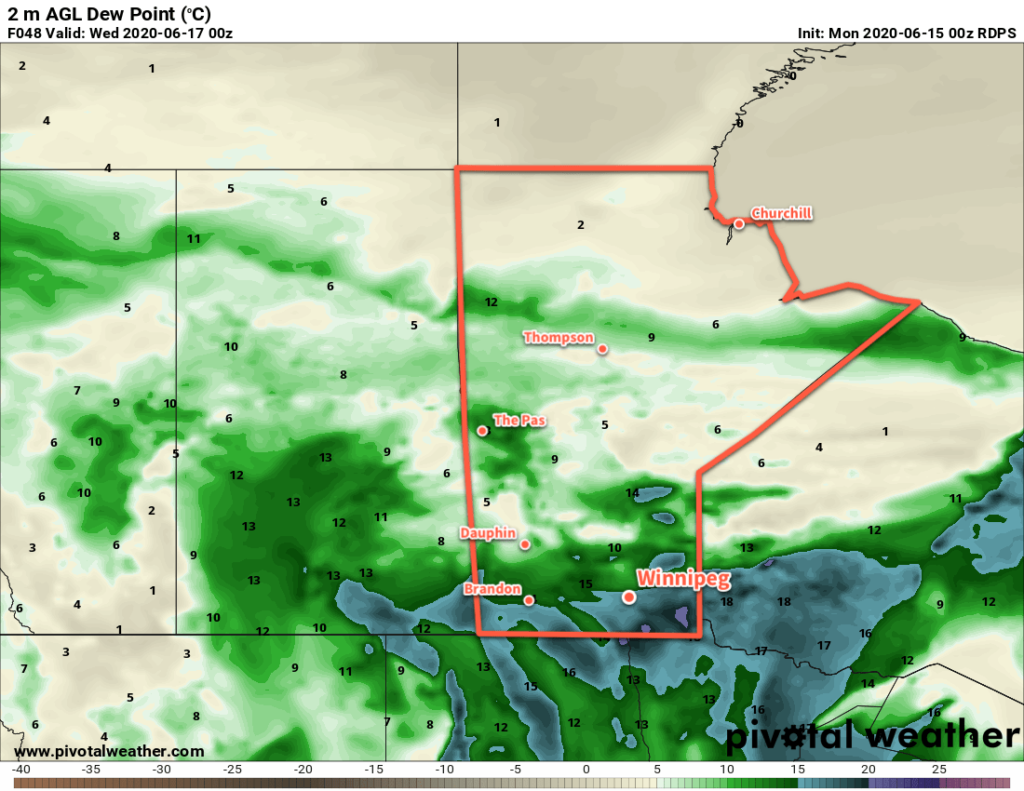 Wednesday will continue the hot and humid weather with a high near 30°C and breezy southerlies. Cloud cover will increase through the day with another chance of showers or thunderstorms redeveloping. Temperatures will dip back to a low near 17°C on Wednesday night.
Beginning Tuesday evening, there will be several chances for showers or thunderstorms in the Winnipeg and across much of southern Manitoba. With the hot and humid air mass in place, many of the thunderstorms may have the potential to be severe. These upcoming setups are nuanced and other than the broad generalizations above, few specifics are available until closer to the events.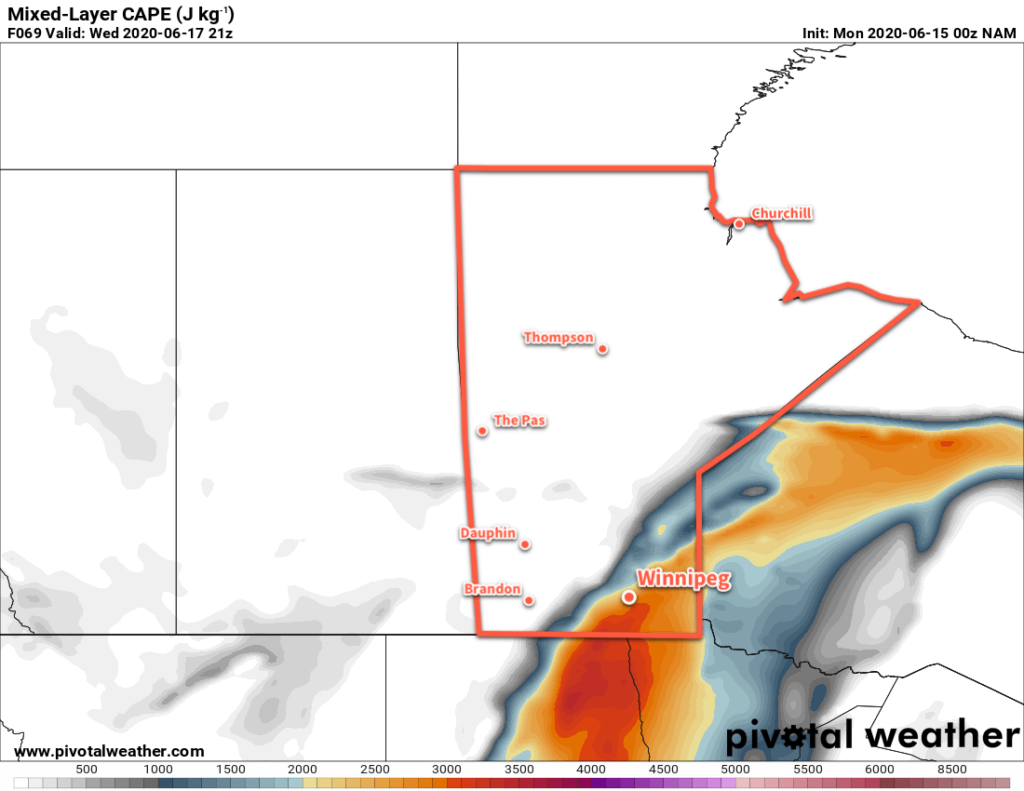 Over the coming days, be sure to check the ECCC Thunderstorm Outlook, available on our bulletin viewer. We'll have more to say in the coming days on the thunderstorm threat, but for now just take note that beginning Tuesday evening, Winnipeg may see several chances for thunderstorms with a risk of severe thunderstorms right through Wednesday night.
Long Range Outlook
A cold front pushing through on Wednesday night will bring calmer weather and seasonal temperatures back to Winnipeg. The weekend is looking seasonably cool with perhaps a passing chance of showers. Temperatures will begin to warm through the start of next week.
Today's seasonal daytime high in Winnipeg is 24°C while the seasonal overnight low is 11°C.