Winnipeg will see another hot and humid day capped off with a risk of thunderstorms before cooler temperatures move in.
Temperatures will again climb into the low 30s today in Winnipeg as southerly winds continue to pump heat northwards. The city has seen a bit of a break from the humidity overnight, but it will build back in through the day with dew points rising to around 20°C. A disturbance lifting northwards into the region this morning will bring a chance of showers later this morning into the afternoon. By late afteroon, activity will intensify with thunderstorms developing along a cold front pushing eastwards across the province.
Much of the Red River Valley and areas east will see a risk of severe thunderstorms this evening, but the greatest threat will be over southeastern Manitoba. The main threats in the Red River Valley will be large hail and damaging wind gusts. The thunderstorms should move eastwards out of the Red River Valley through the evening. Brisk southerly winds of 30 to 40 km/h today will ease in the evening.
For more details on the severe thunderstorm threat over southern Manitoba, refer to ECCC's Thunderstorm Outlook on our Bulletin Viewer and watch for updated forecasts and/or any alerts issued today.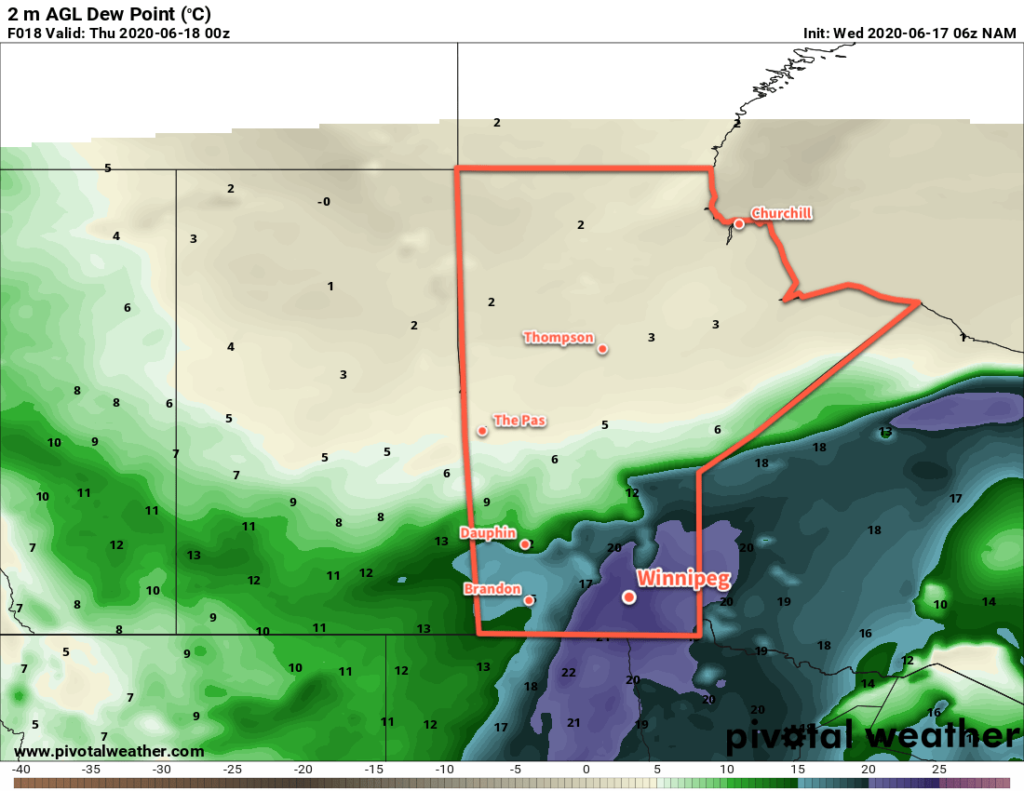 Much cooler conditions will arrive for Thursday with mixed skies and a good chance of showers. Temperatures will work towards a high of 22°C with west-northwest winds picking up to around 30 km/h. The region will see a good chance of showers as an upper low stalls over southern Manitoba. Any showers will taper off in the evening as temperatures head to a low near 9°C under partly cloudy skies.
The sluggish upper low will still impact the region on Friday with partly cloudy skies and a chance of showers. The high will be seasonably cool near 21°C with southwest winds of 20 to 30 km/h. Winnipeg should see a few clouds on Friday night with a low near 11°C.
Long Range Outlook
Cool and unsettled conditions will likely persist into the weekend with highs in the low 20s and a couple more chances for showers. Seasonal conditions will return next week with more settled conditions developing.
Today's seasonal daytime high in Winnipeg is 24°C while the seasonal overnight low is 11°C.