Winnipeg will see plenty of sunshine (and wind) through the weekend as an extended period of hot weather builds into the region.
The main driving force for the weather over the coming days will be a digging west coast trough. As it deepens over the Rockies, an upper ridge will build in response downstream over Manitoba and Ontario. As a result, a deep southerly flow will develop, pumping hot air northwards out of the United States.
Today will make the beginning of the event as an upper low slumps southwards through British Columbia. Here in Manitoba, we'll see sunny skies in the wake of the system that brought showers and thunderstorms to the region last night. Highs will climb into the upper 20s with a northwest wind of 20 to 30 km/h.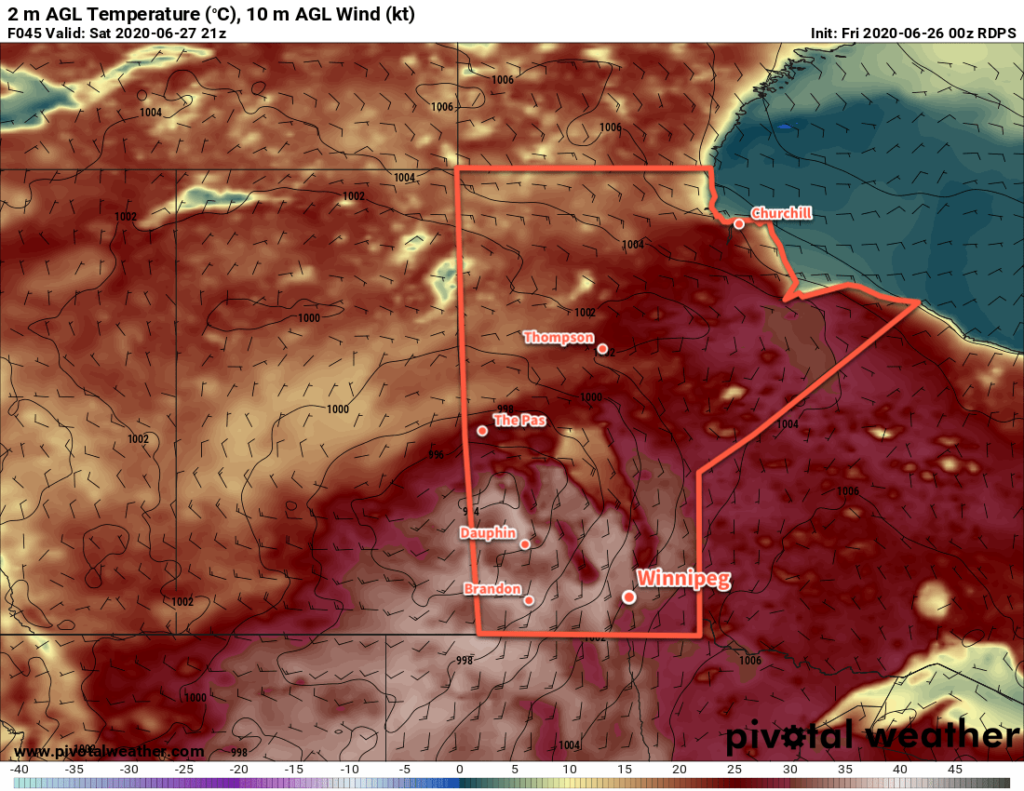 The more notable heat will build in for the weekend. As the upper ridge continues to build, a deep southerly flow will send high temperatures to the low 30s for the weekend. Winds of 30 to 40 km/h will develop during the days, easing into the 20 to 30 km/h range at night. Those breezy overnight winds will keep overnight lows warm near 20°C.
Winnipeg and the Red River Valley will see plenty of sunshine over the next several days.
Long Range Outlook
The heat will persist right through much of next week with highs in the upper 20s or low 30s. Compounding it, though, will be the arrival of more significant humidity on Monday. Dew points will climb close to 20°C, which will not only make the heat feel worse, but also keep overnight lows hot despite weakening winds.
Unsettled conditions may Arrive for Tuesday through Thursday with the chance for widespread shower or thunderstorm activity in the Red River Valley. The heat looks to moderate ever so slightly for next weekend.
Stay safe and be sure you know about the health risks and danger signs of heat: summer is here!
Today's seasonal daytime high in Winnipeg is 25°C while the seasonal overnight low is 12°C.