Winnipeg will see seasonably cool weather right through the weekend with otherwise pleasant conditions.
A ridge of high pressure will bring sunny skies to the Red River Valley as it pushes into the province today. Winds will be breezy out of the northwest again at 30 gusting 50 km/h, keeping temperatures cool. Winnipeg should see a high near 20 °C. Skies will stay mostly clear tonight as the winds ease off and temperatures dip to a low near 7 °C.
Saturday will bring a return to seasonal temperatures for Winnipeg with a high near 22 °C. Winds will stay light as they shift to the southeast for the afternoon. Skies will start off sunny, but more cloud will build into the region through the afternoon. The cloudier conditions on Thursday night will help keep temperatures slightly warmer with a low in Winnipeg near 13 °C.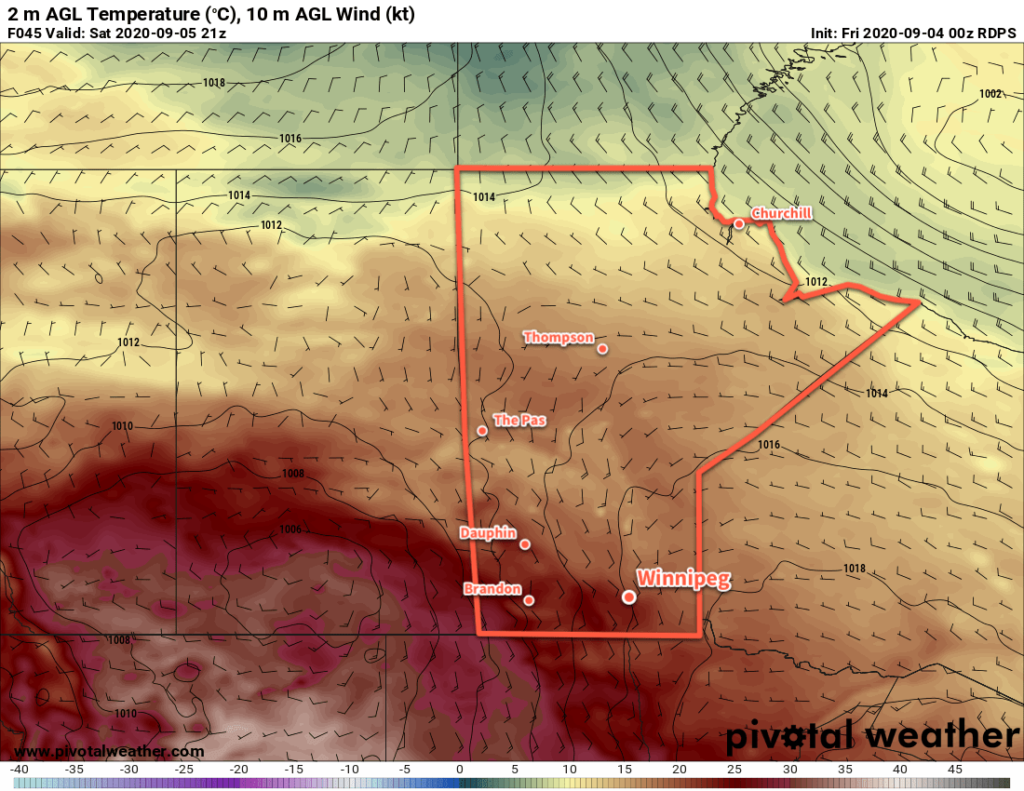 A disturbance passing through the region on Sunday will bring mainly cloudy skies to the city. Temperatures will reach a high near 20 °C, but a cold front sweeping through in the afternoon will usher in significant change. Winds will shift northwesterly at 20–30 km/h in the afternoon behind the front and usher in a much cooler air mass. Skies will stay mostly cloudy right through Sunday night as temperatures dip to a low near 8 °C.
While this system will spread rain across Manitoba on Sunday, it should stay well north of the city. Areas from west-central Manitoba southeastwards into the Pinawa region will likely see around 10 mm of rain through Sunday.
Long Range Outlook
Daytime highs will plummet well below seasonal values to start the week as highs struggle to climb over 10 °C. On Monday and Tuesday, a persistent north wind combined will produce lake-effect showers in the lee of both Lake Manitoba and Winnipeg. Winds will shift westerly on Wednesday, bringing an end to the lake-effect precipitation and gradually pushing temperatures back towards seasonal values.
Also on Monday, an upper-level disturbance will drop into the region. It will spread a broad area of showers that will likely move through the Red River Valley as well.
Today's seasonal daytime high in Winnipeg is 21 °C while the seasonal overnight low is 8 °C.