Temperatures will warm up for the weekend, kicking off an extended period of seasonably mild temperatures.
Near-seasonal temperatures will return to Winnipeg today as a warm front pushes eastwards across the province. This front will also bring cloud cover with it, replacing morning sun with cloudy periods by midday. The city will see a high near 16 °C this afternoon with southerly winds of 20–30 km/h. Skies will clear by the evening as the front pushes off to the east. The winds will keep up near 20 km/h tonight and it will be a much warmer night with a low near 8 °C.
On Saturday, the region will see mainly sunny skies and light southerly winds. Temperatures will climb to a seasonably mild high of 23 °C. There may be a bit of high-level forest fire smoke, but most dispersion models show the denser plume of smoke lifting into the central and northern Prairies. Winnipeg will see a low near 13 °C on Saturday night as winds pick up out of the southeast to 30 km/h. Some cloud cover will begin to push into the region overnight as a low approaches from the west.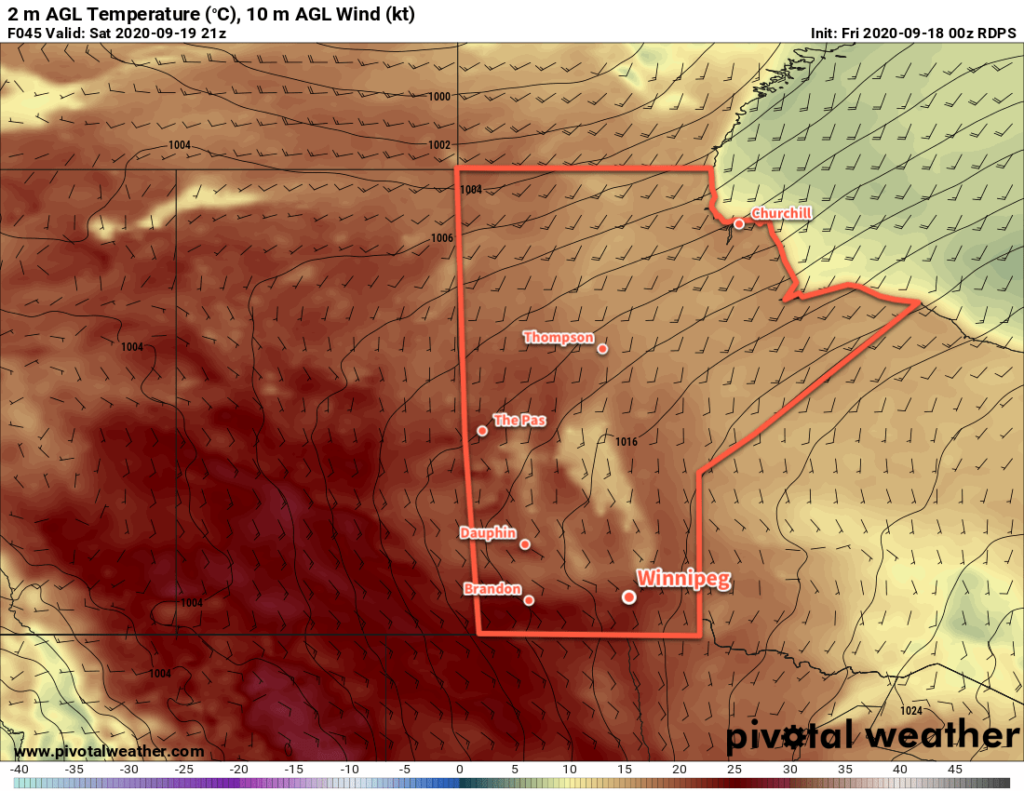 Winnipeg will see mixed to mostly cloudy skies on Sunday as a low pressure system pushes into the province. Moderate southerly winds of 30–40 km/h will persist through the day as temperatures climb to a high near 24 °C. A few showers will move into the region, but most will weaken moving into the Red River Valley. The cloud cover will break up in the evening as a trough moves through, then temperatures will dip to a summer-like 16 °C with a chance of showers early Monday morning.
Long Range Outlook
Next week will continue to bring seasonably mild temperatures to Winnipeg with highs largely staying in the 20–25 °C range. A few chances of showers will occur through the week, but it looks like great end-of-September weather.
The one unknown heading into next week will be how much of the West Coast wildfire smoke moves into the region. Details on that should become more clear as the weekend progresses.
Today's seasonal daytime high in Winnipeg is 17 °C while the seasonal overnight low is 6 °C.