Temperatures will slowly drop through the week in Winnipeg as a colder air mass gradually builds into the region.
Winnipeg will see just two more days of near-seasonal temperatures before a pattern shift ushers northerly winds and an Arctic air mass into the region. In the wake of yesterday's rain, Winnipeg will see mainly sunny skies today. Winds will pick up out of the west to 30 gusting 50 km/h as temperatures climb to a high near 14 °C.
The winds will ease tonight as temperatures dip to around +3 °C. A passing disturbance will bring some cloud to the region overnight. A few showers are possible closer to the U.S. border, but Winnipeg should stay dry through the night.
On Tuesday, westerly winds will strengthen early in the day, up to as high as 40 gusting 60 km/h across the region. Temperatures will reach a near-seasonal high of 12 °C under sunny skies. The wind will quickly die off this evening followed by a low near +3 °C. Skies should gradually cloud over through the night ahead of the next low pressure system approaching the province.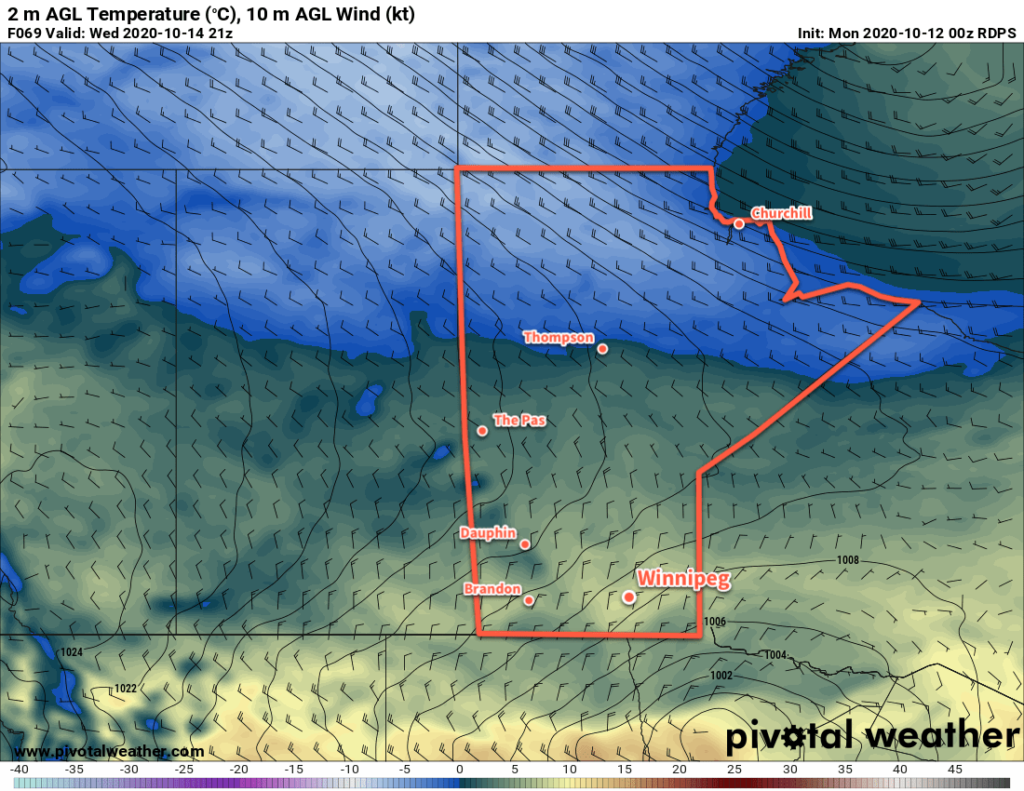 On Wednesday, a low pressure system will dive across North Dakota into Minnesota. In Winnipeg, this system will bring cloudy skies with a chance of rain showers. Winds will also pick up out of the north to 30 gusting 50 km/h in the afternoon. These northerly winds will keep things cooler with a high of only 8 °C. The cloud cover will start to break up overnight as winds ease to northwesterly at 20 km/h and temperatures dip to a low of -3 °C.
Long Range Outlook
Colder weather continues to push southwards through the rest of the week under mixed to cloudy skies. Temperatures will top out near 5 °C on Thursday and drop towards 2–3 °C by the end of the weekend. Overnight lows will hover in the -2 to -5 °C range. A few rain showers (or snow flurries!) may be possible heading through the weekend.
Today's seasonal daytime high in Winnipeg is 11 °C while the seasonal overnight low is +1 °C.