Winnipeg will continue to see seasonably mild and windy weather this weekend.
Temperatures will climb into the mid-teens quickly this morning, but a cold front passing midday will cap the high near 16 °C. Behind the front, breezy northwest winds up to 40 gusting 60 km/h will develop for the afternoon hours. Although the front will bring some clouds to the region, there will be plenty of sun through most of the day.
The winds will taper off this evening as a ridge of high pressure builds in from the north. Winnipeg should see a low near +1 °C with partly cloudy skies.
Temperatures will be a bit cooler on Saturday as the ridge leaves the region. Winnipeg will see mostly sunny skies with a near-seasonal high around 13 °C. Winds will pick up out of the south in the afternoon to 30 gusting 50 km/h and then increase to 40 gusting 60 km/h overnight. These southerly winds will bring a surge of warm air northwards and the city will see a mild overnight low 10 °C.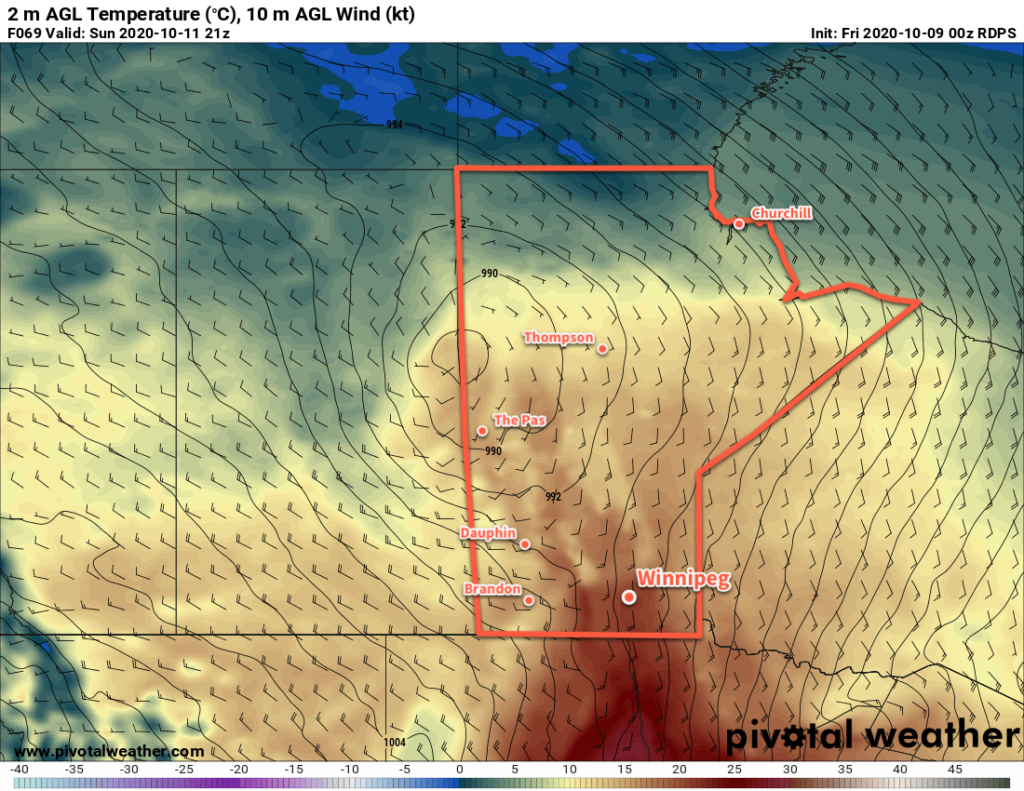 A low pressure system passing through on Sunday will bring mostly cloudy skies to the region for the day. Winds will continue out of the south at 30 to 40 km/h, continuing to tap into warmer air. This will send high temperatures to around 20 °C. There will be a little bit of instability in the region through the afternoon hours that may result in a few showers or thunderstorms. The chance is low in the Red River Valley and much more likely that the southeastern corner of the province.
Winds will shift to the southwest and ease to 20 km/h on Sunday night with mixed skies. Temperatures will still stay seasonably mild with a low near 8 °C.
Long Range Outlook
Temperatures will shift back towards seasonal values through the first half of next week. Many forecasts show cooler weather moving in for the second half of the week with daytime highs dipping into the 5–10 °C range. Dry weather is forecast to continue through much of the week.
Today's seasonal daytime high in Winnipeg is 12 °C while the seasonal overnight low is 1 °C.