Winnipeg will continue to see cool temperatures through the weekend, but cloudier conditions will bring a chance of light snow to the city.
Clouds streaming southeastwards off Lake Manitoba will bring Winnipeg mixed to mostly cloudy skies to start the day. These bands of lake-effect cloud will also likely produce a bit of light snow, but other than a dusting that makes the roads a little wet. The snow should taper off midday as a ridge of high pressure moves into the region and the northwest winds begin to ease. A bit of sun is likely this afternoon, but temperatures will stay cool with a high near +2 °C.
Tonight, the region will see increasing cloud cover as a low pressure system moves into the Dakotas. This system will bring some light snow to areas along the international border, but Winnipeg should just see some cloud. Temperatures will dip to a low near -5 °C.
Saturday will start with cloudy conditions across the region with temperatures climbing to a high near +2 °C. As the low pushes eastwards out of the Dakotas, northwest winds will strengthen across the region into the 30–40 km/h range. This will result in bands of lake-effect snow redeveloping sometime later in the day into the evening. Winnipeg will likely see cloud and snow from Lake Manitoba by the evening hours and persisting through the night. Winnipeg shouldn't see much more than a dusting of snow, but areas northwest of the city could see 1–4 cm by Sunday morning. Temperatures will dip to -5 °C on Saturday night with winds easing.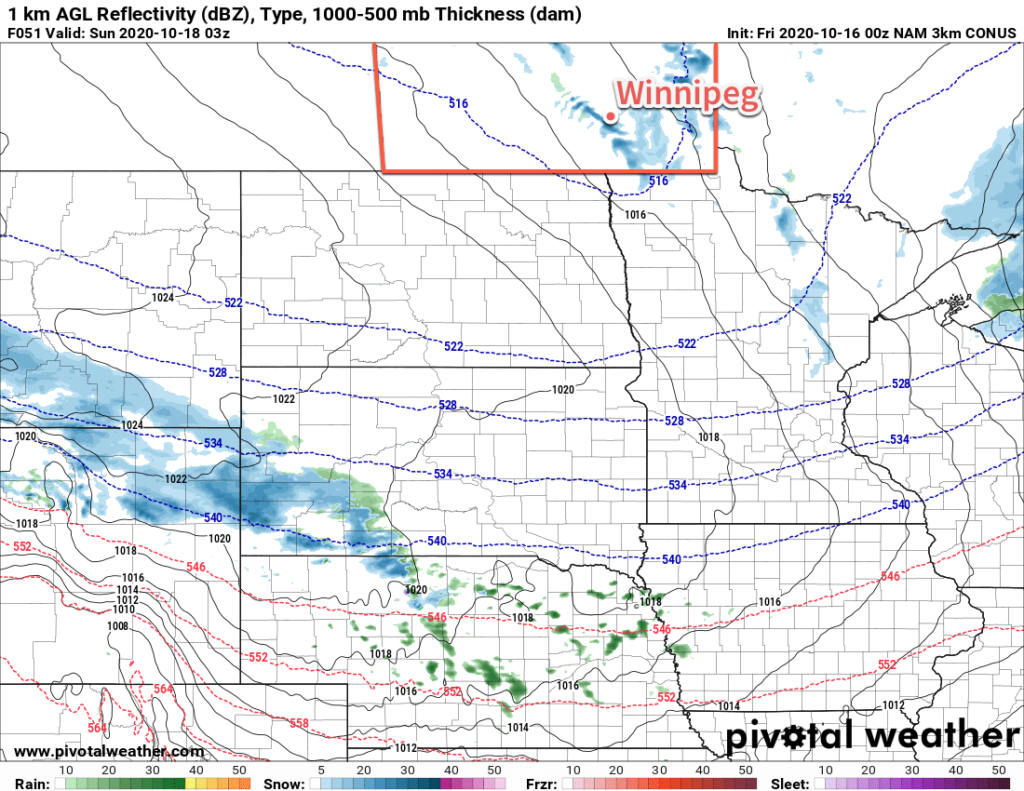 Winnipeg will continue to see bands of lake-effect cloud and intermittent light snow on Sunday. Temperatures will climb to a high near +2 °C with west-northwest winds in the 20–30 km/h range. Sunday night should bring partly cloudy skies to the region with temperatures heading to a low near -7 °C.
Long Range Outlook
Long-range forecasts continue to show cool weather for Winnipeg. Daytime highs may moderate into the mid-single digits next Tuesday and Wednesday, but then cooler air pushes back into the region with highs falling to the freezing mark by next Saturday. The region will likely see cloudier conditions next week with the occasional chance of light snow.
Today's seasonal daytime high in Winnipeg is 10 °C while the seasonal overnight low is 0 °C.