After slightly cooler conditions on Monday, warmer and cloudier conditions will build back across southern Manitoba.
Cooler weather will settle over the region today as an Arctic high builds into the region behind a clipper system that moved through North Daktoa last night. Skies will clear out today as winds pick up out of the northwest into the 20–30 km/h range. Temperatures will be a tad cooler than of late with a high near -5 °C. The wind will taper off this evening as temperatures head to a low near -16 °C with a few clouds overnight.
On Tuesday, the Arctic ridge will push off to the southeast while a potent low pressure system develops over Alberta. Between the two, moderate southerly winds will strengthen into the 40–50 km/h range. For Winnipeg, the wind will stay light for much of the day, instead picking up in the evening after the sun goes down. Temperatures should climb to a near-seasonal high around -3 or -4 °C. Skies will become cloudier as the day progresses ahead of the arrival of a warm front.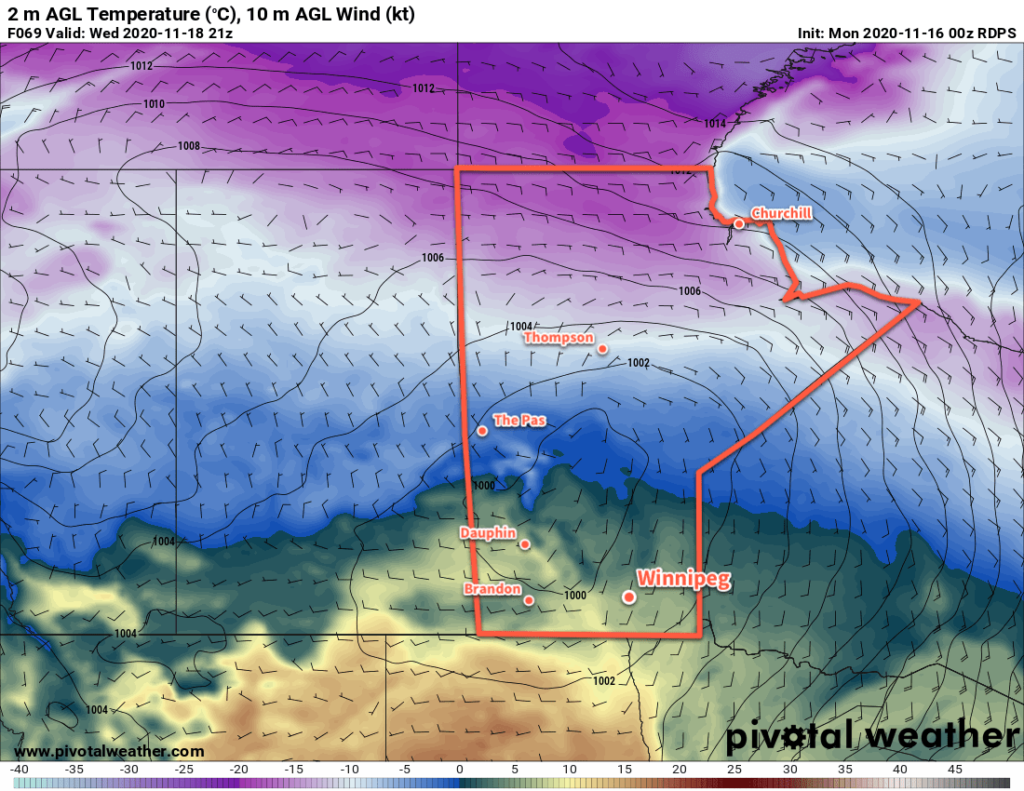 Skies should stay mainly cloudy on Wednesday as warmer temperatures arrive. Winnipeg will see the southerly winds gradually taper off through the afternoon with a high near +4 °C. Temperatures will dip to a low near -2 °C with partly cloudy skies on Wednesday night.
Long Range Outlook
Temperatures will begin to cool off on Thursday, returning to seasonal values on Friday for the weekend. No notable snow is in the forecast.
Today's seasonal daytime high in Winnipeg is -2 °C while the seasonal overnight low is -10 °C.