Winnipeg will see temperatures once again climb slightly above seasonal values over the next couple days.
A low pressure system advancing across the Prairies will send temperatures back above freezing in Winnipeg. With plenty of sunshine today, southerly winds will increase into the 30–40 km/h range. The breezy southerlies mark the arrival of a warm air mass, though, and the city should see a near-seasonal high around 0 °C. Some cloud cover will push into the region on Friday night with temperatures heading to a low near -5 °C.
Saturday will bring mostly cloudy skies to Winnipeg as a low pressure system crosses the province. The wind will ease in the morning as the low arrives and temperatures will climb to a high near +2 °C. The low will push out of the region on Saturday evening, ushering in northwest winds of 30–40 km/h with a good chance of some flurries through the night. Temperatures will dip to a low near -6 °C.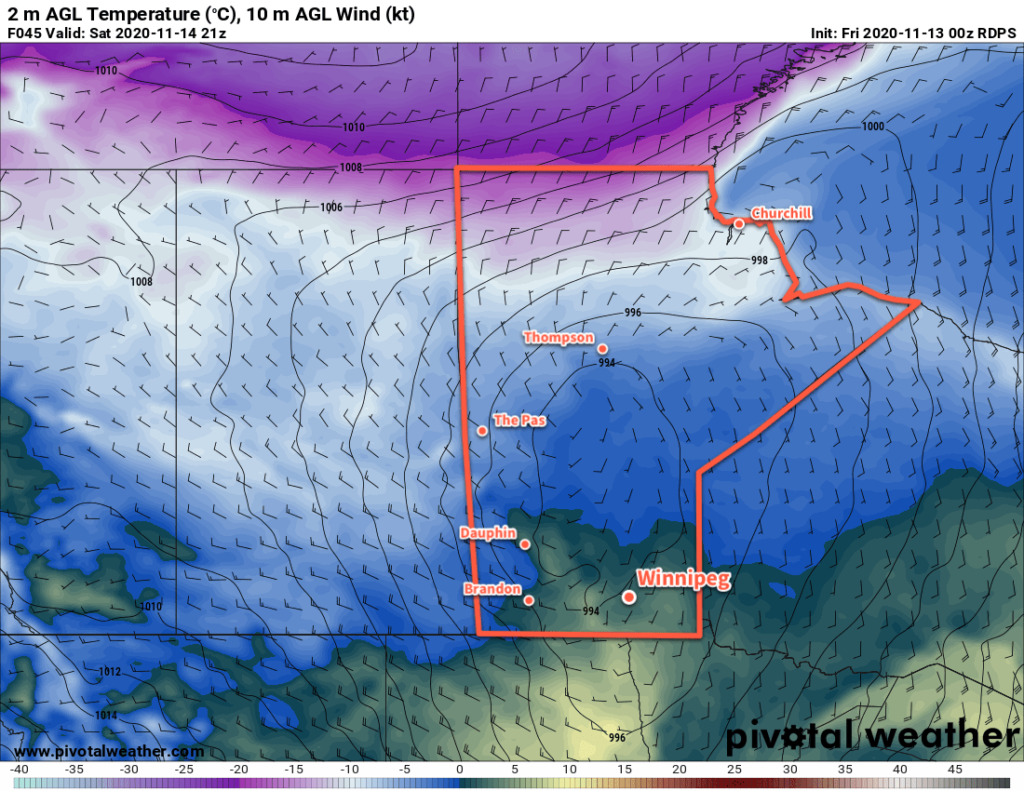 The breezy northwest winds will persist through much of Sunday, keeping temperatures a bit cooler with a high near -3 °C. Skies will stay mostly cloudy through the morning, but a bit of afternoon sunshine seems likely. While the broader area of flurries will move off, Winnipeg will continue to see a chance of lake-effect flurries until the winds ease off in the evening. The city should see mixed skies on Sunday night with temperatures dipping to a low near -10 °C.
Long Range Outlook
Next week looks to bring variable cloudiness to Winnipeg with his in the -5 to -2 °C range. No notable snowfall events are in the forecast.
Today's seasonal daytime high in Winnipeg is -1 °C while the seasonal overnight low is -9 °C.