With the deep freeze locked up in the high Arctic, another push of Pacific air will bring seasonably mild temperatures to Winnipeg this week.
Winnipeg will see fairly benign weather over the coming days as an upper ridge spread mild Pacific air across the Prairies. The city will see plenty of sun today with southerly winds picking up into the 30–40 km/h range. Temperatures will climb to a high around -3 °C. The wind will keep up in the 20–30 km/h range tonight as temperatures dip to a low near -8 °C. A few clouds will push into the region tonight.
On Tuesday, the winds will gradually ease as temperatures climb to a high near -1 °C. The city should see partly cloudy skies for much of the day, but a trough approaching late in the day will bring increasing cloud to the region. Temperatures will dip to a low near -8 °C with skies staying on the cloudier side.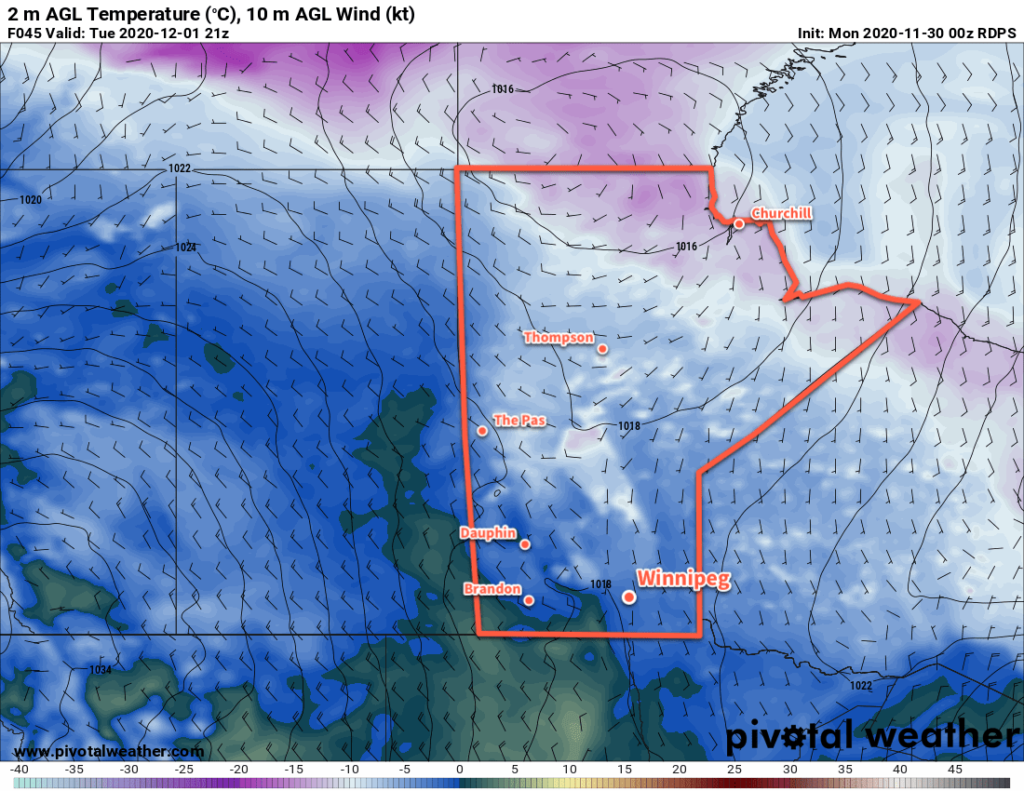 On Wednesday, cooler air will push into the region, bringing mostly cloudy skies with a high near -4 °C. There will be a chance of some light snow through the day with a light northwest breeze. Wednesday night should bring partly cloudy skies and a low near -8 °C.
Long Range Outlook
Another upper ridge will quickly rebound back over the western Prairies and spread eastwards through the rest of the week. Daytime highs will quickly climb back towards the freezing mark and stay there into next week. Some snow might be possible this weekend with a low that's forecast to slide across the province, but there's a fair amount of disagreement on its track. We'll keep an eye on it heading towards the weekend.
Enjoy the beautiful late-November/early-December weather!
Today's seasonal daytime high in Winnipeg is -6 °C while the seasonal overnight low is -15 °C.