Winnipeg's seasonably mild temperatures will persist into 2021.
Winnipeg will see a fair amount of cloud today as stratus behind yesterday's disturbance struggles to clear from the region. A weak ridge will move into the region this afternoon, slowly pushing the clouds eastwards and keeping winds light. A few clear breaks may develop late this afternoon, but more cloud cover will develop over the region tonight. Temperatures should reach a high near -7 °C and fall to a low near -15 °C tonight. Winds overnight will pick up out of the south into the 15–25 km/h range.
On Thursday, a low moving through the northern Prairies will push a trough eastwards into the Red River Valley. Winds will persist out of the south at 15–25 km/h through the day with temperatures climbing to a high near -7 °C. Winnipeg should see sun to start the day, but some clouds will work into the region by late afternoon. Skies will stay on the cloudier side overnight with a low near -12 °C. There will be a chance for a bit of light snow overnight to ring in the new year the trough passes.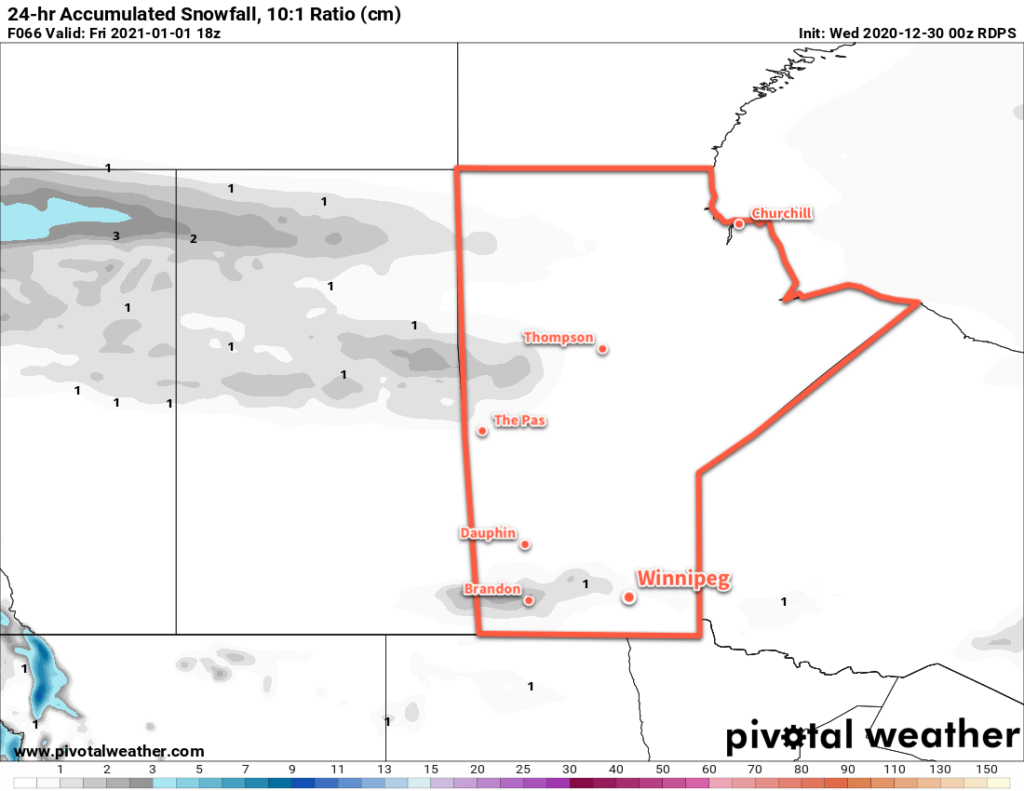 2021 will kick off with a ridge of high pressure will moving across southern Manitoba, bringing light winds and clearing skies. Temperatures will again climb to a seasonably mild -8 °C. Some more cloud will push into the region on Friday night as a warm front pushes towards the region. Temperatures will dip to a low near -11 °C with wins picking up out of the south to around 20 km/h.
Long Range Outlook
Even warmer weather will push into the region this weekend with temperatures climbing back to the freezing mark — or even above — and sticking around through much of next week. A gradual return of highs back into the mid-minus single digits is forecast for the latter half of next week. No significant snow is expected through the week.
Today's seasonal daytime high in Winnipeg is -13 °C while the seasonal overnight low is -23 °C.