Winnipeg will see plenty of cloud over the coming days as Thursday's low pressure system clears out and a weaker one arrives.
The city will see mainly cloudy skies today with slight snow tapering off as the influence from yesterday's low wanes. A cold front will sweep through the region this morning, keeping things windy as temperatures fall towards -9 °C by the end of the afternoon. The winds will taper off in the evening as a ridge slides southeastwards into the Red River Valley. Skies will stay mainly cloudy through the night with a low near -14 °C.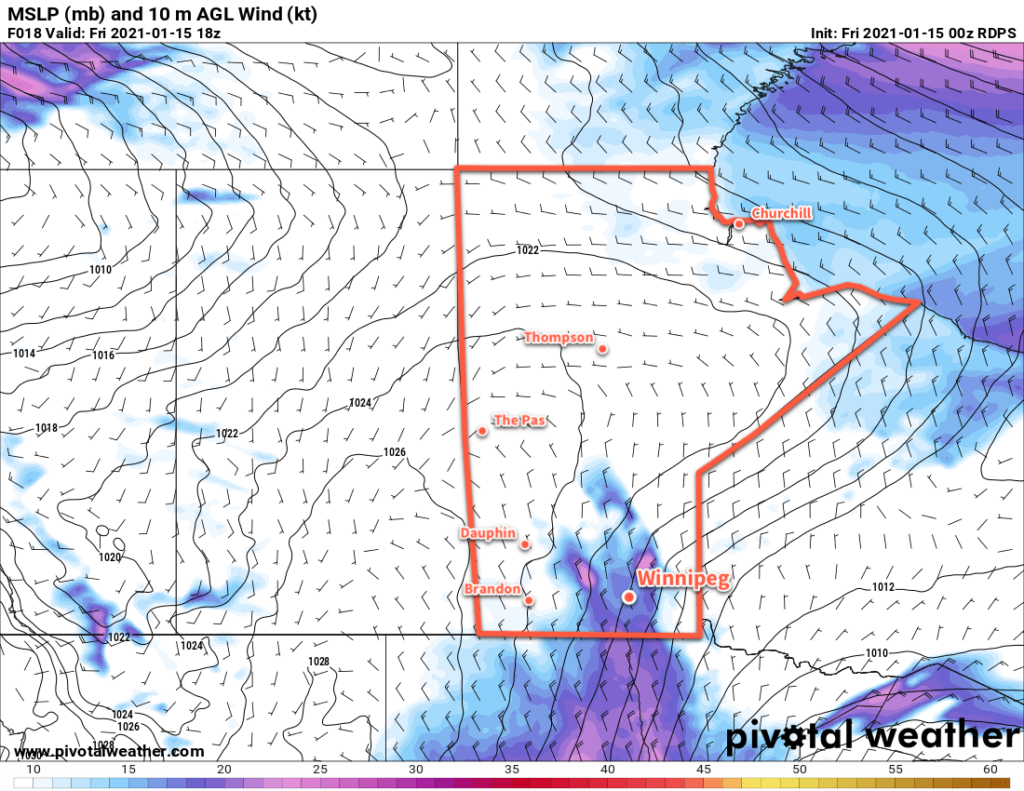 On Saturday, the city will stay under the ridge for most of day with light winds. While a bit of snow is possible, the ridge should keep most of it suppressed through the day. Temperatures will rebound to a high near -6 °C. On Saturday night, a low pressure system will move into northern Manitoba and drag an occluding frontal wave into the province. Winnipeg will see a low near -10 °C with a chance for some light snow overnight.
On Sunday, Winnipeg will see more cloud cover and some light snow as the frontal wave collapses through the region. Temperatures will warm a bit with a high near -4 °C with light northwest winds. Another ridge will push into the region overnight, sending temperatures to a low near -15 °C under mostly cloudy skies.
Long Range Outlook
Near-seasonal temperatures will arrive to start next week with daytime highs finally dipping into the -10 to -15 °C range. A mid-week low pressure system will bring mild conditions and a chance for some more snow to the city, then near-seasonal temperatures will push back into the region with highs dipping into the mid-minus teens.
Today's seasonal daytime high in Winnipeg is -13 °C while the seasonal overnight low is -24 °C.