Colder winter conditions have finally arrived in southern Manitoba, bringing an end to an extended period of unseasonable warmth. The plunge won't last long, though, with more mild weather arriving mid-week.
An arctic ridge has moved into southern Manitoba overnight, sending temperatures to more typical January values. With the Arctic air entrenched over the region, don't expect too much recovery today. Temperatures will rise a bit to a high near -16 °C, but colder air continues to push southwards into the province. The the city should see partly cloudy skies today, followed by mixed skies overnight. The wind will be a bit chilly today out of the north at 15–20 km/h.
The Red River Valley will see mixed skies on Tuesday in the wake of a weak low that slumps from Saskatchewan into North Dakota on Monday night. Temperatures will rebound to a high near -15 °C with a chance of morning flurries. By late in the day, a potent low will begin diving southeast into the Prairies. This will push much milder air into the eastern Prairies. A strong warm front will push into southern Manitoba through the night, strengthening southerly winds into the 30–40 km/h range. Temperatures will climb to around -8 °C by Wednesday morning with a chance of snow late overnight.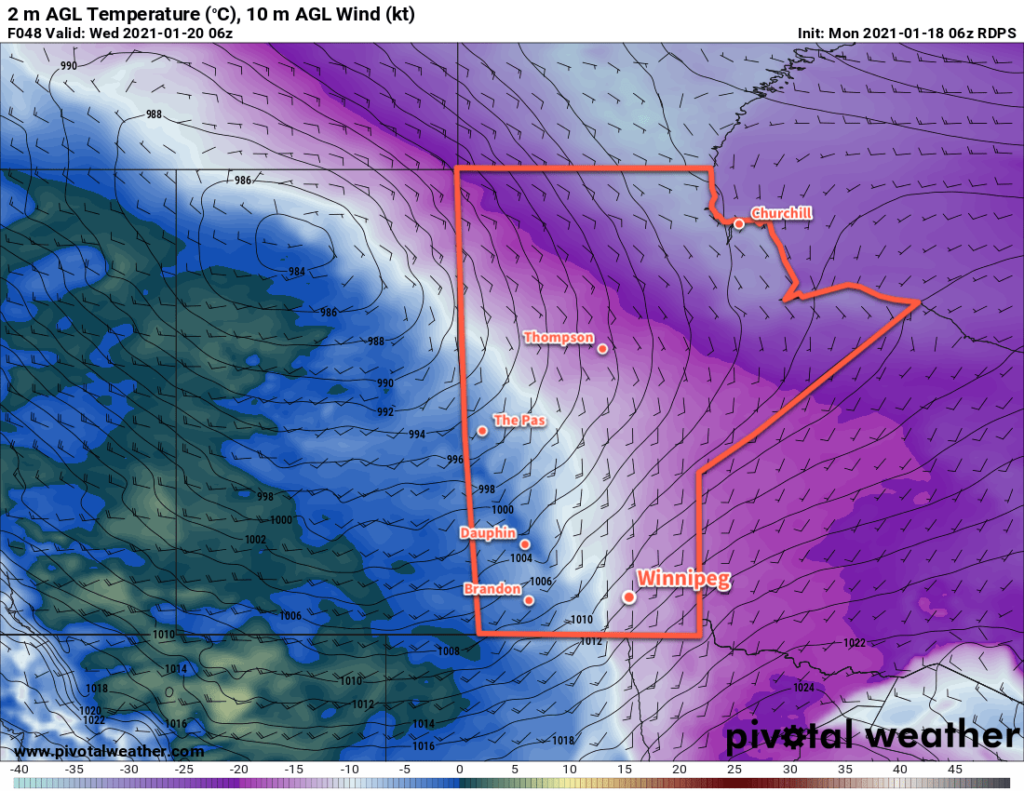 Wednesday will bring mostly cloudy conditions to Winnipeg with moderate westerly winds up to 40 gusting 60 km/h. It will be the warmer temperatures this low is bringing that's supporting those strong winds and the city will see highs back above freezing near +2 °C. There will be a chance for some light snow, or possibly rain showers, through the day but most of the precipitation is forecast to stay north of Winnipeg. The winds will keep up on Wednesday night, shifting more northerly overnight as a cold front slumps southwards. Temperatures will dip to a low near -11 °C.
Long Range Outlook
The rest of the work week will bring a cool-down back to seasonal temperatures alongside cloudier conditions. The sun should return for the end of the week with near-seasonal temperatures for the weekend.
Today's seasonal daytime high in Winnipeg is -13 °C while the seasonal overnight low is -23 °C.