Extremely cold temperatures will stay entrenched over southern Manitoba through the first half of the week.
Winnipeg will see mainly cloudy skies today, supported by a weak inverted trough collapsing southwards into the United States. This cloud cover will bring a few flurries to the region, but most of it will stay south of Winnipeg. In the city, there will a chance for a bit of light snow, but mainly in the morning hours.
The cloud cover won't help temperatures much. The main story over the coming days will be the bitter cold over the region. Temperatures won't climb above -20 °C over the next two days, and only nudge above the mark on Wednesday. Overnight lows will be bitterly cold and dip below -30 °C both tonight and Tuesday night. Note that these overnight lows are difficult to forecast; there is a chance that temperatures could dip even colder than this, or stay a bit warmer. The difference in outcomes is subtle, but its worth noting that temperatures of -35 to -40 °C have occurred over western Manitoba into central and northern Saskatchewan. This is the air mass that will move into the Red River Valley today.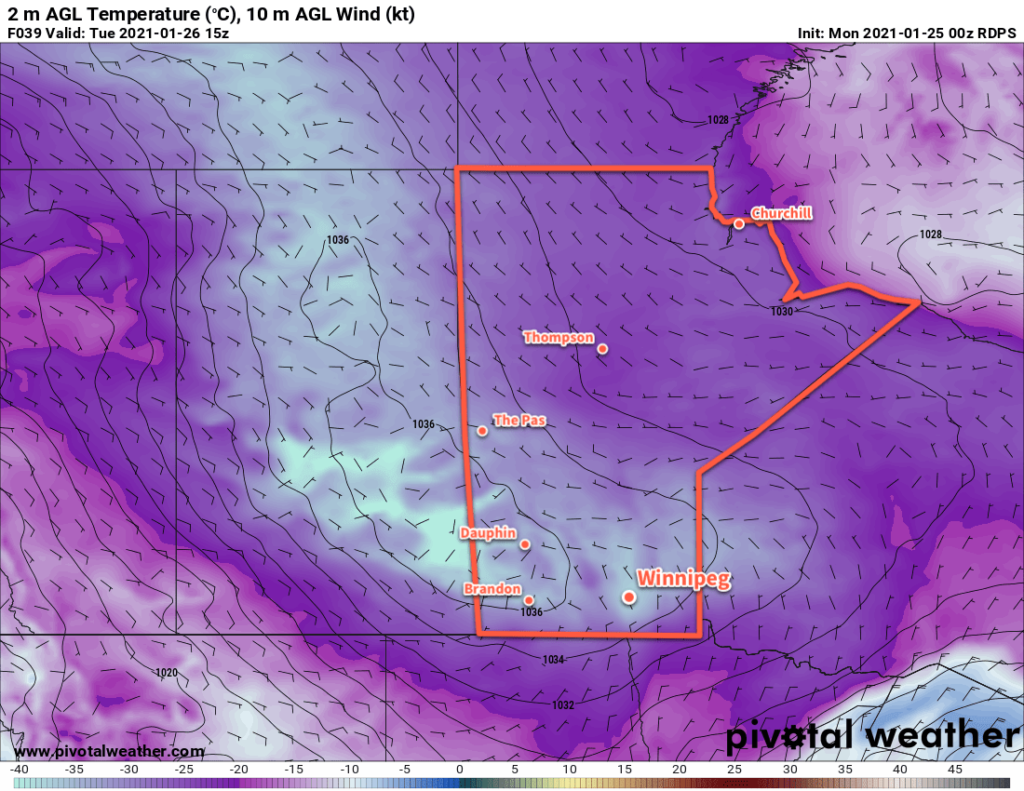 Extreme cold warnings will be likely as it does not take much wind to drive wind chills below -40 with these bitterly cold overnight lows.
Skies will clear out Monday night and stay mainly sunny right through Wednesday. Some cloud will begin working into the region late Wednesday as warmer air starts to move towards the province.
Long Range Outlook
The upper flow supporting the bitterly cold temperatures will collapse in the second half of the week. This will allow milder air to surge back across the Prairies and send temperatures back to seasonal or seasonably mild for the latter half of the week. Comparatively pleasant winter weather will persist through the weekend with a chance for a few centimetres of snow on Saturday.
Today's seasonal daytime high in Winnipeg is -12 °C while the seasonal overnight low is -23 °C.