Temperatures will rebound in Winnipeg on Saturday as a low brings light snow to the region. Things will take a turn for Sunday, though, as bitterly cold Arctic air plunges into the region as the low exits the area.
It will be a pleasant winter day in Winnipeg today with a bit of morning snow followed by mixed skies. Temperatures will sit near seasonal values with a high near -11 °C and light winds as a trough weakens over the region.
A compact low pressure system will head slide through northern Alberta today and across central Saskatchewan tonight. As it approaches Manitoba tonight, it will spread more cloud cover into the region and strengthen southerly winds into the 20–30 km/h range. Temperatures will dip to a low around -15 °C.
The low will cross Manitoba on Saturday, bringing a bit of snow to the region and milder temperatures. Winnipeg will see a high around -7 °C as the southerly winds ease into the 15–25 km/h midday and shift towards the northwest through the afternoon. This will also be the best chance for snow; once the warm-sector trough passes, snow is more likely as colder air starts pushing into the region. There's a bit of disagreement amongst forecast models on how much snow will fall, but 2–4 cm is most likely with a chance of it ending up a bit outside of that range on either end depending on the exact track of the system.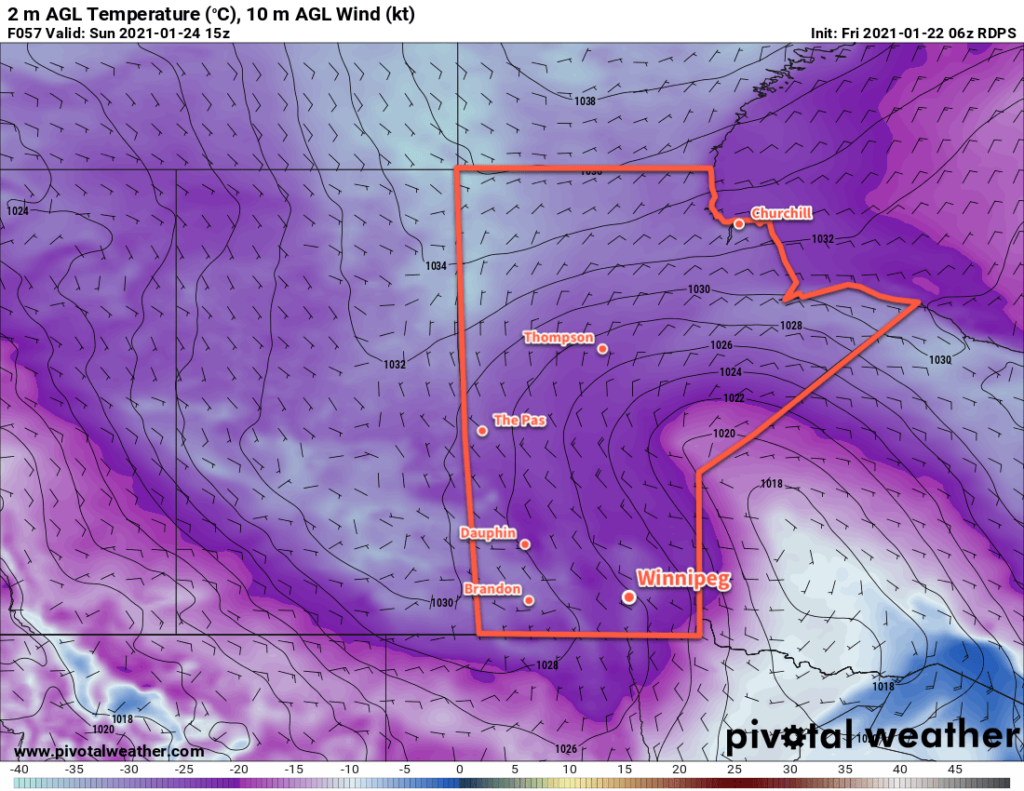 On Saturday evening, after this system passes, the wind will strengthen out of the northwest into the 30–40 km/h range. These northwesterly winds will tap into a rather cold Arctic air mass and begin dragging it into southern Manitoba. Temperatures will plummet to a low near -25 °C with clearing skies and gradually easing winds.
An Arctic ridge moving into the region on Sunday will keep things cold and sunny with winds easing to light. Temperatures in Winnipeg will recover only slightly to a high near -21 °C, then head awfully close to (if not below) -30 on Sunday night.
Long Range Outlook
The first half of next week will bring cloudier conditions as the coldest air gradually leaves the region. By mid-week, forecasts show temperatures returning to seasonably mild conditions that persist through next weekend. No major snowfalls are in the forecast.
Today's seasonal daytime high in Winnipeg is -13 °C while the seasonal overnight low is -23 °C.