Mild, cloudy weather will stay over Winnipeg through the first half of the work week. The warmth will come to an abrupt end mid-week as bitter cold returns to the region for an extended period.
An upper ridge will support a southerly flow over the next few days, pushing mild temperatures across the province. The downside to the warmth will be fairly persistent cloud cover over much of the coming days. A few sunny breaks are possible in Winnipeg today, but skies should generally stay on the cloudier side. Temperatures will climb to a high near -6 °C today with light southeast winds picking up into the 15–25 km/h range by evening. The wind will increase into the 30–40 km/h range overnight with a low near -9 °C.
Tuesday will bring cloudy skies to the region as temperatures climb to a high near -2 °C. It will be windy with southerlies of 40–50 km/h, making it a relatively unpleasant day out in the Red River Valley. The winds will ease to 20 km/h by Wednesday morning with temperatures dipping to a low near -4 °C.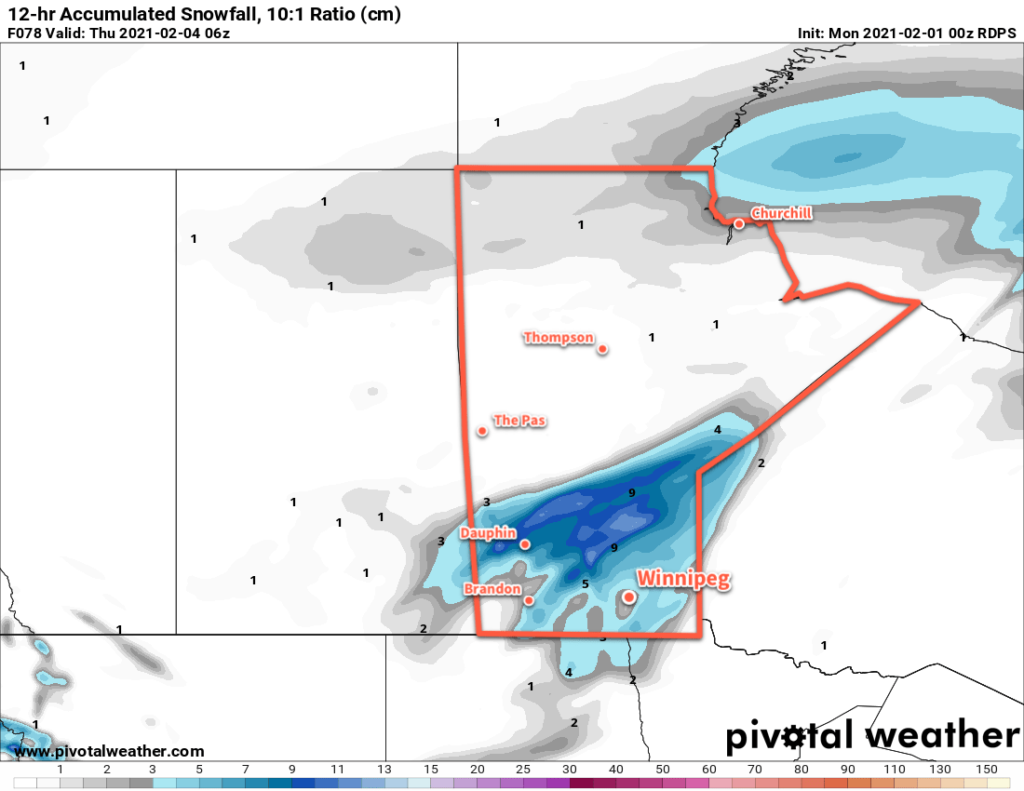 On Tuesday night, a low pressure system will move from eastern Saskatchewan into northern Manitoba. The warm-sector trough of this system will move through the Red River Valley on Wednesday morning, followed by some snow in the afternoon. Closely behind the snow will be an Arctic cold front surging across the Prairies. After 2–5 cm of snow, northwest winds will strengthen up to 40 gusting 60 km/h on Wednesday night. Temperatures will begin to plummet to a low near -17 °C.
Long Range Outlook
Bitterly cold air will build into the Prairie through the rest of the work week with daytime highs falling below -20 °C by Saturday. This bitterly cold air will likely stick around through next week.
Today's seasonal daytime high in Winnipeg is -11 °C while the seasonal overnight low is -21 °C.