Winnipeg will see daytime highs climb above freezing right through the weekend.
A broad upper ridge of the Prairies will bring plenty of sunshine and warmth to Winnipeg over the coming days. Both Friday and Saturday will bring plenty of sun to the city along with highs near 6 °C. The winds will stay light today, but a low pressure system moving from Saskatchewan into northern Manitoba will bring southerly winds of 40 gusting 60 km/h to the Red River Valley on Saturday. Lows will dip to around -6 °C tonight and just below freezing on Saturday night.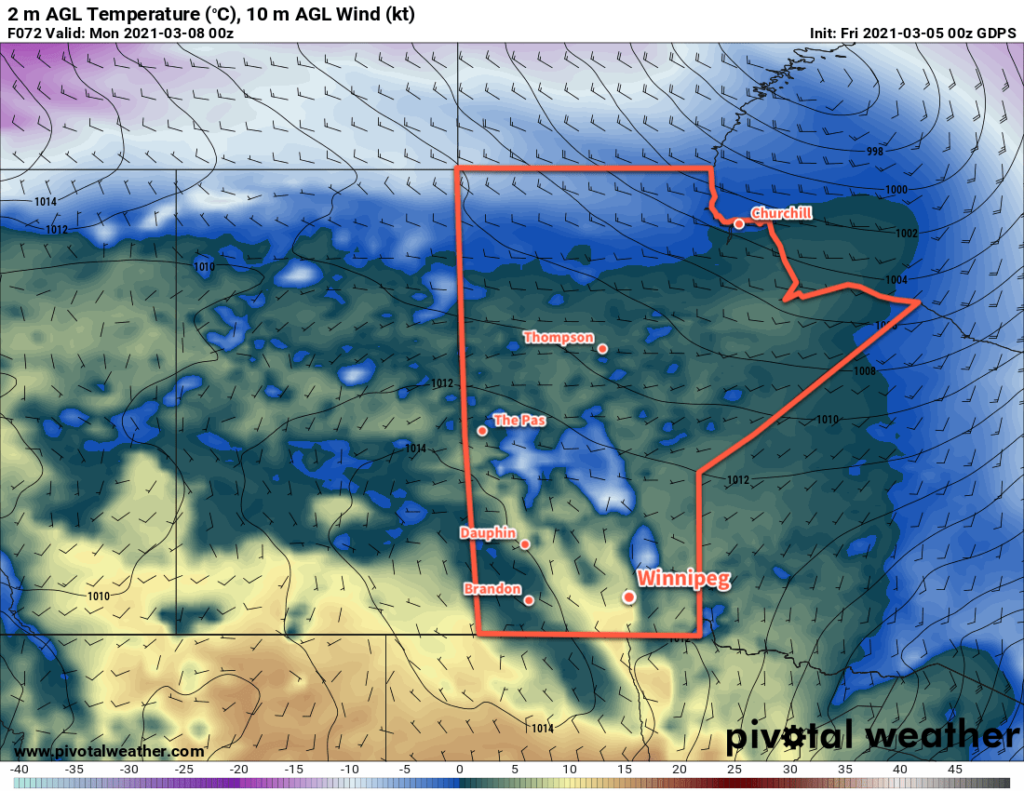 On Sunday, Winnipeg will see mostly cloudy skies as a low and associated trough moves through the province. No notable precipitation will fall over southern Manitoba, but skies should stay mostly cloudy through the day. It will be warm with a high near 8 or 9 °C, but will be a few degrees warmer than that over the western Red River Valley. Winnipeg may climb over that high if the westerly winds arrive earlier in the day or a bit more sunshine materializes. Winds will ease midday into the 20–30 km/h range, then shift westerly as the trough passes.
Winds will ease Sunday night with lows near -2 °C and partly cloudy skies.
Long Range Outlook
Conditions will turn a little more unsettled next week as low pressure system moves out of the Northern Plains into the region. Winnipeg may see some rain or snow on Tuesday, followed by some sun and slightly cooler — but still seasonably mild — temperatures.
Today's seasonal daytime high in Winnipeg is -4 °C while the seasonal overnight low is -14 °C.