Winnipeg will see hot days ahead as an an upper ridge intensifies over the Prairies.
Winnipeg will see daytime highs climb to the mid-30s over the coming days as warmer air settles over the region. This warmth will be sustained by an amplifying upper ridge over the Prairies that will also keep conditions mainly sunny through the Red River Valley. Overnight lows will sit near 20 °C over the next couple days, then dip into the mid-teens on Sunday night as a cold front slumps into the region.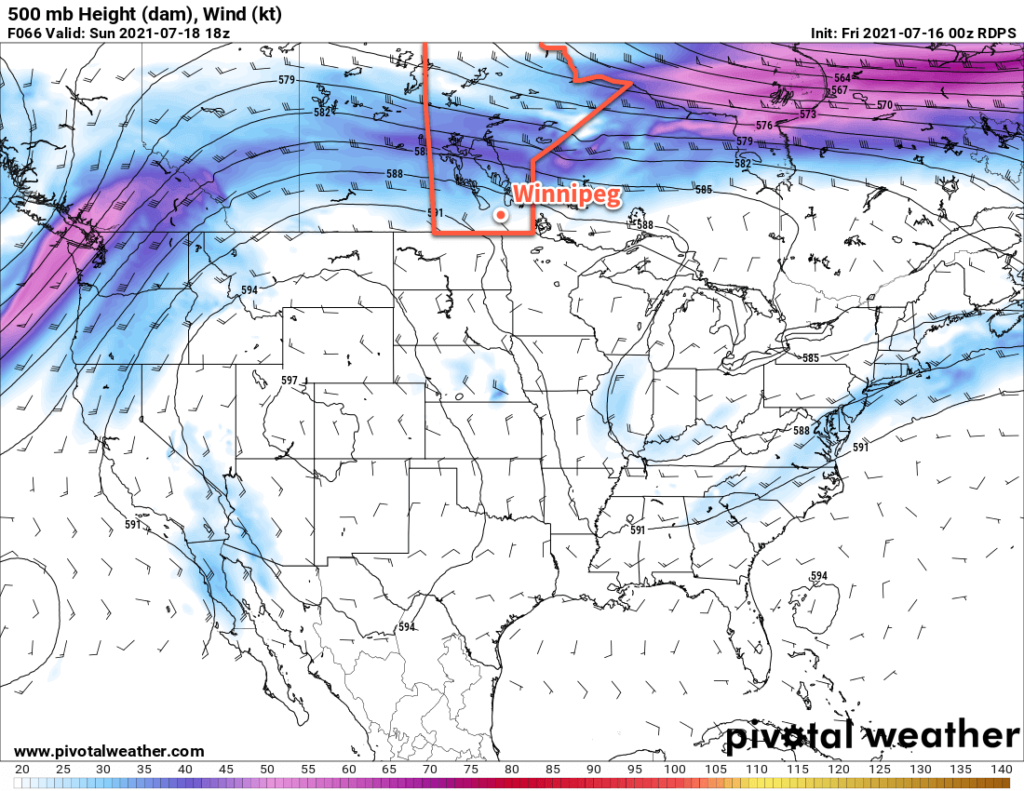 Winds will be breezy out of the south the next few days, picking up into the 20–30 km/h range during the day and easing at night. While conditions will be generally dry, an isolated pop-up shower or two can't be ruled out over the coming days. The most organized chance for rain will be Sunday night when a cold front moves into the region.
Hazy conditions will persist over the coming days, with occasional periods of local smoke possible (the former being when smoke is mainly aloft with low concentrations near the ground, while the latter is when visibilities become reduced and the odour is noticeable).
The hot temperatures, relatively low dew points, and breezy winds will exacerbate the already poor fire conditions. Note that both the City of Winnipeg and the Province of Manitoba have fire bans in effect.
Long Range Outlook
Temperatures will cool slightly for Monday behind the cold front, then temperatures will rebound back towards the 30s on Tuesday. Models are starting to have a little more disagreement on how next week will progress. While all models had a significant heat wave for Winnipeg, newer model runs have become a bit more aggressive with the cooler air, keeping Winnipeg's temperatures in the upper 20s or low 30s through much of next week. The hot weather will still be around, though, with highs climbing back into the mid- to upper-30s nearby to the west.
It's hard to say at this point whether the new trend in the model will be right or not. If Winnipeg stays on the cooler side of this feature, then it will also mean the city will be more likely to see chances for rain or thunderstorms throughout the week. It's impossible to discern at this point, though, so for now we'll keep an eye on how this system evolves as the cold front slumps through the Prairies.
Today's seasonal daytime high in Winnipeg is 26 °C while the seasonal overnight low is 13 °C.