Winnipeg will continue to see hot summer conditions, but with a couple chances for some rain over the coming days. Smoke will be a significant issue as well with extremely poor air quality later today into Tuesday.
Winnipeg will see light northerly winds today in the wake of a cold front that slumped through the region overnight. Temperatures won't cool too much today, though, with a high in the upper 20s to 30 °C. More notable will be the switch to smokier conditions in the wake of the front. The front itself has brought some smoke into the region, and the northerly winds will continue to advect smoke southwards. In the evening, a thick plume of smoke will begin moving into the region as winds shift to the northeast.
Smoke models have been very consistent in the production of this smoke plume. Forecasts show it moving in today with the worst conditions spreading from east to west through the night. While the worst will have passed for Tuesday, conditions will stay very poor through the day. People with sensitivities to air quality will want to minimize outdoor activities while most others should reduce or eliminate outdoor activities if possible.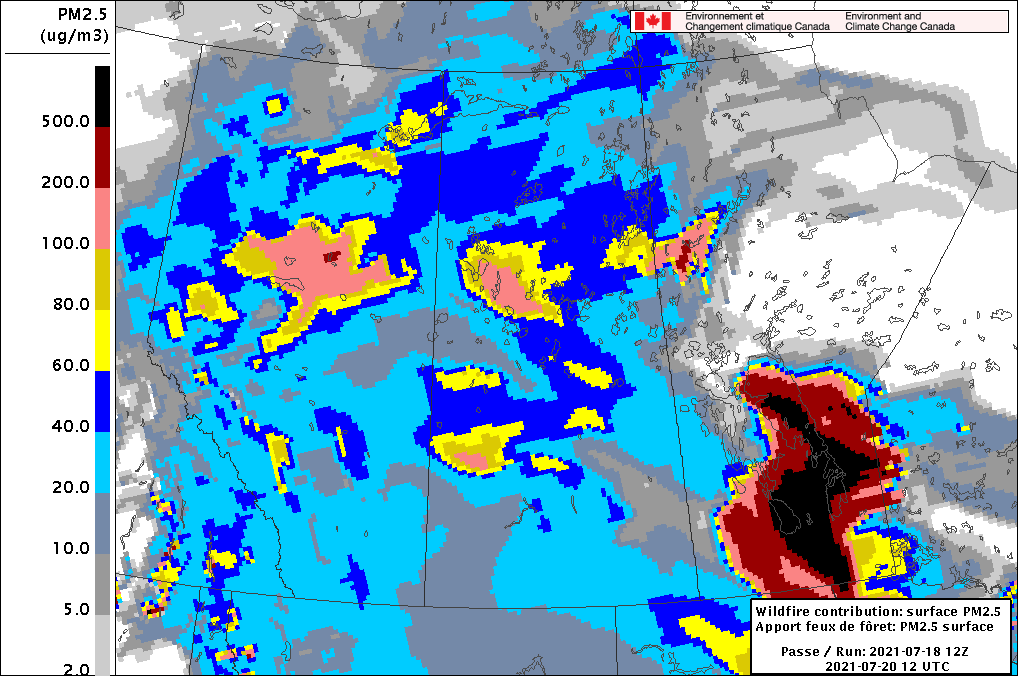 On Tuesday, a disturbance moving through the region will bring cloudier conditions to the region (not that you'd tell the difference much with all the smoke) and a chance of showers. If the region is able to get rain, that could work to help clean out the air a bit. The smoke and cloud will keep things cooler with a high in the mid- to upper 20s. A much warmer air mass is moving into the region and the overnight low reflects it. Temperatures will only drop into the low 20s in Winnipeg on Tuesday night.
There's a small chance of showers or thunderstorms late Tuesday night into Wednesday morning. After that clears, the region should see partly cloudy skies for the rest of Wednesday. Temperatures will climb back to around 30 °C. Winds will be out of the southeast for much of the day and relatively light at 15–25 km/h. These southeasterly winds will likely bring a gradual improvement to air quality through the day.
Long Range Outlook
The rest of the week looks warm with highs in the low 30s and lows in the upper teens or low 20s. Latest forecasts show the most intense part of the heat wave stalling a bit west of Winnipeg. This would put the city in a position to potentially see variable cloudiness and a greater likelihood of showers or thunderstorms. Given the intense drought over the region, any opportunities for rain will be welcome news.
Today's seasonal daytime high in Winnipeg is 26 °C while the seasonal overnight low is 13 °C.