Despite a couple chances for thunderstorms in the days ahead, generally warm and dry weather continues in Winnipeg.
A disturbance tracking across southern Manitoba will bring mixed skies to start the day in Winnipeg. The city will see a chance of an early morning shower or thunderstorm as overnight convection pushes eastwards. The morning will stay relatively humid with temperatures quickly climbing towards the day's high near 30 °C. A cold front will drop south through the Red River Valley mid-day, and there is a small chance of a couple more showers or thunderstorms developing as it moves through. Moderate northerly winds around 30 gusting 50 km/h will move into the Red River Valley behind the front for the afternoon. Skies will clear out through the afternoon as the winds usher in less humid conditions.
Winnipeg will see clear skies, light winds, and a low near 15 °C tonight.
Tuesday will be another beautiful summer day with plenty of sunshine and a high near 28 °C. Humidity levels will be comfortable and a ridge of high pressure will keep the northerly winds lighter in the 15–25 km/h range. Some cloud will begin to build into the region overnight ahead of a warm front pushing into the region. This will keep the overnight low warmer near 18 °C.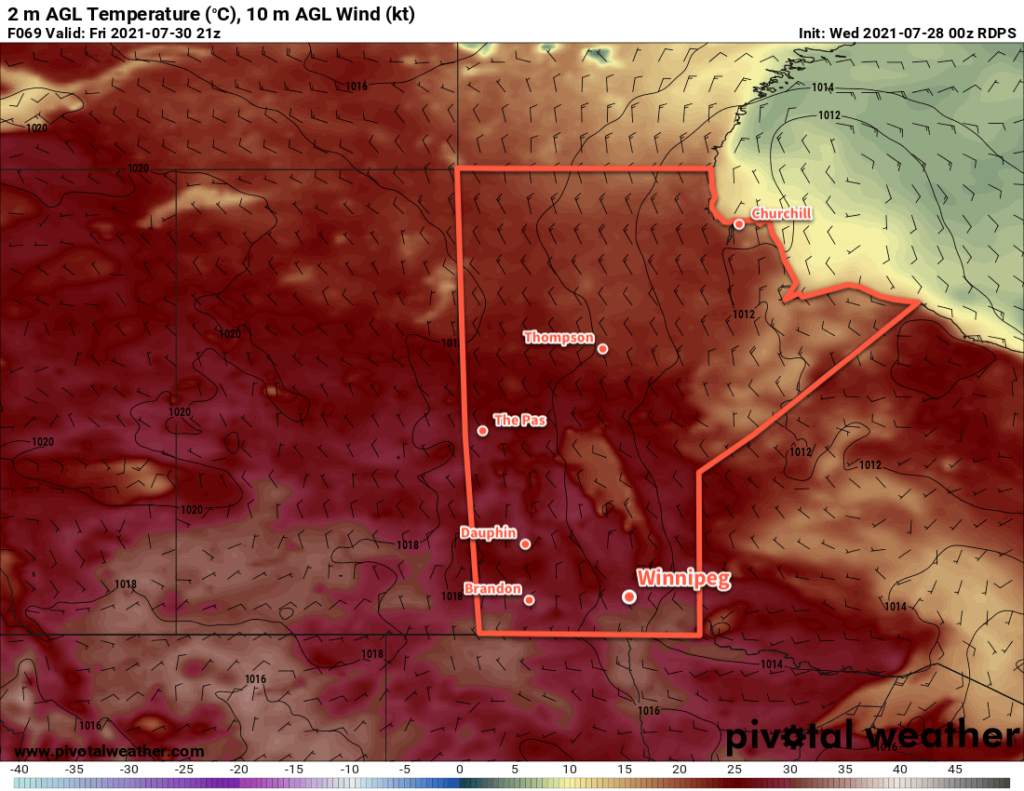 The city will see mixed skies on Friday with a chance of showers or thunderstorms as a disturbance tracks across the province. The best chance for any precipitation will happen in the afternoon when the warm-sector trough moves through the Red River Valley. Conditions will stabilize into the evening with clearing skies and temperatures heading to a low near 16 °C.
Long Range Outlook
The weekend ahead will be mainly sunny and dry with near-seasonal temperatures. The region may see a bit more cloud next week with temperatures climbing back towards the 30 °C mark.
Today's seasonal daytime high in Winnipeg is 26 °C while the seasonal overnight low is 13 °C.