A high pressure system building across the Prairies will spread wildfire smoke into the Red River Valley and southeastern Manitoba this weekend.
Winnipeg will start the day off with hazy conditions and a southwest wind of 20–30 km/h. Temperatures will warm to a high near 30 °C this afternoon with winds gradually shifting to the northwest as a trough slumps southwards. There will be a slight chance for showers or a thunderstorm in the latter half of the afternoon, but the activity will be more likely to develop south of Winnipeg.
Beginning tonight, Winnipeg and area will see northerly winds ahead of an approaching high pressure system. They'll pick up to 30 gusting 50 km/h on Saturday and stay relatively light on Sunday. But through the weekend these winds will draw forest fire smoke southwards from several fires burning across the region. Thick plumes of smoke will move through the region over the coming days. They will produce reduced visibilities and very poor air quality.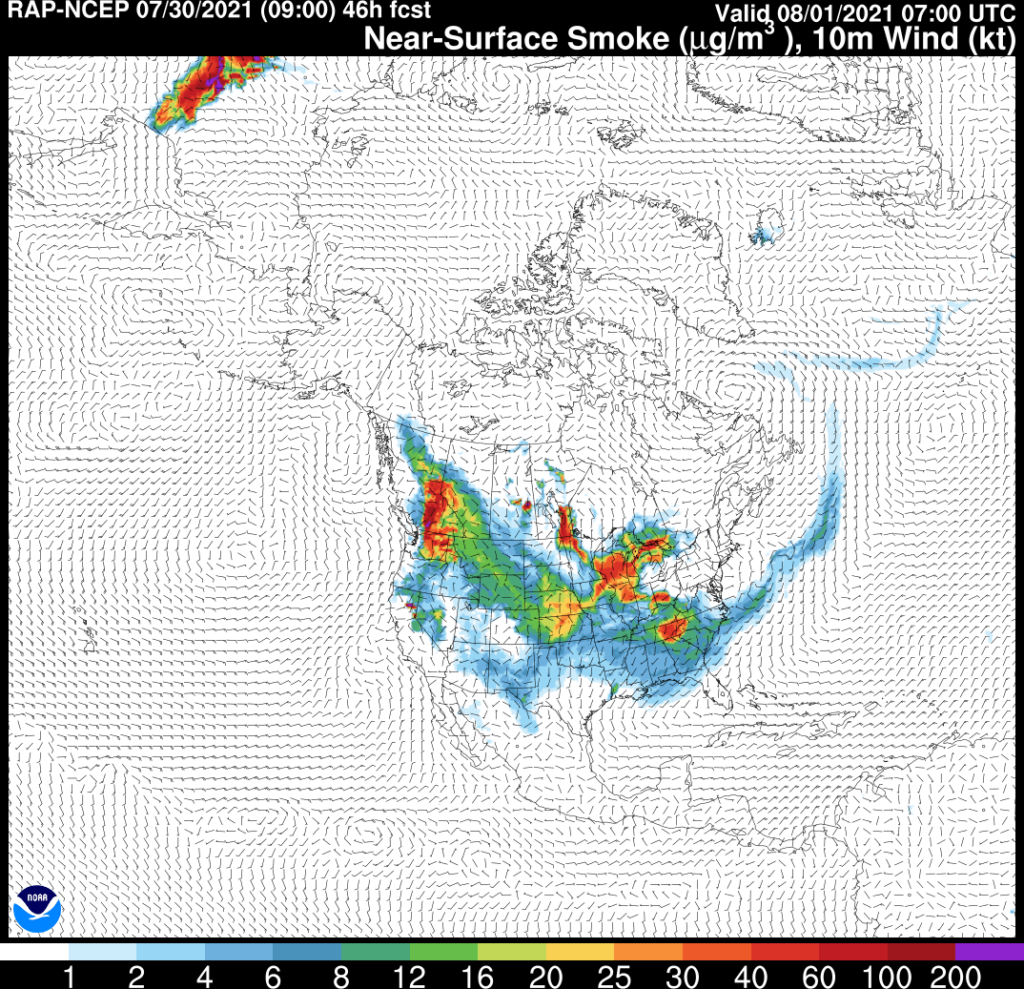 For Winnipeg, two significant air quality events are forecast to occur. The first will start tonight into Saturday morning and the other will begin Saturday evening into Sunday morning. Both of these events are likely to produce extremely poor air quality. While there will be some measure of improvement between them, that isn't to say that air quality will become "good". It is likely that much of the Red River Valley and southeastern Manitoba will see generally poor air quality through the coming weekend. Some improvement is likely into next week as the winds begin to shift.
While the skies won't have many clouds on Saturday or Sunday, there will be a layer of smoke aloft blanketing the region much of the weekend. Highs will climb into the upper 20s with lows in the low to mid teens.
Long Range Outlook
An upper ridge will amplify over the Prairies later in the weekend and gradually shift east through next week. This will likely bring an improvement to Winnipeg's smoke conditions, but will also bring very warm temperatures into the region. Winnipeg will likely see highs in the upper 20s or low 30s through much of next week with dry conditions.
No significant rainfall is in the forecast; combined with the week of warm weather ahead, the drought situation over southern Manitoba will continue to worsen.
Today's seasonal daytime high in Winnipeg is 26 °C while the seasonal overnight low is 13 °C.