Temperatures will soar back into the upper 20s this weekend as southerly winds usher summer weather back into the region.
Before it warms up, Winnipeg will have a day of seasonal temperatures in the wake of yesterday's rain system. Temperatures will climb to a high near 17 °C with partly cloudy skies from an upper low crossing the province. Breezy westerly winds this morning will ease in the afternoon as a ridge of high pressure builds in from the west. That ridge will scoot across the province quickly, already exiting into NW Ontario by this evening. Another low pressure system moving into the Prairies will push more cloud into the region tonight with strengthening southerly winds. Temperatures will dip to a low near 7 °C.
Moderate southerly winds will push a warmer air mass into the southern Prairies on Saturday. Here in the Red River Valley, southerly winds will strengthen in the morning up to 40 gusting 60 km/h. Any lingering cloud should clear out relatively quickly with a few clouds through the rest of the day. Highs will reach the mid-20s throughout the Red River Valley. More cloud will push across the region on Saturday night as a warm front moves across the Red River Valley. The southerly wind will ease through the night into the 20–30 km/h range and help keep temperatures mild with a low near 18 °C in Winnipeg.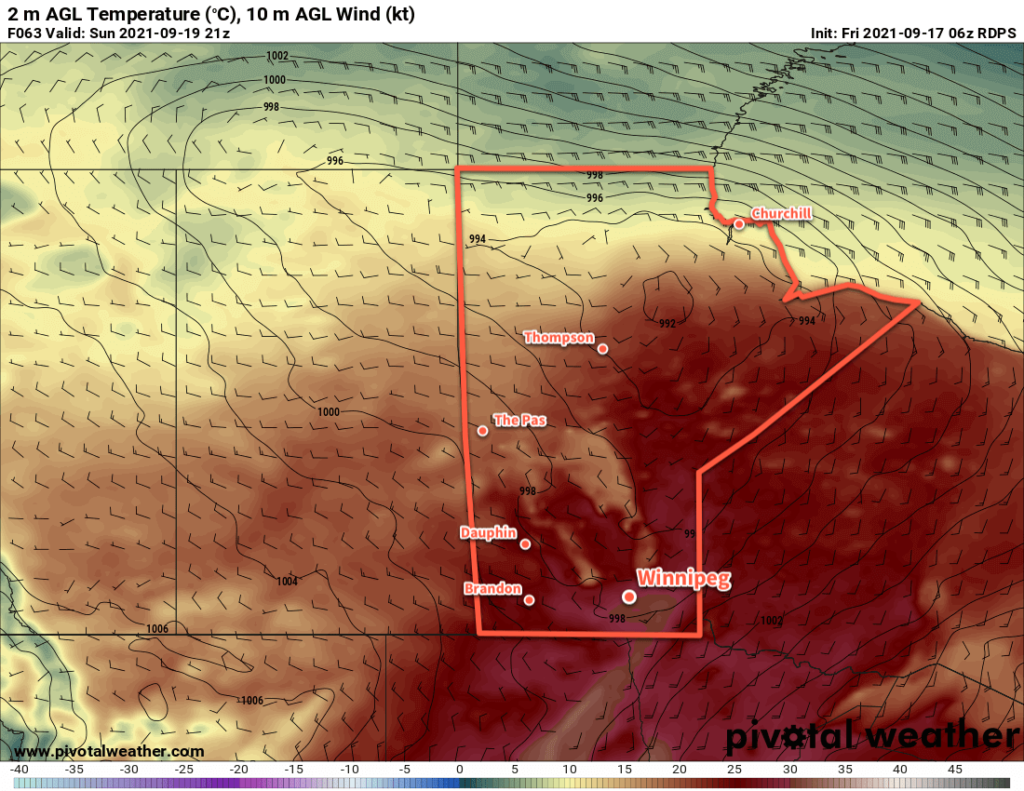 Skies will clear out again on Sunday with winds shifting westerly for the afternoon as a trough moves across the region. Temperatures will climb even higher on Sunday with highs possibly reaching up to 30 °C. A weak cold front will push through on Sunday evening, bringing a bit more cloud and cooler lows near 14 °C.
Long Range Outlook
The weather next week looks fairly benign with near-seasonal temperatures, variable cloudiness, and little chance of precipitation. Little to complain about for late September conditions!
Today's seasonal daytime high in Winnipeg is 17 °C while the seasonal overnight low is 5 °C.