A potent low pressure system crossing the northern Prairies will bring unsettled conditions to the region as temperatures cool to seasonal values.
Winnipeg will see another day of seasonally mild temperatures as blustery southerly winds send highs into the low 20s. The winds will pick up to 30 km/h by lunch, then strengthen to 40 gusting 60 km/h through the afternoon. As this push of warmer air moves in, so will the cloud cover. A trough of low pressure will push into the region this evening and will bring a slight chance of an isolated shower or thunderstorm.
The wind will ease overnight as it shifts to the west. Skies will clear and temperatures will dip to a low near 12 °C.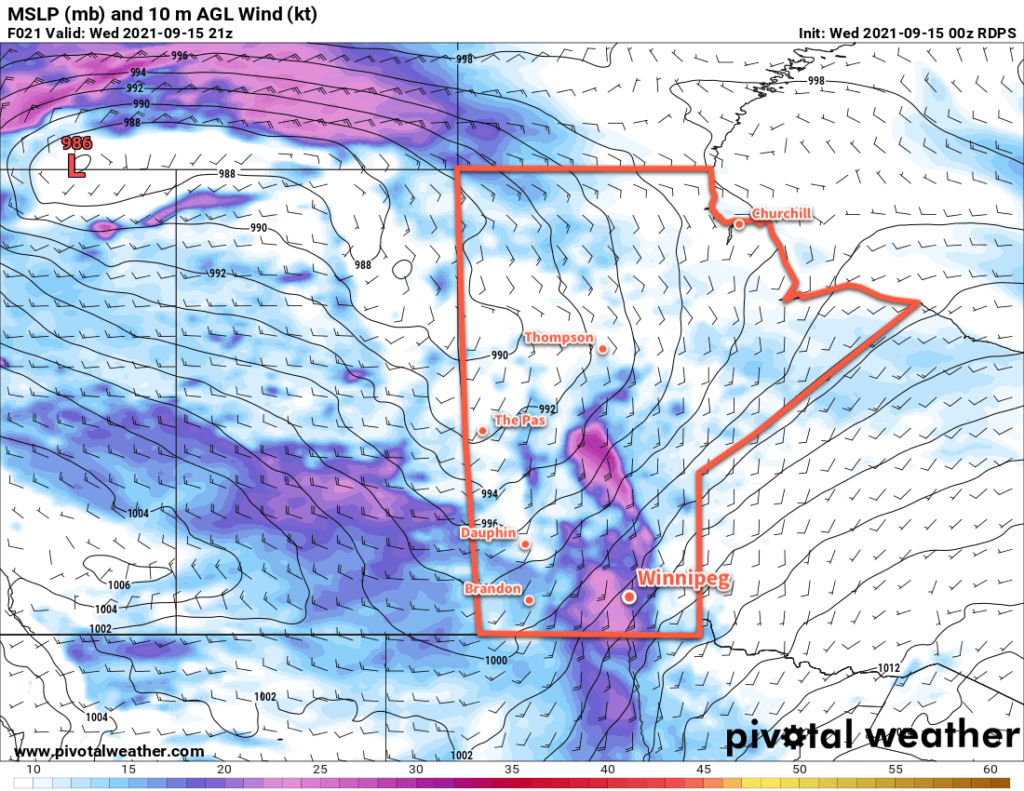 A disturbance aloft will follow into the region on Thursday, again bringing cloudy conditions to Winnipeg. There will be a chance of showers with this system and temperatures will be cooler with a high near 18 °C. Skies will begin to clear through the afternoon across the Red River Valley as the system pushes off to the east. The stars will be out on Thursday night with temperatures dipping into the upper single digits.
The sun will make its return on Friday with partly cloudy skies and a westerly wind of 20–30 km/h. The city will see a seasonal high near 17 °C. Temperatures will dip to around 9 °C on Friday night with some cloudiness ahead of the next system moving into the region.
Long Range Outlook
Another low will cross the Prairies this weekend bringing variable cloudiness to the region and highs climbing back into mid-20s. Unsettled conditions will likely return into the first half of next week.
Today's seasonal daytime high in Winnipeg is 18 °C while the seasonal overnight low is 6 °C.