Seasonably mild conditions will continue in Winnipeg this week, but with breezy winds to go with it.
After a blast of summer heat yesterday, Winnipeg will see a much cooler day today in the wake of a cold front that pushed through the province overnight. The showers associated with that system should come to an end early this morning, leaving behind cloudy skies to start the day. Northwest winds will strengthen this morning to 30 gusting 50 km/h and the cloud should begin to clear out this afternoon. Temperatures will reach a near-seasonal high in the upper teens today, more than 10 °C cooler than yesterday's warmth. All this adds up to rather unremarkable weather as Winnipeggers head to the polls today.
A ridge of high pressure will move into the province overnight, bringing clearing skies and a low near 6 °C. The northwest winds will gradually ease through the night.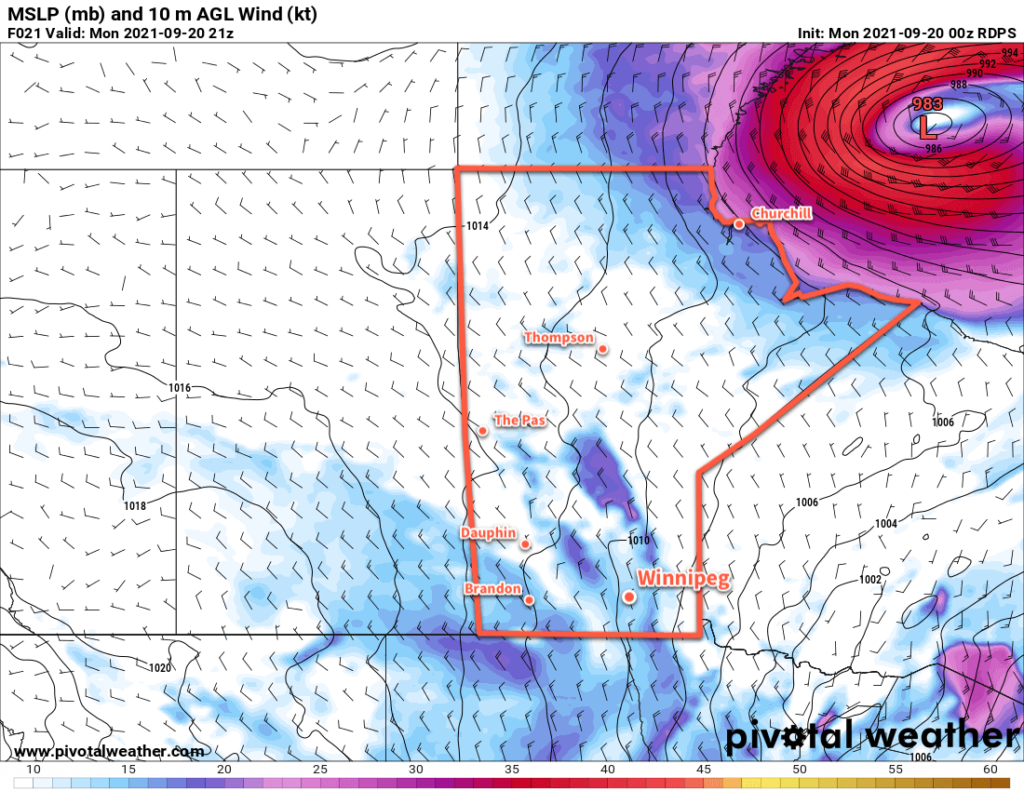 On Tuesday, Winnipeg will see mainly sunny skies with a high again in the upper teens. The high pressure system over the province should keep the winds light through the day as well. The light winds will shift southerly overnight as temperatures dip to a low near 8 °C.
The city will see more sunshine on Wednesday, but the southerly winds will pick up through the day as warmer air moves back into the region. The day's high should reach the mid-20s with southerly winds of 30–40 km/h. A few clouds will start building into the region overnight as the next disturbance crossing the Prairies approaches. The breezy conditions will help keep temperatures warmer on Wednesday night with lows near 12 °C.
Long Range Outlook
Mild weather will stick around for Thursday, but then a strong cold front will slump through the region on Friday. Temperatures will fall into the low teens with plenty of cloud and a good chance of showers. The weekend will bring a return of warmer weather.
Today's seasonal daytime high in Winnipeg is 17 °C while the seasonal overnight low is 5 °C.