A Colorado Low will bring widespread rain to southern Manitoba today and usher in cooler temperatures for the rest of the week.
Winnipeg will see cloudy skies today with rain beginning midday as it spread northwards out of North Dakota. Rain will move into all of southern Manitoba today and gradually lift northwards through the night. The organized rain should taper off by Thursday morning across much of southern Manitoba.
Rainfall totals in Winnipeg will likely sit in the 20–30 mm range with slightly higher amounts to the west along the Red River Valley escarpment. Much of southwestern Manitoba will likely get a good soaking with 25–40 mm possible throughout that region. Rain will also fall to the east of the Red River Valley, but accumulations should be a bit less in the 15–25 mm range.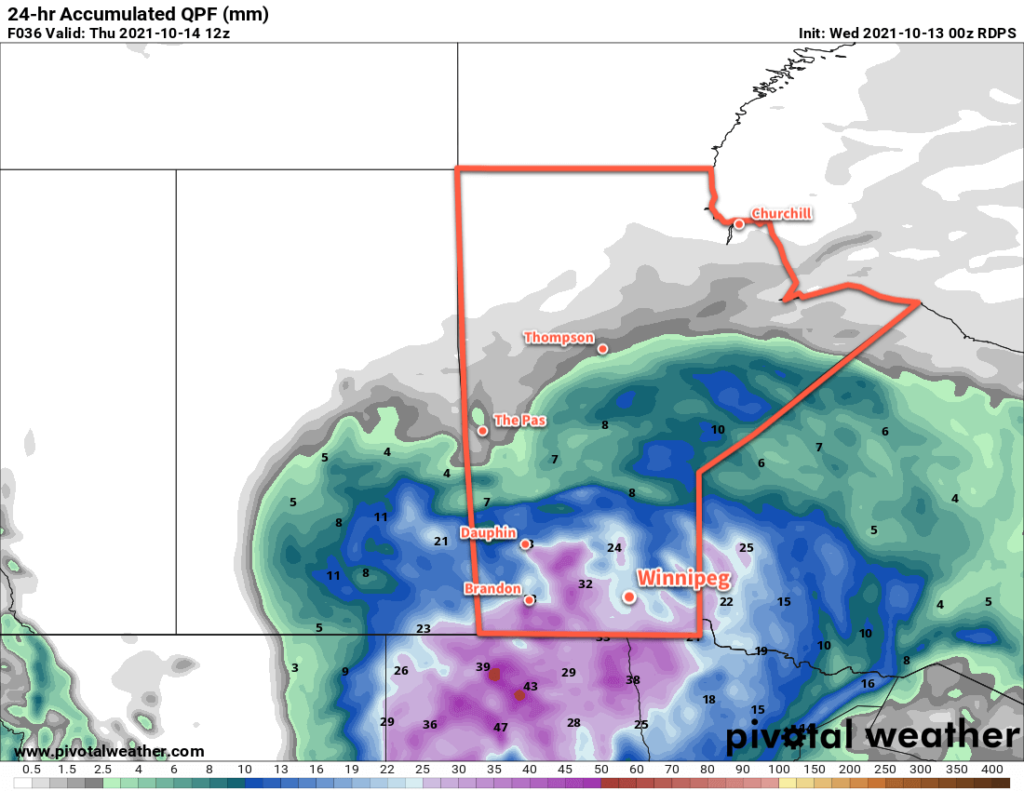 Temperatures will climb to around 10 °C today in Winnipeg with brisk northeast winds strengthening to 40 gusting 60 km/h. Temperatures will keep rising through to around 12 °C overnight as the low centre moves approaches this evening. Once it passes, it will cool back to around 10 °C by Thursday morning. The winds will ease as the low moves through overnight.
On Thursday, Winnipeg and area will continue to see cloudy skies with scattered showers wrapping around the rear flank of the low. With cooler temperatures filtering into the region, some lake-enhanced showers or drizzle will also be possible off the Manitoba Lakes. Temperatures will stay steady around 9 °C with westerly winds up to 30 km/h. Precipitation will taper off Thursday evening, then winds will ease and temperatures will dip to a low near +3 °C.
Friday will bring westerly winds of 20–30 km/h to Winnipeg with temperatures climbing to a high near 9 °C again. Much of the day will bring cloudy skies, but clearing will be working into the Red River Valley through the afternoon and evening hours. Temperatures will be cool on Friday night with a low near 1 °C and light winds under clearing skies.
Long Range Outlook
Temperatures will warm a bit this weekend as a push of mild Pacific spills eastwards across the Prairies. This will set up another low to start off next week that may bring another batch of showers to the region.
Today's seasonal daytime high in Winnipeg is 11 °C while the seasonal overnight low is 0 °C.